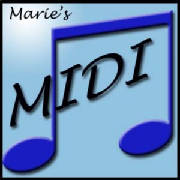 ANNA POLKA
MIDI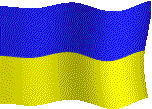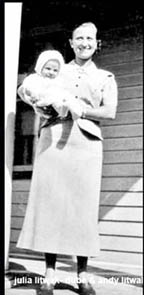 Juila Litwak and Andrew Litwak
Julia Litwak Dubee, born 22 Oct 1912, and died in May 1984 .the daughter of Jacob and Anna Litwak. She married Michael Dubee, he was born 24 Oct 1908 and died 29 Dec 1997 in East Manor nursing home WilKes- Barre Pa. They had two daughters: Barbara Dubee, she married Walter Wroblewski and Mary Anne Dubee, married Joseph Wolensky.
Barbara & walter Wroblewski had three daughters: Julianna Rose Conniff, Michelle, Cherly Lee and a son, Walter.
Michael was born in the Ukraine, he came to the US in 1909. he worked as a chain man for the steel mill.and also worked for Glen Alden coal company retiring in 1969.. Michael and Julia are buried in st mary's greek catholic cemetery dallas PA, close to the litwak plots. Michael was mentioned in my grandfather Frank simchick's funeral notice as a pallbearer in 1958.
Recently contacted by Barbara dubbe's Wroblewski's daughters, Michelle Wroblewski Tomas and Julianna Wroblewski Conniff. Julianna was named after her grandmother Julia Litwak Dubee and Anna Leggo Litwak. Julianna says, her mom said great uncle Michael dubee would come home from the mines, covered head to toe in coal dust, and could only be recognized by his eyes. Michael died from Anthrasilicosis.
Mary Anne Dubee and Joseph Wolensky had 4 daughters: Nancy Anne Wolensky Weeks, Mary Jo Wolensky McLanine, Jean Louise Wolensky Barsky and Irene Marie Wolensky Siegel, She married Charles Siegel.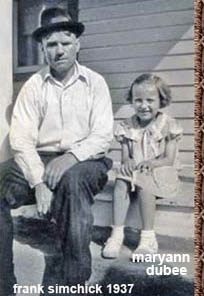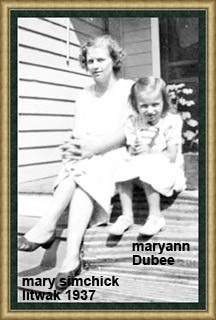 1940 census Michael and Julia were living on 64 West Chestnut street Wilkes- Barre PA, which they rented. Michael was head of house hold age 31, completed 8th grade. He was born in Austria and worked as a coal miner. Julia was 28 years old, completed 7th grade and was born in PA. Thier daughter Mary Anne was 9 years old and in 3rd grade, she was born in PA
Saint Mary's Greek Catholic Cemetery
Dallas Luzerne County PA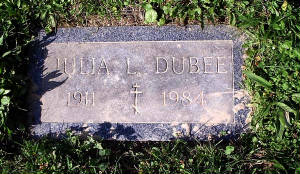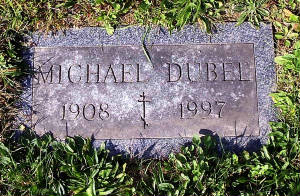 DEATH CERTIFICATE
STATE OF PA
Michael Dubee, age 88. born 29 Oct 1908, Austria-Hungary, died 7:25am East Mountain Manor, Plains Twp, Luzerne county PA. Occupation Minning, Coal Industry. Marial status- Widowed. Father: Anthony Dubee and mother: Mary Halcyk. Informant- Mary Ann Wolensky. Cause of death: COPD 5yrs from onset to death. Funeral Home- A.Mary Harostock 480 N. Main Street, Wilkes-Barre PA. Michael had lived on 5N Sherman street Wiles-barre PA.
DEATH CERTIFICATE
STATE OF PA
Julia Litwak Dubee age 72 , born 22 Oct 1911 in Shenandoah, schuykill, luzerne cnt PA. Died 13 Mar 1984 at home Apt 7101 ShermanHill Wilkes-Barre PA. Occupation; House Wife. Father: Jacob Litwak and Anastasia Leggo. Informant: Michael Dubee, Husband. Cause of death Heart attack, extensive myocardio infraction, conorary selersis and conjestive heart failure. Funeral homne: A. Mary Harstock, burial St Byzantine, Dallas PA.
**********************************************************************************************
UNITED STATES CENSUS
STATE: PA
COUNTY: Northhampton
CITY: Hellertown
CENSUS 1930
Kichline ave
Line 81 Dubee, Michael Head, male, white, age 21, married, born in Ukraine, immig 1909, occupation, chainman steel mill, parents born in ukraine
Line 82 Dubee, Juila, Wife, female, white, age 18, married, parents born in austria
*********************************************************************************************
STATE: PA
COUNTY: Luzerne
CITY: Wilkes- Barre
CENSUS: 1940
64 West Chestnut Street # 149
Line # 48- Michael head of house hold age 31, completed 8th grade, born Austria, occupation was coal miner 955.00
Line # 49- Julia, wife age 28 completed 7th grade, born in PA
Line # 50 Mary Ann, Daugh, age 9, 3rd grade born in PA