Family Connection- Mary Simchick daugh of Frank & Bronislava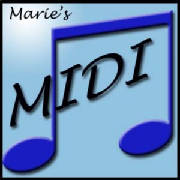 BALL ROOM POLKA
MIDI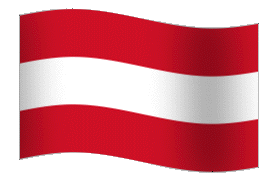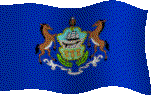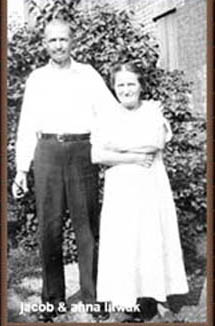 Jacob and Anna Litwak 1937 PA
Jacob Litwak (Jacko Litvak) was born in Galicia Austria. Granddaugher Michelle mentions that her mother said he was from Blichnarka, Gorlice disrict Galicia Russia in 1886. he died 2 Apr 1946. He immigrated in Apr 1902. and worked as a coal miner. He married Anna Lego who came to the US in 1899 from russia. she was born in 1878 and died at age 79 in 1957. Jacob and anna are buried in Saint Mary's cemetery (Litwak plots) dallas PA. they had five children. The family spoke a Ukrainian/Slovak dialect.
The 1920 census for Shenandoah county of Schuhill, said, Jacob was in his present marriage fopr 5 years, he immig in 1901 NA, worked as a coal miner. The 1920 census, he lived Kingston, county of Luzerne, age 39, maried, immig in 1900 NA in 1906 and in 1930 census, he was age 51, married, born in Austria, immig 1901 NA, worked as a coal miner.
Andrew was born 17 July 1908, he died 31 March 1972 age 65. He married Mary Simchick, daughter of Frank & Bronislava (Zelinski) simchick of larksville PA.
Phillip was born in 1909 - he died 21 Dec 1961. He married Helen Halabowski, daughter of Thomas and Rose Baranchak. Philip and Helen were married in 1937, she died in 2005.
Mary was born 8 Dec 1910, she died 8 July 1984 at age 74. She never married.
Julia was born in 1912, she married Michael Dubee and they had 2 children Barbara and maryann.
Matthew was born Feb 1915 and he died Mar 1989 at age 74. He married Mary Wolinsky born 1916 and died in 2003. and they had 3 sons, Matthew, Myron and Raymond. Matthew and Mary are buried in Saint Aldalbert cemetery Lancaster NY.
John was born 3 July 1918 and died 20 Mar 1970 at the age of 58. He was Father John Litwak, located in Mckeesport PA at St John the baptist church and is buried in the parrish cemetery.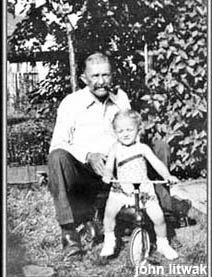 Jacob Litwak 1937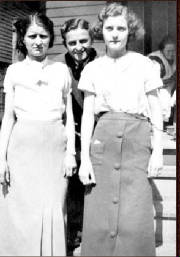 Mary & Phillip Litwak, Mary Simchick Litwak 1937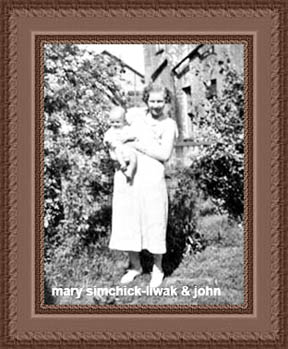 Mary Simchick Litwak & John 1937
Andrew Litwak and John 1937
Mary simchick married Andrew Litwak and they had 3 children.
Andrew Litwak Jr. He served in the US Airforce for 4 years. He married Bernadine Leonard and they have 3 children: Diane-karen & John.
John Litwak,, he served in the US Airforce for 4 years and 2 years in the inactive reserve. He was a fighter crew chief tech. He married Sandra and they have 4 children: John andrew, Brian, Wayne and Mary rose. John is living in MA and has help with the family research.
Michael Litwak was born 24 Aug 1941 in edwardsville PA, he died 16 Dec 2004 at age 63. He married Joanne Ross, she died 28 Dec 1996. he is buried in St Mary of the maternity in west wyoming PA.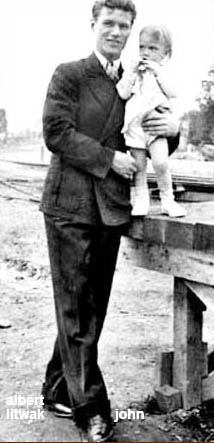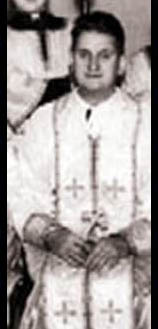 Rev Father John Litwak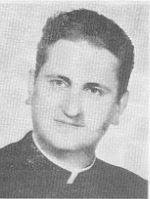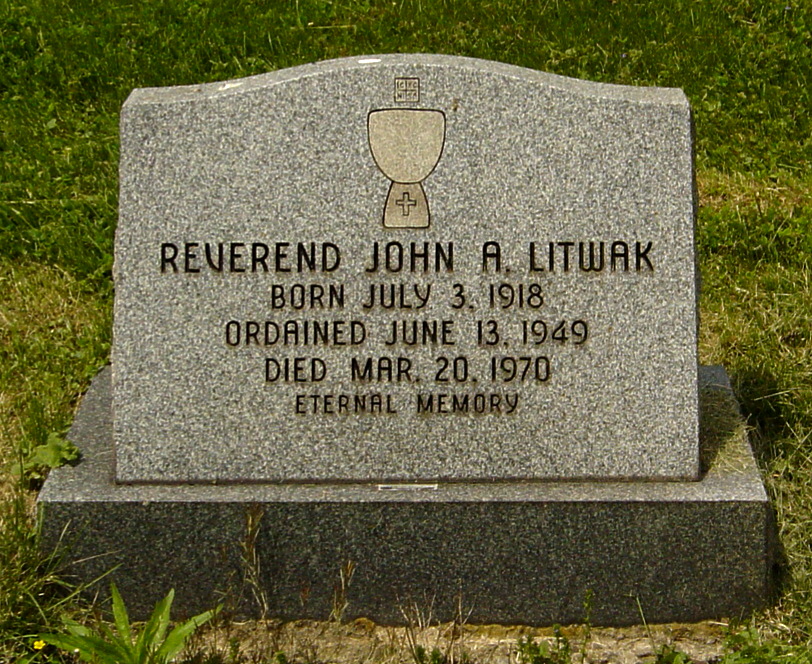 (photo: findagrave member stanley tykarski)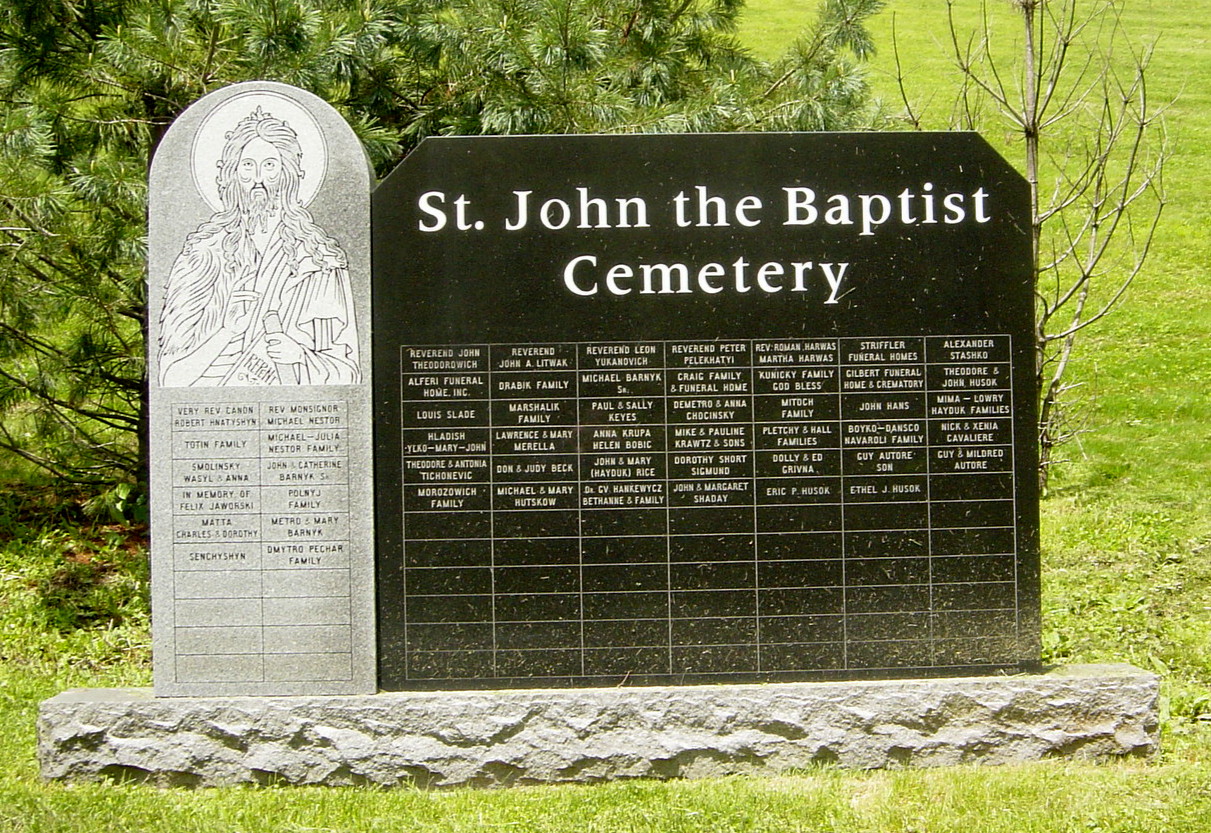 (photo: findagrave member stanley tykarski)
Saint John the Baptist Cemetery
North Versailles
Allegheny County
Pennsylvania, USA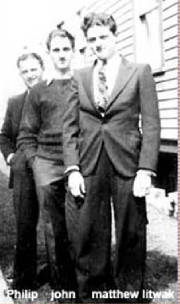 PHILIP, JOHN AND MATTHEW LITWAK 1937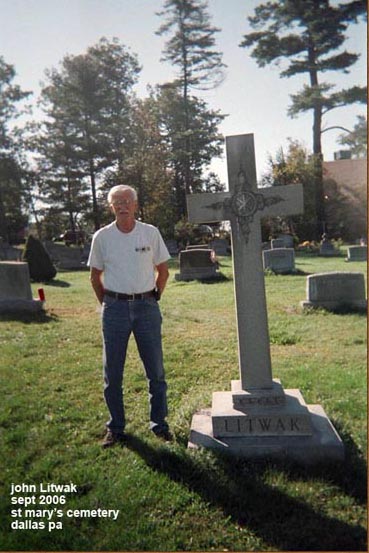 JOHN LITWAK dallas PA sept 2006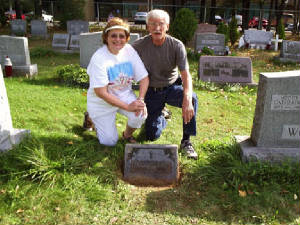 Barbara Wroblewski and John Litwak 2008
John Litwak while he was in town, said he would search for my grandfather's grave. I think he had a few words with Kopecki funeral home. John took Barbara with him. They found Frank in St Mary Byzantine cemetery a few feet from St Mary's greek Catholic cemetery.
The headstone was half sunk in the ground and they managed to pull it up, added a few rocks and dirt. Turns out, the reason Frank was not in St Mary's greek as written on the death certificate was because Rev John Litwak didn't want Frank in the Litwak plots because he didn't go to church or receive the scarments. This was in a letter in Franks funeral folder. I remember the funeral mass was at St Vladmir's.
Saint Marys Greek Catholic Cemetery
Dallas Luzerne County PA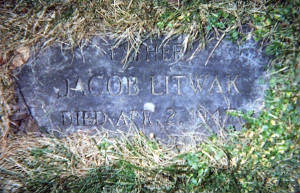 JACOB LITWAK
Jacob Litwak age 60, born in Galicia Austria 29 Dec 1886. Died 2 Apr 1947 at 271 Zerby Ave, Wilkes- Barre PA. Married- Anastasia Litwak. Occupation- Laborer Kingston Coal Company. Father- John Litwak, Mother- Natalie Patrosh. Informant- John Litwak 271 Zerby Ave. Funeral Home- Harostock 518 N. Main Wilkes- Barre Pa. Burial- St Marys Greek Catholic cemetery Dallas PA.
Cause of death- Acute Myocarditis 1 day, influenza virues 4 days. growth on esophagas.
Acute Myocarditis, inflammatory disease of the heart muscle (Myocardium), most causes are Viral infection, intigated toxins, drugs and hypersensitive immune reactions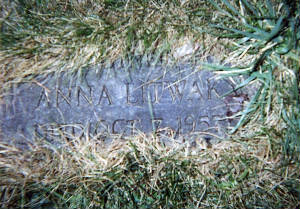 ANNA LITWAK
DEATH CERTIFICATE
STATE OF PA
Anna Litwak, age 68, born Dec 1888 in Austria, died at 10:57am 6 Oct 1957 in Wilkes-Barre General Hospital, 271 Zerby Ave. Occupation- Housewife- Widow. Father- Nicholos Leggo- Mother Anastasia Leggo. InformantL Rev John Litwak, son.
Cause of death: Subdural Hematomia- fall down stairs. interval between onset & death was 7 days.
Collection of blood inbetween the brain (dura) and surface of the brain. Bleeding fills the brain and rapidy compresses brain tissue, resulting in brain injury and death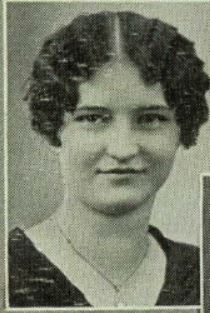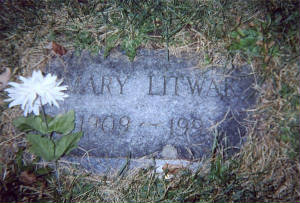 MARY LITWAK
PHILLIP LITWAK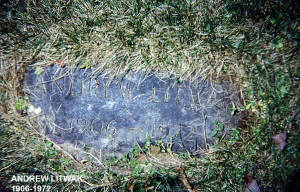 ANDREW LITWAK
DEATH CERTIFICATE
STATE OF PA
Andrew Litwak, age 65, born 2 Jul 1906, died 31 Mar 1972 at home, 33 Pershing st, Wilkes-Barrw PA. Occupation- Baker. Father- Andrew Litwak, Mother- Mary Simchick Litwak. Burial- St Marys greek catholic cemetery, Dallas PA.
Cause of death- Coronary disease, heart failure.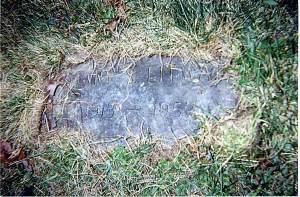 MARY SIMCHICK LITWAK
DEATH CERTIFICATE
STATE OF PA
Mary Litwak, age 39, born in Larksville PA. Died at 3:15pm 4 Dec 1952 Wilkes-Barre general hospital, in patient for 2 mos. Married, occupation- House wife, mailing address- 595 Rear main st, Edwardville PA. Father: Frank Simchick- Mother- Blance Zilinski. Informant- Andrew Litwak, husband. Funeral home, Harostock 480 N. Main Wilkes-Barre. Burial St Mary Greek Catholic cemetery, Dallas PA
Cause of death: Cervical cancer.
Saint Aldelbert Cemetery
Lancaster County NY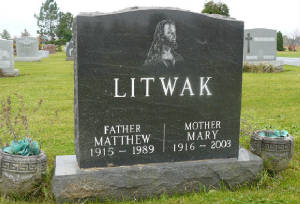 **********************************************************************************
UNITED STATES CENSUS
STATE: PA
COUNTY: Schuyhill
CITY: Shenandoah boro
CENSUS# 1910
Line # 43 LITWAK, John, head, male,white, married, 5 yrs in marriage, born Austria, parents, Austria. Immig 1901 NA, speaks Russian, occupation, coal miner.
Line # 44 Annie, wife, female, white, age 30, married, 5 yrs in marriage, born, Austria, parents, Austria. Immg 1901, speaks Russian.
Line # 45 John, son, male, white, age 8, single, born in pa
Line # 46 Andrew, son, male, white, age 4, signle, born in pa
Line# 47 Phillip, son, male, white, age 2 single, born in pa
Line#48 Mary, Daughter, female, white, age 4 ½, single, born in pa.
*******************************************************************************************
STATE: PA
COUNTRY: Luzerne
CITY: Kingston boro
CENSUS #: 1920
18 Pulaski street
Line # 28 LITWAK, Jacob, head, rents, male, white, age 39 married. Immig 1900 NA 1906, born in Russia, speaks polish. Parents , Poland, occupation, coal miner
Line # 29 Anna, wife, female, white, ago 40, married. Immig 1898 NA 1906, born Austria, speaks polish, parents, Poland.
Line# 30 Andrew, son, male, white, 13 single, born in pa
Line # 31 Felix, son, male, white age 11, single, born in pa
Line# 32 Mary, daughter, female, white, age 9, born in pa
Line #33 Julia, daughter, female, white, age 8, single, born in pa
Line# 34 Michael, son, male, white, age 4 ½, born in pa
Line# 35 John, son, male, white, 1 ½, single, born in pa
***********************************************************************************************
STATE: PA
COUNTY: Luzerne
CITY: Kingston Boro
CENSUS # 1930
Line # 79 LITWAK, Jacob, head, rents, male,white, age 51, married, born in Austria, immig 1901 NA, occupation, coal miner
Line # 80 Anna, wife, female, white, age 52, married, born in Russia, immig 1899 NA
Line # 81 Andrew, son, male, white, age 22 Single, baker, born in pa
Line# 82 Phillip, son, male, wjite, age 21 single, baker, born in pa
Line# 83 Mary, daughter, female, white, age 20, single, born in pa
Line # 84 Matthew, son, male, while, age 15 single, born in pa\
Line# 85 John, son,male, white, age 11 single, born in pa
*********************************************************************************************
STATE: PA
COUNTY: Luzerne
CITY: Edwardsville
CENSUS: 1940
595 High Street
Line # 75- Andrew, head of household, married age 32, completed 8th grade, born in PA. Occupation: Baker, 1404.00
Line # 76- Mary,(Simchick) wife age 27, completed 8th grade, born in PA
Line # 77- Andrew, son age 3, born in PA
Line# 78- John, son age 2, born in PA