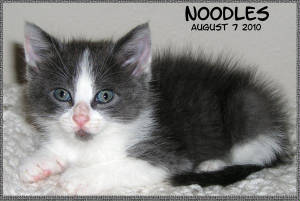 NOODLES
THE NEW KID ON THE BLOCK
Just what we needed, another mouth to feed, oh well. She was about 6 weeks old, born 24 June. Shelby jumped right into cat mom dog mode and they are best buds. Even Sam has become buds. He really didn't have anybody to play with, except a bunch of lazzy ass fat cats.
Now Noodles is running all over the house, gets up and down the stairs to use the big cat boxes, has learned how to be where the food is, including people food. And thinks Annette's back is her transportation from counter to counter or into the next room.
She had her first check up a couple weeks ago and was in good shape. She'll be making another visit when she reaches 6 pounds, I'm not waiting for that day when she turns 6 months. Doc says we can do it at 6 pounds.
Noodles big day came in Dec, right on schedule with all the annoying kitty moves and the calling. She got an appt the very next day........LUCKY US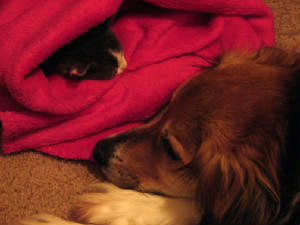 IT'S MY JOB TO TAKE CARE OF YOU, SO HERE GOES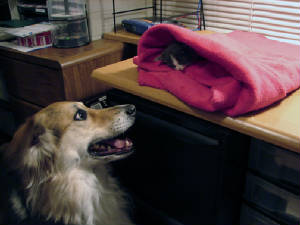 Noodles and Shelby 4 Aug 2010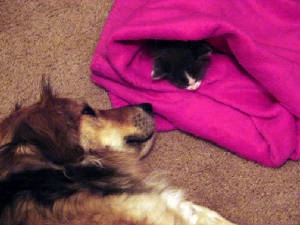 noodles and shelby 4 aug 2010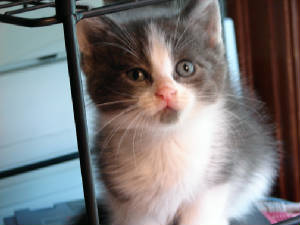 Noodles Aug 2010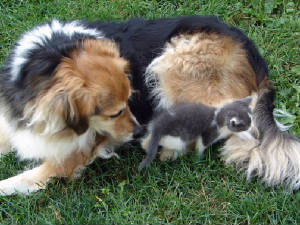 Noodles and Shelby Aug 2010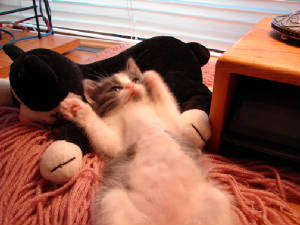 Noodles Aug 2010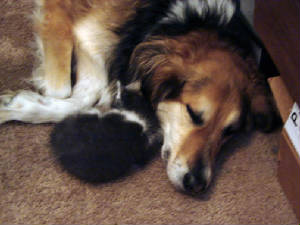 Noodles and shelby Aug 2010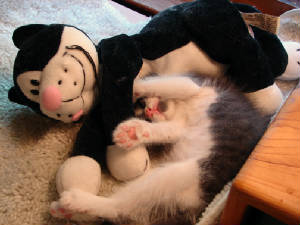 Noodles ug 2010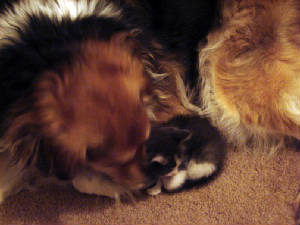 Noodles and Shelby Aug 2010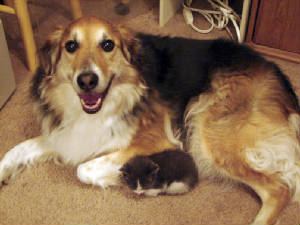 Noodles and shelby Aug 2010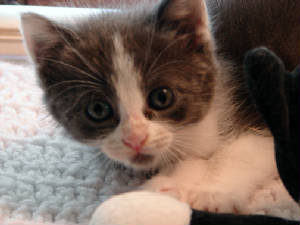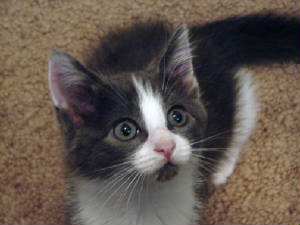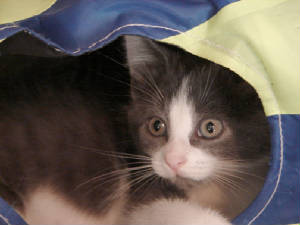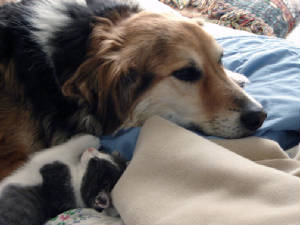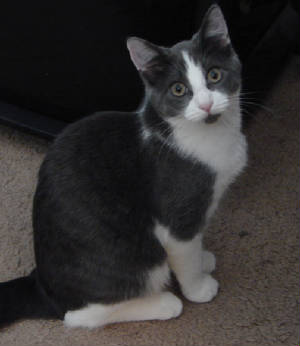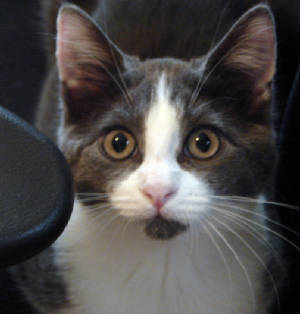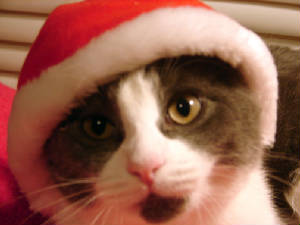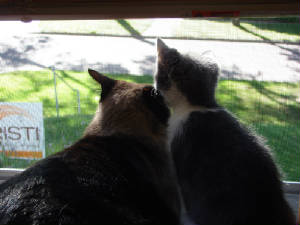 noodles and sam window buds 9-11-12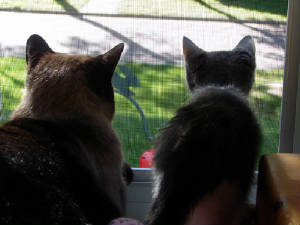 Noodles and sam 9-11-12.jpg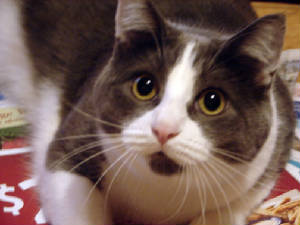 Noodles 16 Jan 12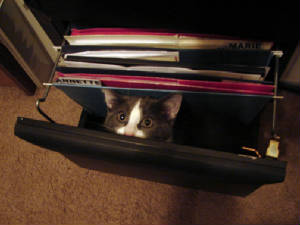 NOODLES- FILING 101 10-11-2010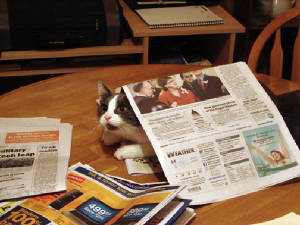 NOODLES HELPING WITH THE PAPER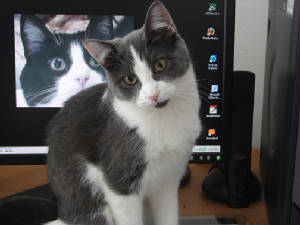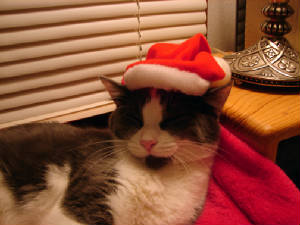 NOODLES 2010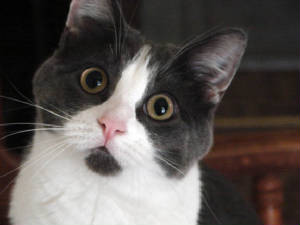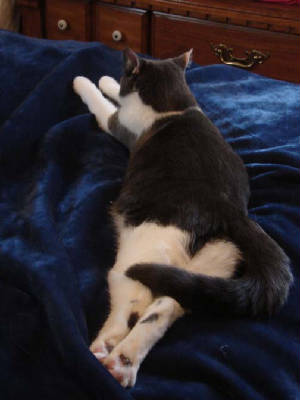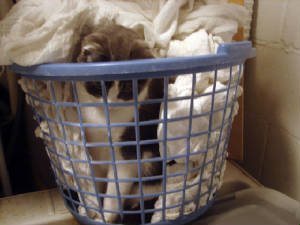 HELPING WITH THE LAUNDRY 2011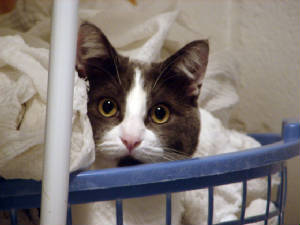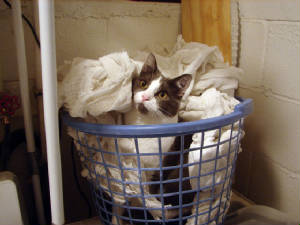 the little helper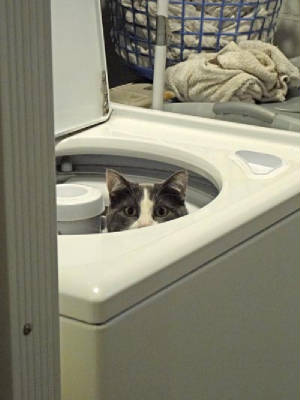 Noodles trying out the new washer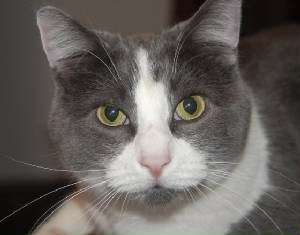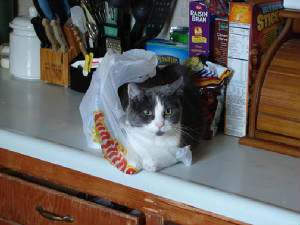 Noodles being helpful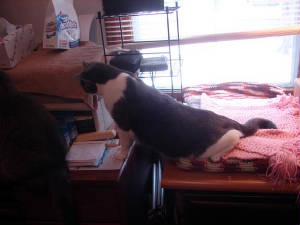 Noodle doing her girley push up's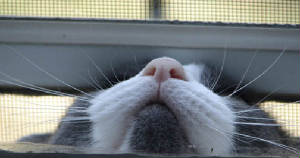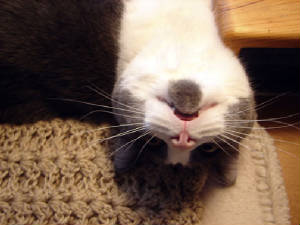 mommmmmmmm I think I broke my head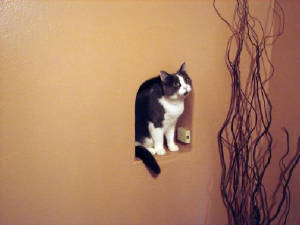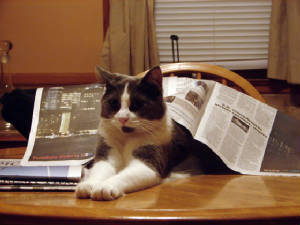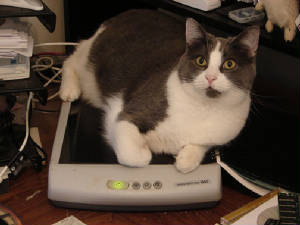 DR. NOODLES AND CHEAP CAT SCANS
******************************************************************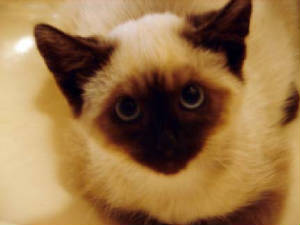 SAM 8weeks old
SAM McCLAREN
Found him running around behine a local business, 4-5 weeks old. took three days to trap him. Born 18 Aug 2008. He was scared and hard to get a hold of to just hold. Once he got used to that, he settled right down and of course Shelby was the big sister and they became pals.
sam 10 weeks old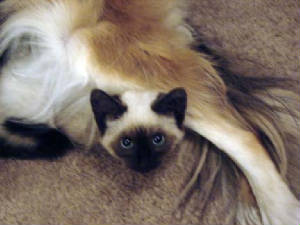 HIDING UNDER SHELBY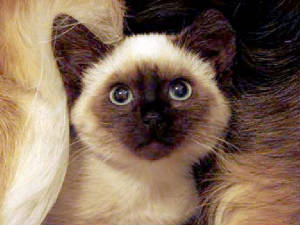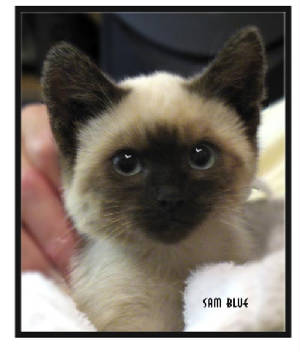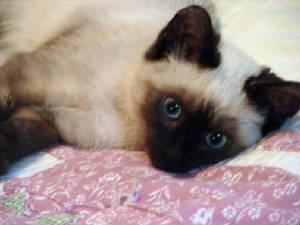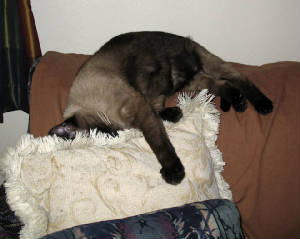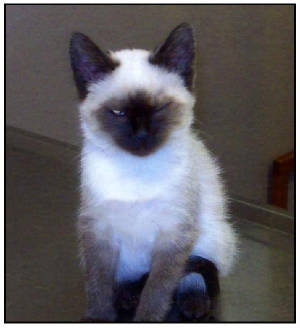 SAM 10 WEEKS OLD FIRST VET VISIT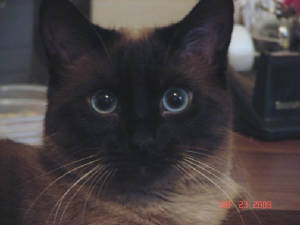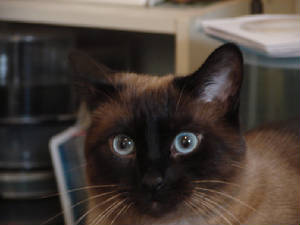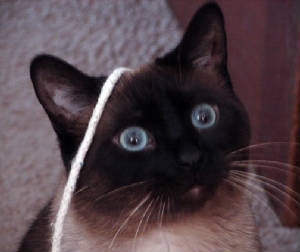 SAM 2011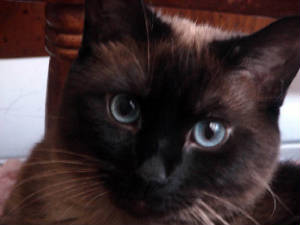 SAM 2011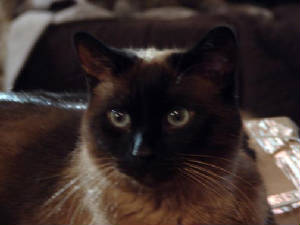 SAM 2013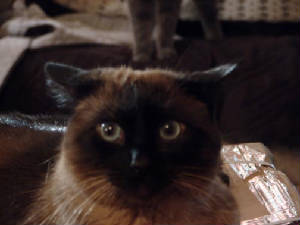 SAM'S CAT SCAN TECHNIQUE 2013
************************************************************
SCAMP the brat 16 Jan 2006
SCAMP KARBAN
MISS CATATUDE, What a brat, plays in the water bowls and splashes everywhere. Born 19 Sept 2005. She found her way into Annettes mother's house, well she just walked in the front door and made it her home. She was a little too wild, for the the two older cats, Riff Raff and Tu, so she ended up at our house. Where she continues to be a wild child. When I brought Tu home and he saw her, He probably said, oh no, not her.
This cat finds it fun to fly out of now where, jumping over you and being a brat. She knows when the water bottle is gonna get her, she gives the look of innocence. She has her moments of ok, you can pet me now and I'll nap with you for a short nap and then she off and running again.
SCAMP 23 Feb 2008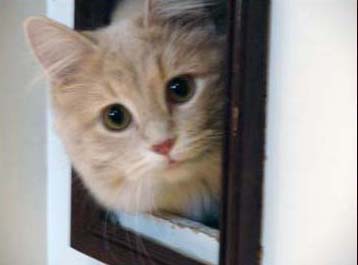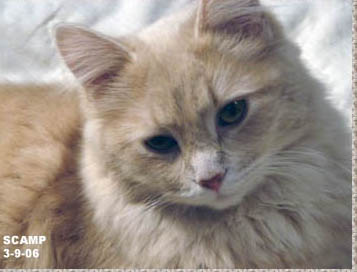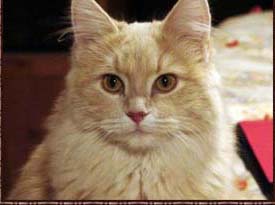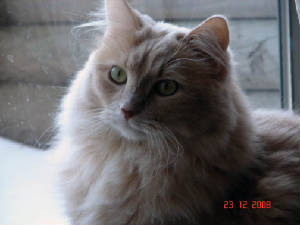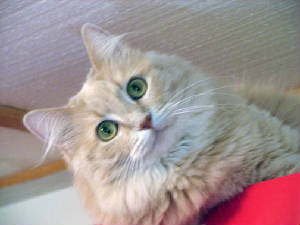 SCAMP 2010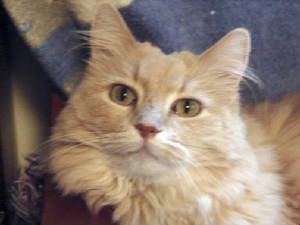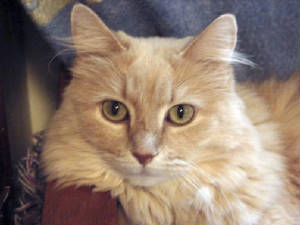 scamp 2012
**********************************************************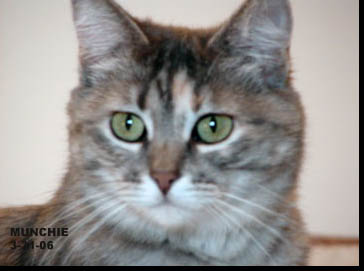 MUNCHIE 31 Mar 2006
MUNCHIE aka TRIXIE KARBAN
Found her way to our back yard and never left. after she produced three babies, she became a inside kitty, and was spayed. born 1 Jan 2003. She loved being outside, but also played in the street and under cars.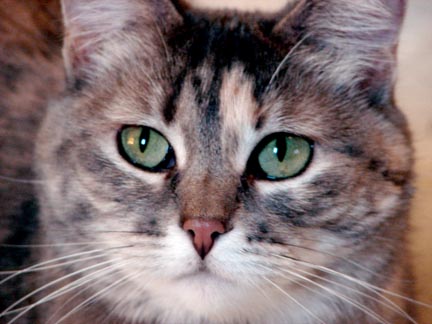 Miss MUNCHIE 23 Feb 2008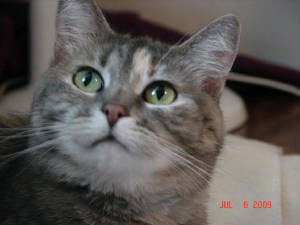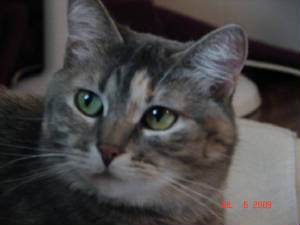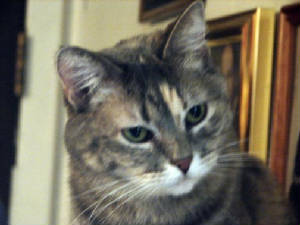 MUNCHIE 2012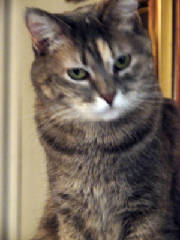 munchie 2012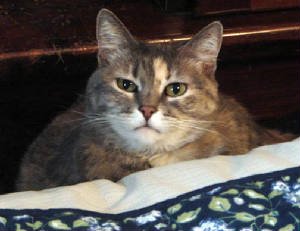 MUNCHIE 2013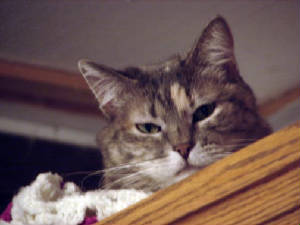 *********************************************************
**********************************************************
DOC'S GANG
shelby and Lottie 2012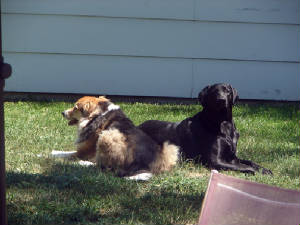 SHELBY AND LOTTIE SUN BASKING JUN 2012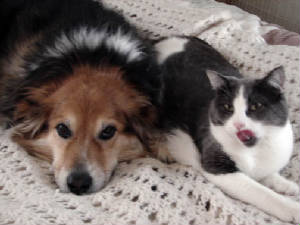 WHICH ONE OF YOU ATE MY CHICKEN OFF THE TABLE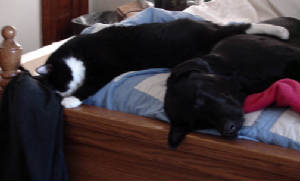 Jessie and lottie 2012
WINDOW BUDDIES 2012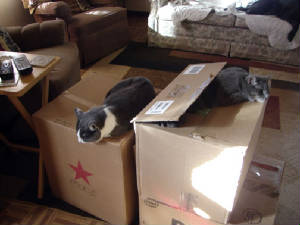 NOODLES AND WHEEZER CAT TESTING THE BOX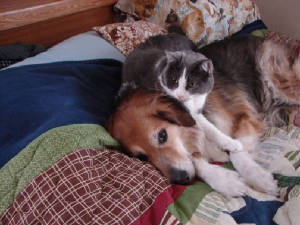 Noodles and Shelby 2012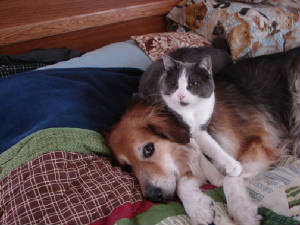 NAP BUDS 2012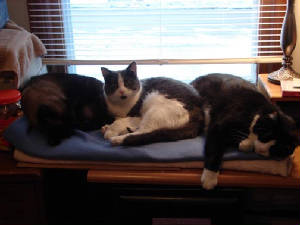 WINDOW CATS 2012 SAM- NOODLES AND JESSIE JAMES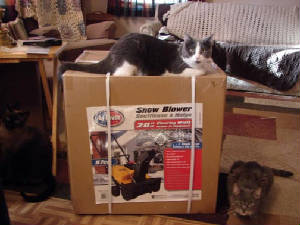 cat testing new box