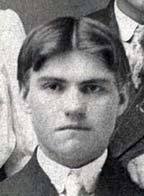 FRANK SIMCHICK 21 Feb 1906- 22 YRS OLD
Franciscus SZYMCZYK, (Frank Simchick) was born 16 Feb 1884 in Augustowia poland. Son of Anthony Simchak and Anna Czuper Simchak. He married Bronislava (minnie) Zelinski on 21 Feb 1906, the daughter of Anthony Zelinski & Mary/Marie Barscewski Zelinski of plymouth PA. they were married by Rev John Marlaz at st John the baptist church in larksville PA. Frank died 17 Jun 1958 from multiple injuries. He was crossing the market st bridge on the Kingston side and was struck by a car. He died 2 hrs later.
Frank and Minnie are the parents of
Frances Simchick- born 18 July 1907- in larksville PA, died 21 Sept 1952, she lived on 813 N. Washington st, wilkes-barre. She worked for Sharl Manufacturing company in Wilkes-barre. She is buried in the Holy Resurrection Russian Othadox cemetery plains PA, with her husband Peter Pitkevich and step sons Alexander & Nicholos, from his previous marriage to Julia Kosovich.
Frances was married to John Genesky (Grezezdzinski), their sons were John T Genesky and Albert Genesky. Frances worked in a sewing plant, making army shirts, she loved to cook and bake home made bread.
Joseph Simchick- Karban, 18 Aug 1911, died 4 Oct 1976- Manhattan NY and is buried in Pine lawn memorial cemetery farmingdale long island ny, he married Careene Mae Shattuck daughter of George Shattuck and Mary Connor Shattuck. . He lived on 35 Orange street Brooklyn Heights NY as a super (Maint).
Mary Simchick Litwak born 15 Mar 1913 she died on 4 Dec 1952, and is buried St Mary's greek catholic cemetery dallas PA Litwak plots, she married Andrew Litwak son of Jacob Litwak and Anna Lego Litwak. Mary lived on rear 595 Main st, Edwardsville pa.
Albert Simchick. born in 1915 Plymouth Pa, albert worked for the Glen Alden coal co in scranton Pa. in nov 1936 he lived on 123 hillside ave, Edwardsville PA and he also worked for Beth, steel co, lackawanna ny as a laborer. he is buried with his wife Josephine Kropovich-Simchick, Hill crest cemetery Hamburg NY. They lived on 260 Carriage park west seneca ny.
Albert had three children, Ronald, Maryann and Paula. They still live in Buffalo Ny in west senca on carriage park. . Paula graduated from Orchard HS 1974 and attended Buffalo state college and earned her master's degree in Art. She works as a school teacher and is very talented with art.. Mary ann works in an office at a local bank for many years in buffalo and Ron is retired, from one of the manufacturing plants in the buffalo area (Ford plant) He married Pat and has two daughters, Dee and Tracy.
Bridget Simchick born in 1918. Larksville, no infomation, other than in 1930, she was living with the Zelinski family on 90 West broadway larksville Pa, she was 12. Her name was Blance Shimshik, as a niece age 12.
The family lived mostly in Larksville and Edwardsville PA. Grandpa Frank was a retired coal miner, he worked for the Glen Alden and Woodward coal company. he lived on 14 high street in edwardsville, when I first met him in the late 1950's. there were piles of coal stacked around his house. He played the violin. The house is no longer there, it has been turned into a park. he also lived on Howard street and 595 Main st Edwardsville.
Frank is buried in St Mary's Byzantine catholic cemetery in Dallas PA not St Mary's greek catholic as his death certificate stated. Thanks to John Litwak and Barbara Dubee Wroblewski, his grave was found.. Franks parents may have returned to poland after the wedding, Anthony and Anna Czuper Simchak, no record found yet, that they stayed in PA. Frank was a member of Lodge #40 united society of GC and St Vladmir greek catholic church in Edwardsville.
1910 Census, Larksville, Luzerne county: Frank was found under the name of Shemshik, living on 91 Howard street. he was age 28, married 4 years, born in Russia/poland, parents from Poland, he immig in 1902 AL, speaks english and was a coal miner. Wife Bronislava (Minnie,) age 22, born in PA, married 4 years, two children, one living, speaks english. Daughter Frances was age 2, born in PA.
1920 census, frank found under Simsick, living on 61 railroad street in Larksville, he was age 35 and a widow. immig in 1903 AL, still a coal miner. Children listed, Frances age 12, Joseph age 9, Mary age 6, Albert age 4 and bridget age 2, all born in PA
1930 census for the Florence Crittention shelter and day care nursery on 23 Park ave wilkes barre pa, Mary Shimsick was found, working as a servant, house worker , she was 17 and had a child listed as Donald, age 2 1/2 months old. No indication she had been married.
Frank was living on 14 High st in Edwardsville at the time of his death. he lived on Hillside ave 123 in nov 1936, under the spelling of Simczik in edwardsville PA.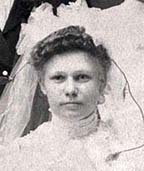 Grandmother Bronislava Zelinski Simchick passed away 26 Jan 1918 in Mercy hosp. she was buried in St John cemetery Larksville PA. In 1928 the cemetery land was stripped and the bodies moved to ST John' the baptist cemetery in Dallas Pa. She is in a grave marked unknown, due to poor record keeping during the move.
Bronislava's obit was found and read: Mrs Bridget Cimczyk, a resident of Railroad street, Larksville, died on sat evening at the mercy hospital. She had been ill for some time and her death was due to tubcular meningitis.
She was 30 years old and leaves a husband and 5 children to survive her. The funeral was held in the home on railroad st, a requiem mass was celebrated at St Johns church , Nesbitt st, burial in St Johns cemetery. Bronislava was well known in the community and the town.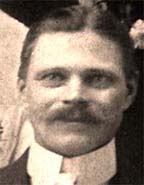 ANTHONY SIMCHICK 21 Feb 1906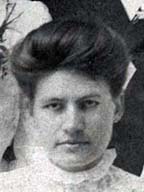 ANNA CZUPER SIMCHICK 21 Feb 1906
Franks parents, Anthony Simchick and Anna Czuper, were from poland. information translated off the funeral record for St Vladimir church in Edwardsville Pa, recorded by Father Lawrence Zakrewky pastor in June 1958. It listed his parents as Antoni Simchak and Anna Czupuer from Augustow poland. So far , I found no record of them living in PA, only that they were present for the wedding in Feb 1906.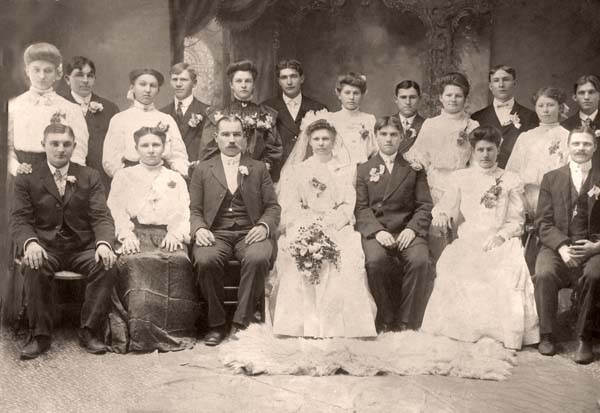 Frank & Bronislava Simchicks wedding 21 Feb 1906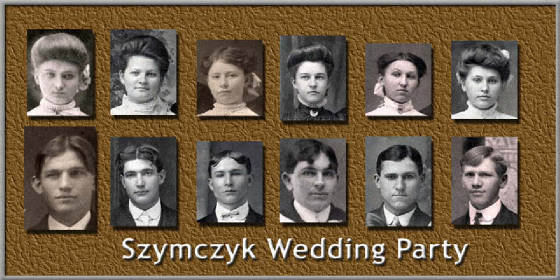 UNKNOWN GUESS ATTENDING SIMCHICK WEDDING 1906
Josephine simchick- mary simchick litwak- mary litwak, unk lady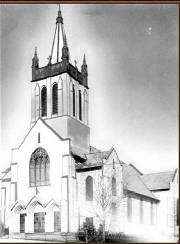 st john the baptist church larksville PA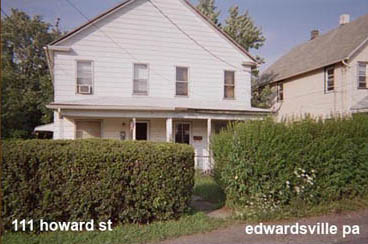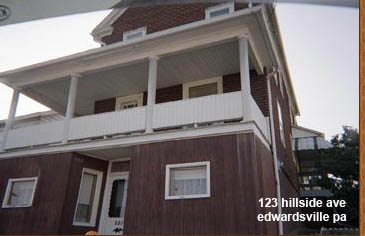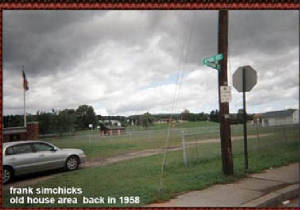 franks house used to be here on14 High street edwardsville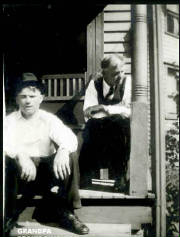 Frank Simchick & Maybe Jacob Litwak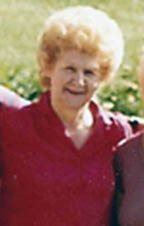 Josephine Simchick wife of Albert 1982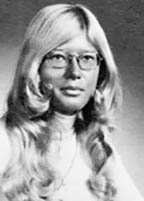 Paula Simchick 1974 Orchard park HS grad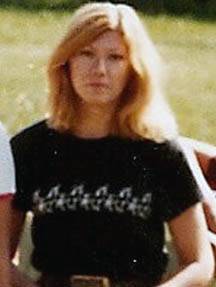 paula simchcick 1982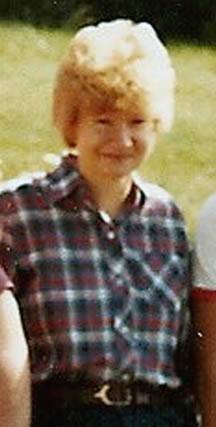 Maryann Simchick 1982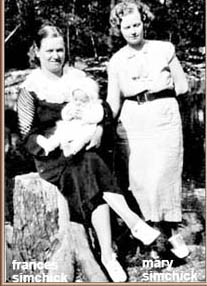 Frances Simchick Pitkevich & Mary Simchick Litwak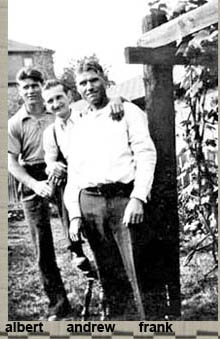 Albert & Frank Simchick & Andrew Litwak
Saint Mary Byzantine Catholic Cemetery
Dallas Luzerne County PA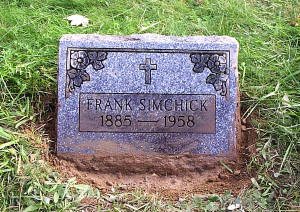 Hill Crest Cemetery
Hamberg Erie County NY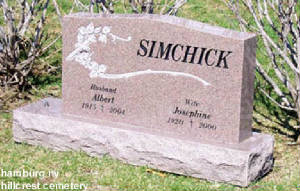 *************************************************************************************************
UNITED STATE CENSUS
STATE: PA
COUNTY: Luzerne
CITY: Larksville Boro
CENSUS #: 13th United States Census 1910
SHEET #
91 Howard street
Line # 43 Shemshik, Frank, Head, male, white, age 28, married 4 years, born Russ/Poland, parents born Russ/Poland. immig 1902, AL, speaks English, coal miner
Line # Shemshik, Minnie, Wife, female, white, age 22, married 4 years, 2 children, 1 living, born in Pa, parents born Russ/Poland, speaks English
Line # 45 Shemshik, Frances, Daughter, female, white, age 2, single, born in PA
*******************************************************************************************
STATE: PA
COUNTY: Luzerne
CITY: Larksville Boro
CENSUS # 14th United States Census 1920
61 Rail road street
Line # 52 SIMSICK, Frank, Head, male, white, age 35, window, immig 1903 , AL, Born Russ/Poland, parents Russ/Poland, coal miner
Line # 53 Frances, Daughter, female, white, age 12, single,born in PA
Line# 54 Joseph, Son, male, white, age 9, single, born in PA
Line# 55 Mary, daugter, female, white, age 6, single, born in PA
Line# 56 Albert, Son, male, white, age 4, single, born in pa
Line# 57 Bridget, Daughter,female, white, age 2, single, born in pa
**********************************************************************************************
STATE: PA
COUNTY: Luzerne
CITY: Wilkes barre city
CENSUS US Census 1930
FLORENCE CRITTENTION SHELTER & DAY CARE NURSERY
23 Park ave
Line# 10 SHIMSICK, Mary, servant, female, white, age 17, single, born in pa, house worker shelter
Line# 33 Donald, child, male, white, 2 ½ months
*********************************************************************************************
STATE: PA
COUNTY: Luzerne
CITY: Luzerene Borough
Ward 1:
CENSUS: 1940
45 Carpenter street # 357
Line # 27- SIMCHICK, Albert son in law, Married (Josephine) age 26, born in PA, completed High school 1 year, lived in Kingston PA 4 apr 1939. 760.00
Line # 28- Josephine, Daug age 19, married (Albert) completed 7th grade, Born PA, occupation: house worker, private home. Lived in Kingston 4 Apr 1939. 277.00