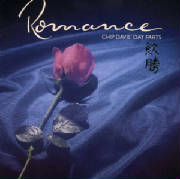 Barbara's Valentine
From the CD Romance day parts
Chip Davis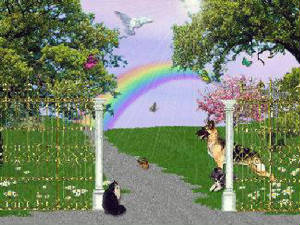 GUARDIANS OF THE RAINBOW BRIDGE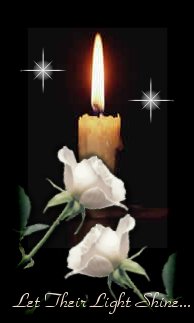 GOODBYE FROM MY FRIENDS
If it should be that I grow weak and pain
should keep me from my sleep: Then you
must do what must be done, for this last
battle can't be won.
You will be sad, I understand: but don't let grief
then stay your hand. For this day more than all the rest,
Your love for me must stand the test.
We've had so many happy years, what is to come
can hold no fears. You don't want me to suffer so, the
time has come, please let me go.
Take me where my needs, they'll tend, but please
stay with me til the end. To hold me close and speak to me
until my eyes no longer see
I know in time you will agree, it was a kindness done
for me. Although my tail it's last has waved, from pain
and suffering I am saved.
Please do not grieve that it was you who had this
painful thing to do, We've been so close, we two, these
years: and don't let your heart
hold any tears
Author Uknown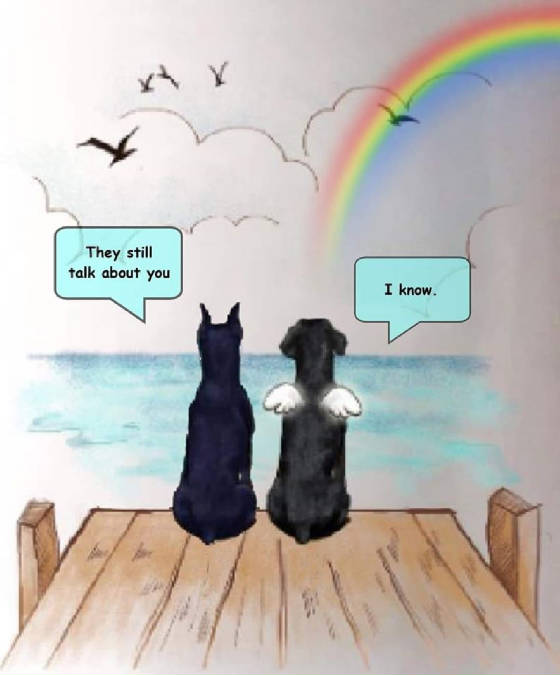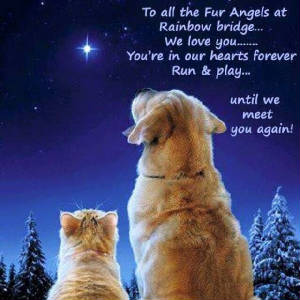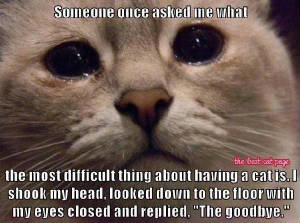 ****************************************************************************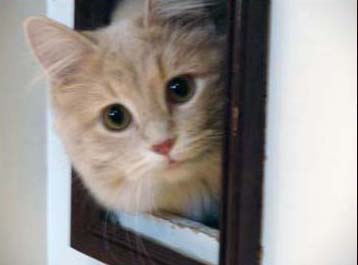 SCAMP

19 SEPT 2005- 17 MAR 2021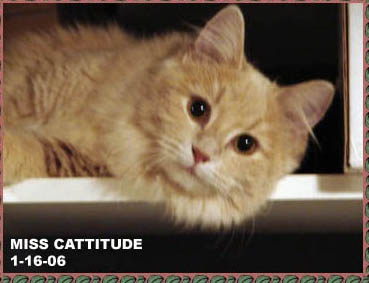 SCAMP the brat 16 Jan 2006
MISS CATATUDE, What a brat, plays in the water bowls and splashes everywhere. Born 19 Sept 2005. She found her way into Annettes mother's house, well she just walked in the front door and made it her home. She was a little too wild, for the the two older cats, Riff Raff and Tu, so she ended up at our house. Where she continues to be a wild child. When I brought Tu home and he saw her, He probably said, oh no, not her.

This cat finds it fun to fly out of now where, jumping over you and being a brat. She knows when the water bottle is gonna get her, she gives the look of innocence. She has her moments of ok, you can pet me now and I'll nap with you for a short nap and then she off and running again.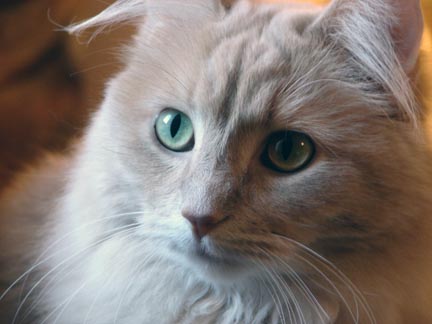 SCAMP 23 Feb 2008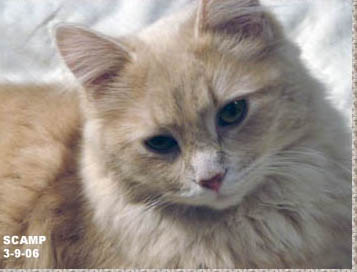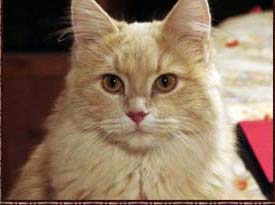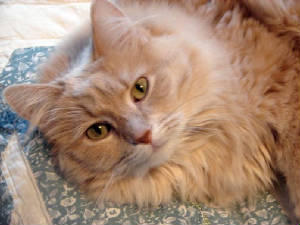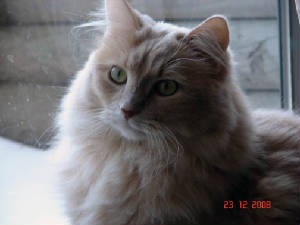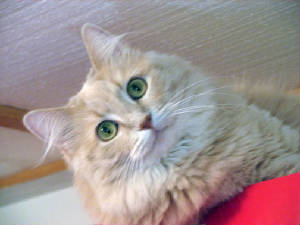 SCAMP 2010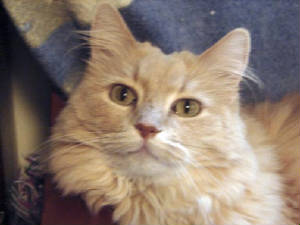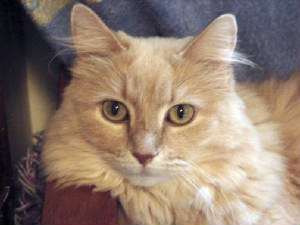 scamp 2012
*********************************************************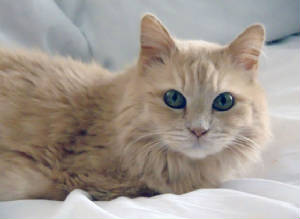 POOKIE
2002- 31 Oct 2020
Mr Pookie, has joined his two pals Lena and Socks, he was 18 years old and the last of the three outside kitties. After Socks passed away, we brought him inside to live out his years. Yesterday was his time.
He was just one of many cats showing up in our back yard and stayed. We had a nice cozy shed for them to live in. After Lena and Socks passed away, Pookie had nobody to snuggle with, so it was decided he would be our inside kitty and live out his life in comfort.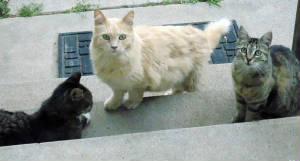 ***********************************************************************************************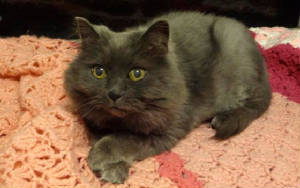 SPAZZ
2007- 14 Jan 2018
Hi, my name is SPAZZ, given to me by my previous owners down the street before they tossed me out. I don't remember what I did wrong or why. I don't remember doing anything wrong, I just knew I no longer had a warm place to live, but they did leave me some food and water on the front steps, what ever was left after the birds got to it and the ants.
My street home was across the street under the neighbors front steps and next door from my first home under those steps. Winters were very hard on me and when the summer came my fur was a mess, shedding in large clumps.
I was already 7 years old in 2014, I don't know where I first came from, maybe the Humane society. I was on the street for a few years before the nice lady down the street noticed me and brought food and water everyday. She would come early in the morning while it was still dark before the racoons came and ate everything. and later in the evening she would bring fresh stuff.
Then one day there was a nice dog house with straw and blankets in my yard along with a water bowl that was heated. Sure beat under the steps in the dirt and rocks. She also tried to brush out my matted fur, I was not happy about that, it hurt because it was stuck to my skin. I got to know her so well, I let her hold me, especially in the winter inside her jacket.
Then this one winter, it was so cold, she could not stand it anymore and next thing I knew I was in a warm house with blankets on the desk so I could look out the window, I had two kitty beds with blankets by the heater vent and under her desk, more food than I ever seen in my life and my very own kitty box. How can anybody be so mean to me, and here I'm treated like a queen.
Then they took me to this place called All City Pet. I got groomed and looked like a lion when they finished. I was poked and prodded and had my teeth cleaned and 3 removed. They stuck me with needles, and did tests to make sure I didn't have anything funky. guess you can say I'M HOME NOW.
My previous owners must have had me spayed, and are the same idiots who had my front claws removed. My moms were really mad about that. I got to live in a nice place for 4 years. But soon my health started failing, the kidney's were starting to shut down and I knew it was gonna be my time soon.
So today, Monday 14 Jan 2019, I made my journey to the other side. I have friends there, two big dogs named Shelby wearing these silly cat ears and big black lab Lottie greeted me and a bunch of other fur friends. They knew who I was and where I came from, My forever home.
Guess it's time to say good bye now, we'll meet again someday.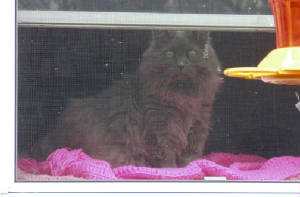 SPOOKY DO I LOOK SPOOKY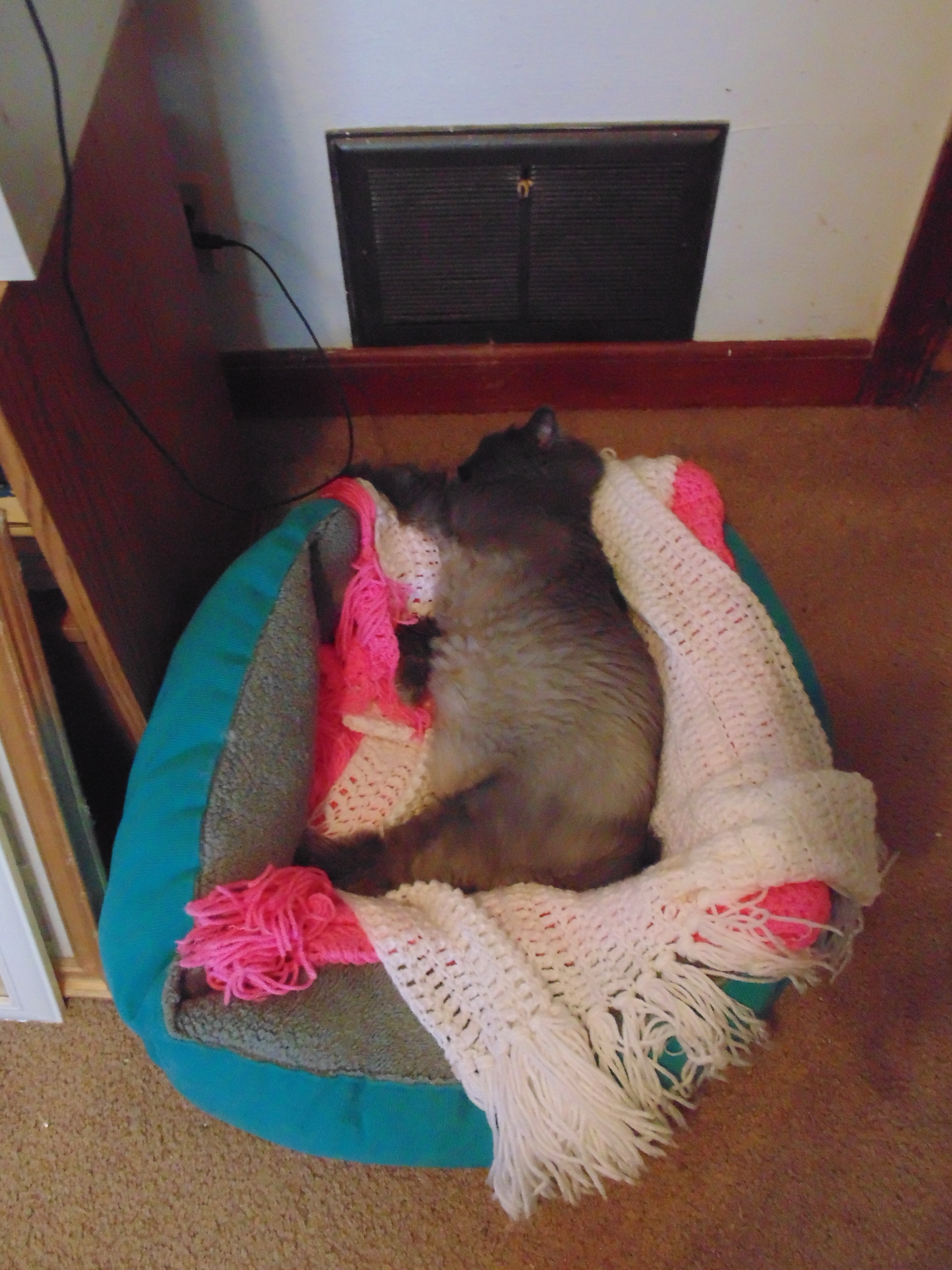 SURE BEATS SLEEPING OUTSIDE UNDER A DECK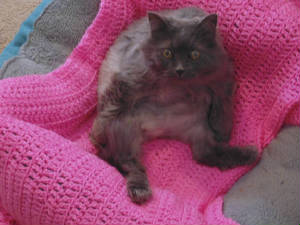 THEY SAID I LOOK LIKE A TROLL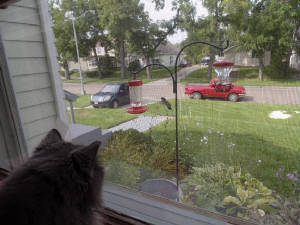 HUMMER WATCH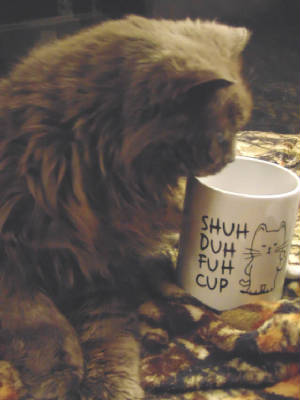 hmmm wonder what that means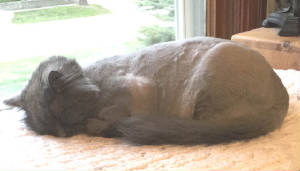 MY GROOMING JOB
**********************************************************************************************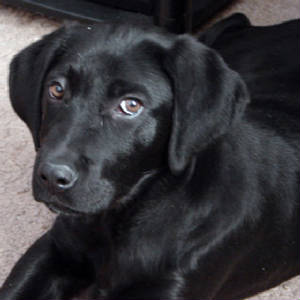 LOTTIE
7 Mar 2001- 26 Oct 2018
My name is Lottie, given to me by my previous family. I came from the indian reservation as a puppy. I lived in a rental house back in the alley between houses. It was so cold this one March and snowing, my people tossed me out in the yard because I had a accident in the house and chewed something.
I was just a puppy not knowing the rules and nobody trained me yet. They left me out in the cold with nothing to lay on and I cried.Thank god the lady, soon to be my new mom heard me and came down, saw me picked me up and took me to her house.
I really like it over there and wanted to stay, but I was still those peoples dog. I did get to visit a lot and soon before I knew it, I didn't have to go back to the awful place. I had a real home with cat friends and a big sister named Shelby. She showed me the ropes and it did not take me long to know my business had to be done outside.
Then one day, Shelby was not around anymore, It made me sad because I was alone and didn't understand what happened to her. Years passed by and things started to happen to me, I had trouble getting up and walking.
Today was the worse and my journey was about to begin to the other side.
I now knew where Shelby went, she is waiting for me. I love my mom and will miss her, but we will meet again someday at that special place.
*********************************************************************************************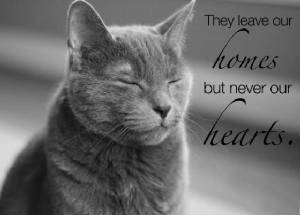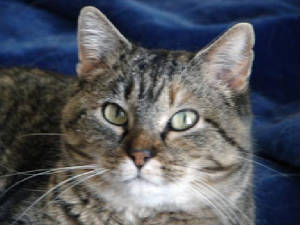 MAGGIE "MAGS" MOO
2000- 2017
Maggie showed up one day because another male black cat brought her over from across the back alley on 4th street and she was pretty friendly, unlike the other snobs. As she got her belly rubbed, we knew she had babies some where. After she left our yard, she disappeared .
Lucky to had followed her without being seen, she was hanging out in a garage with no doors full of junk across the alley on 4th street and she had babies, sneaky little furballs, got under stuff and hard to catch. So, we knocked on the residents door and asked if the cat belonged to them, they said no and go a head set a trap.
The trap didn't work. On our way home from work, I thought, it would be nice if Maggie brought her kids over to our place. Well, she did just that, they followed her over and got into our garage. QUICK CLOSE THE DOORS. and they hid, they got under a pallet, but heavy cabinets were on top of that.
New plan, set up the big dog kennel, put a harness on mom and tie her inside. when she calls them, they will come to her. I wish I had taken pics of Annette sitting on a cider block with a string tied to the door. and it worked, one by one they went to mama. This was the only litter we knew she had and soon as they ate on their own, mom went for a spay. She was an outside kitty for a long time, but now is a inside kitty.
No telling how many other babies she had before finding the three, she was about 8 years old when she came around to our yard. In July 2011 is when we knew she had babies some where. Maggie also became a inside kitty the last two years of her life.
*********************************************************************************************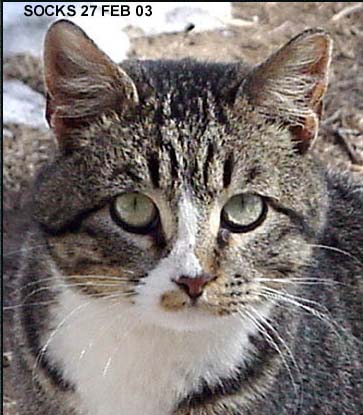 SOCKS
2002- 18 Sept 2017
Socks was one of those cats that just showed up and never left. He was a smooger too. He and pookie bonded right away. Lena tolerated them, after all she was the Queen. Socks would leave and come back, after all this was his home central.
One day, Annette noticed his mouth was swollen and he had a lump, turned out to be a tumor. Too far along and it was best to just let him go. Pookie didn't know what to do with himself, socks was his bud.
************************************************************************************************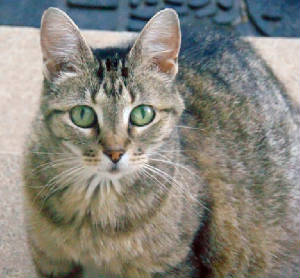 LENA
2001- 8 Sept 2016
Lena was one of mama Alley cats babies. she kept her distance, always watching how the other cats was around Annette. Later she was a bit more social. She and socks and Pookie pretty much bonded. They live in the shed with all the creature comforts. Winter time there was a chicken heat lamp to stay warm.
One day I noticed Lena's belly was getting big and she was spayed. Took her to the vet and it was all fluid, her heart was failing, but she never showed any signs. So, being there was no treatment for this, Lena joined her friends at the rainbow bridge.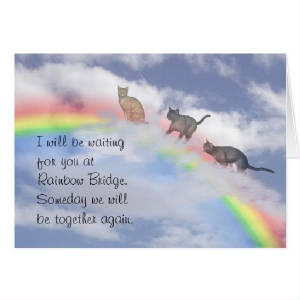 *************************************************************************************************
JESSIE JAMES 5 weeks old June 2000
JESSIE JAMES
June 2000- 9 July 2016
Rescue from same local hotel parking lot, he was 5 weeks old and needed a bath. Born June 2000. I was sitting in the car when this little unnamed tuxcedo kitty was dropped in my lap. Got his name before we even left the lot. He grew up to be a little porker, last weigh in was 18 pounds.....he loves to eat. Jessie had his thing to do, who needed a clock when every morning between 2 & 3am, he would howl, bang and pull on the doors so they shook. sooner or later somebody was gonna get up to feed him.
Jessie joins his brother Wheezer and sister Perky-lee today. Jessie started going down hill this past week, retreating to the basement. We could always be hopeful he just was not feeling well or something scared him, but he just stopped eating and drank very little water, sleeping alot. I could not stand by and watch him fade for another week. today. Shelby has her cat mom ears on will be waiting at the bridge for him.
Noodle stayed by his side all week, sleeping side by side on the blankie, now she is looking for him. They all know when somebody is gone. When Mandy passed away, Annette's golden Stella sat in the middle of the side walk, lookking for her. Lottie misses Shelby too.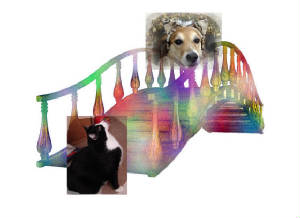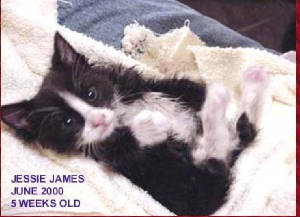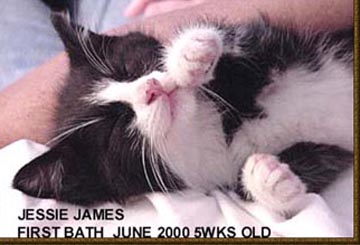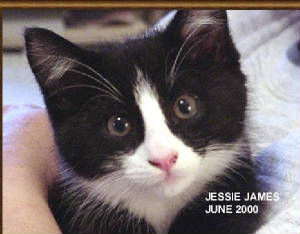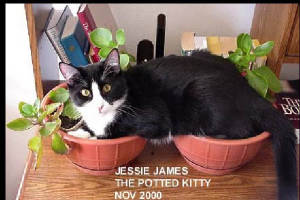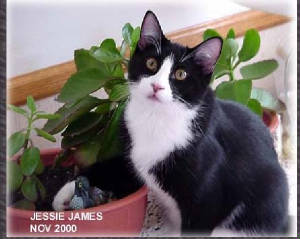 THE DIRT FELL OUT AND I WAS JUST PUTTING IT BACK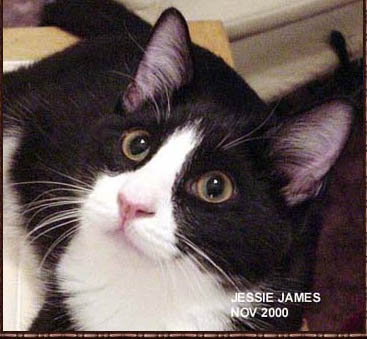 JESSIE JAMES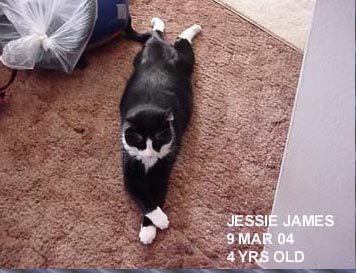 THIS IS THE EXSACT MEASUREMENT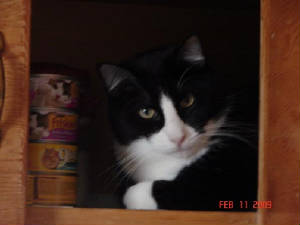 GOT THE HINT YET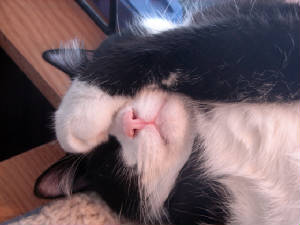 Jessie James kitten headaches GET THAT MOTHER FIXED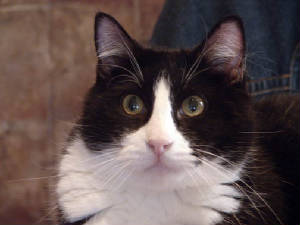 Jessie 15 Mar 2012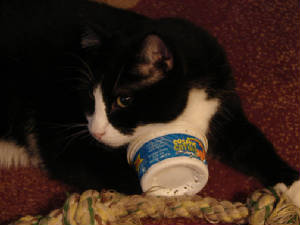 Jessie hogging the cat nip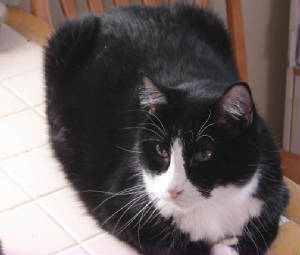 JJ 2012
**********************************************************************************************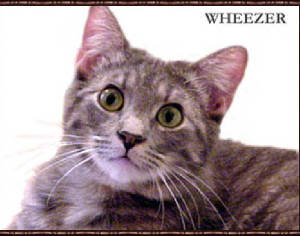 WHEEZER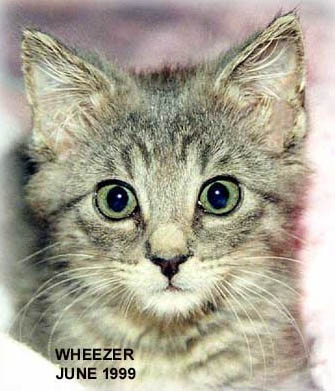 WHEEZER 5 weeks old 1999
WHEEZER
1 Jun 1999- 27 May 2015
Born 1 Jun 1999 rescued from local motel parking lot sioux falls, got his name for wheezing in my ear for three days. He was 5 weeks old. He would had been 16 in June. Wheez lived all his life with a nose issue, chronic sinus fare ups, not much could be done for him, just medication when he started, seem to help alittle. Wheezer was the 2nd rescue, his sister Purkie-Lee was also 5 weeks. Brother Jessie James is the last of the three.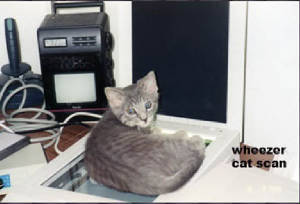 CAT SCAN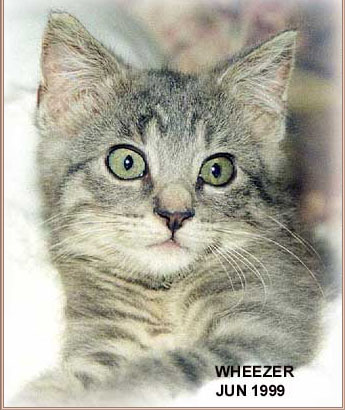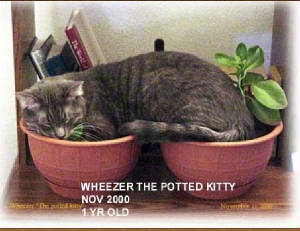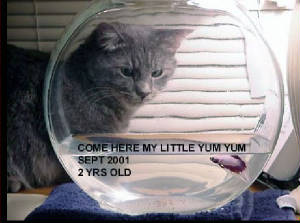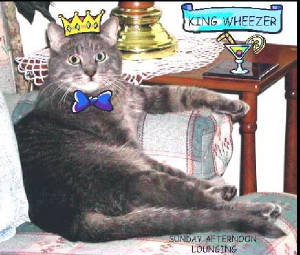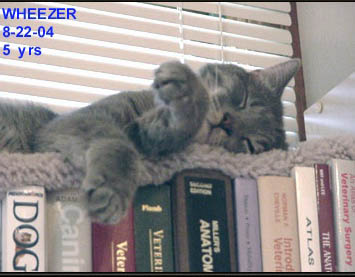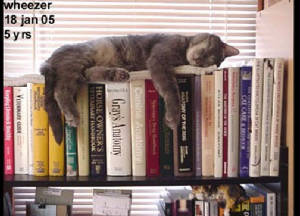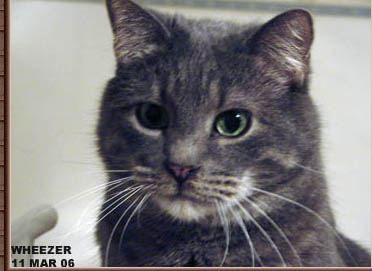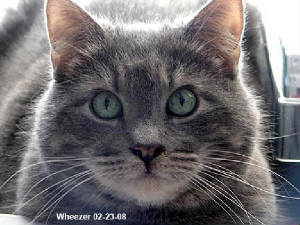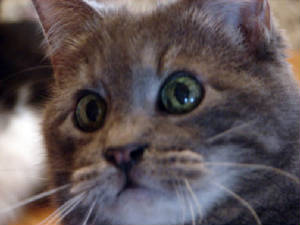 wheezer 2012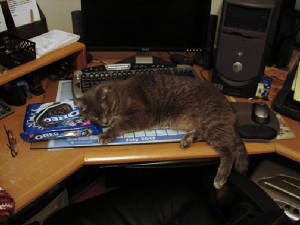 wheezer 2012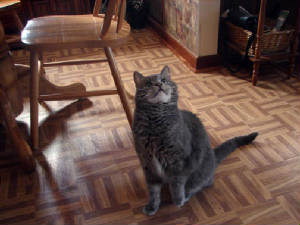 WHEEZER 2012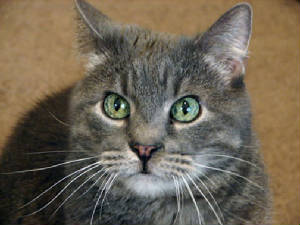 WHEEZER 2010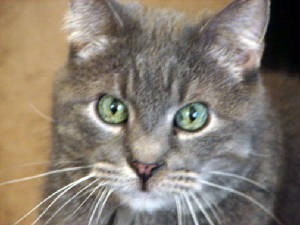 WHEEZER 2010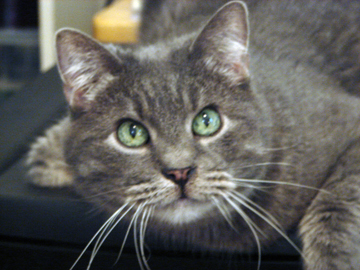 WHEEZER 2010
********************************************************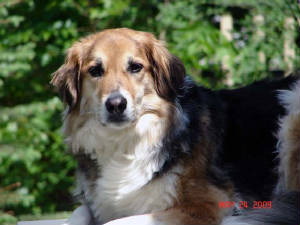 SHELBY
SHELBY LYNN
29 Dec 2004- 16 Jun 2014
My Petco special puppy. Just so happened a adoption was going on the day I got her. She looked up at with those sad eyes, of course I knew all along she was working me. The lady asked if I wanted to hold her, of course who could resist. Annette stolled by with her shopping cart and gave me the look, shook her head and later told me, she knew Shelly was coming home with me.
When I got up to check out with no dog in toll, she didn't say much, until we got in the truck and asked "WELL", I said she was only 40.00, handed me the check book and my soon to be best friend was on her way to her forever home.
The story was, Shelby was Golden retriver, German Shephard mix, hmmmm, that tell tail white ring of fur around her neck told a different story, she forgot to mention the border collie and thank god the other two straits out did the wild border collie.
Shelby had a special way about her, always taking in and protecting the little creatures, from wood ducks to kittens and putting up with silly hats and dress up. She never chased a ball or caught a frissbe or stick, she was just my pal and that was ok with me.
I hoped to have a few more years with Shelby, but that was not to be. As I held her tight and felt her spirit leave her body, I knew she was at peace now.............missing her alot
******************************************************************************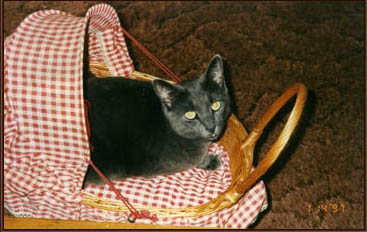 MICKEY 1994- Feb 2014
Beloved kitty pal of my sister Virginina Berdoff
***********************************************************************************************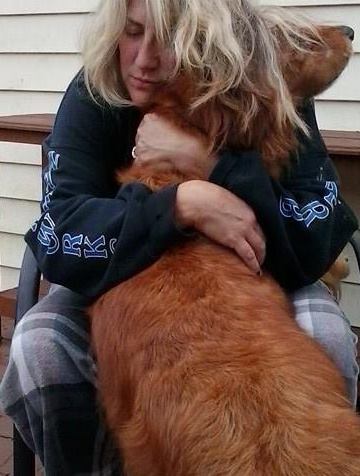 DEBBIE AND MUNSON
MUNSON
31 Oct 2006- 4 Oct 2013
Beloved best buddy of Debbie Berdoff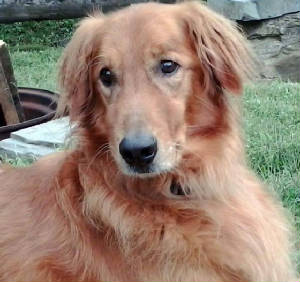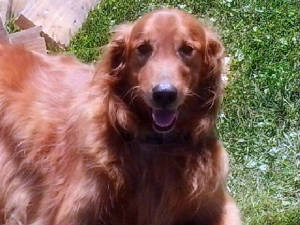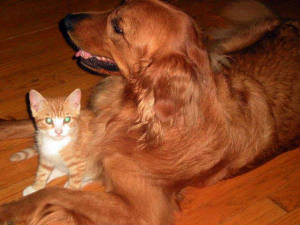 MUNSON AND JUNIPURR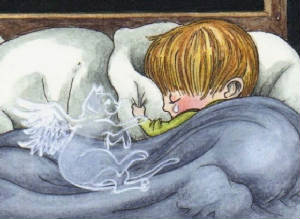 The Good Vet Guide
To my dearest friend.

I stood by your bed last night; I came to have a peep.
I could see that you were crying you found it hard to sleep.
I spoke to you softly as you brushed away a tear,
"It's me, I haven't left you, I'm well, I'm fine, I'm here."
I was close to you at breakfast, I watched you pour the tea,
You were thinking of the many times, your hands reached down to me.
I was with you at the shops today; your arms were getting sore.
I longed to take your parcels, I wish I could do more.
I was with you at my grave today; you tend it with such care.
I want to re-assure you, that I'm not lying there.
I walked with you towards the house, as you fumbled for your key.
I gently put my paw on you; I smiled and said, "it's me."
You looked so very tired, and sank into a chair.

I tried so hard to let you know, that I was standing there.
It's possible for me, to be so near you everyday.
To say to you with certainty, "I never went away."
You sat there very quietly, then smiled, I think you knew...
in the stillness of that evening, I was very close to you.

The day is over... I smile and watch you yawning
and say "good-night, God bless, I'll see you in the morning."
And when the time is right for you to cross the brief divide,
I'll rush across to greet you and we'll stand, side by side.
I have so many things to show you, there is so much for you to see.
Be patient, live your journey out...then come home to me.
Author Unknown
*****************************************************************************************************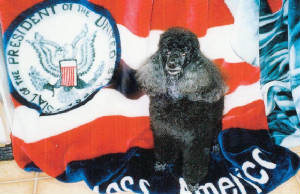 Danny Boy Jensen
Beloved friend and mascot of 1SG Dixie Jensen and the US 14th Womens Army Corp Band, Ft McClellan AL.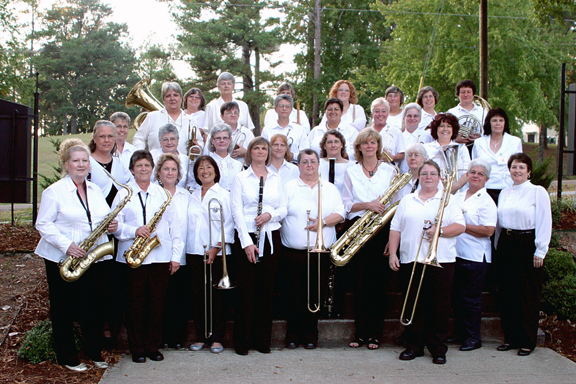 *************************************************************************************************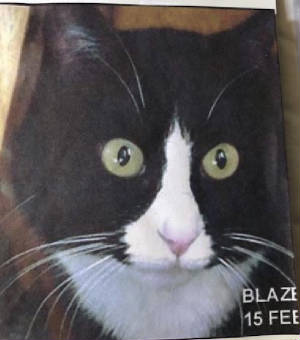 Blaze has joined his sister Scratch kitty, shortly after Scratch passed away. He was born in Fairbanks Alaska like his sister. When his mom Tracy moved to Maryland in 2008, Blaze decided to do a Crocodile Dundie and do his own walk about.
I think he was gone about a week and found his way home. Those days of being outside stopped pretty quick, mom had a in door patio screened area made.
It took awhile before I could hold Blaze when I was taking care of them while mom was out of town. One day, as I was filling up the water cups around the house, Blaze was in one room, I laid on the floor almost begging for him to come over, after all I was the keeper of the treats. Just when I was giving up, he walks over, tail in the air and walked right over me like I was a door mat..... little brat.
****************************************************************************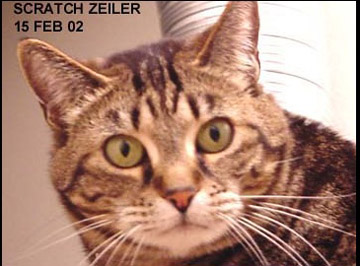 SCRATCH
1993- May 2012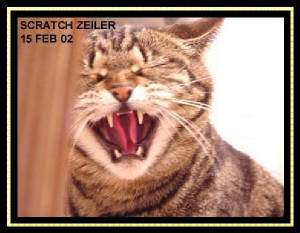 I was trying to get her to change her pose and she decided to have none of that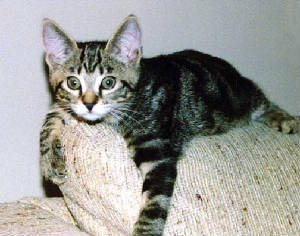 Scratch Zeiler, born in Fairbanks Alaska. I took care of Scratch and Blaze when they lived in Harrisburg SD and thier mama Tracy had to leave town on business trips. Scratch could always be found hiding in the closet. It took several years to finally pet her and hold Blaze. Scratch was a sneaky little gal and I been whacked a few times by her. and you are nobody until you been HISSED at.
Scratch and her brother Blazed move to Maryland in 2008. They used to be allowed to roam outside but when Blaze took a adventure tour at his new place and got lost, mom had to build an in door patio area, and the going outside days were over.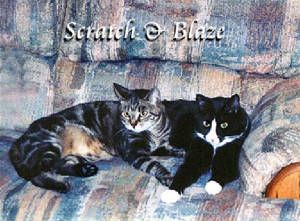 SCRATCH KITTY AND HER BUDDY BLAZE
*****************************************************************************************************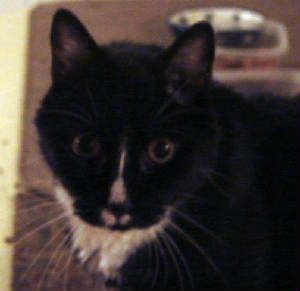 TU 4Aug 2011
TU
1997- 5 Aug 2011
Born in Kansas City KS, He belonged to Annette's brother Jon, while he was attending school.Tu was Jon's neighbors' cat in Kansas; but spent all his time outdoors. He sat on the rail outside Jon's kitchen and peered into their apt for a couple of cold days so Jon let him in.The neighbor's little boy called him what sounded like "TWO" because he could not talk very well. Not sure if the cat had a name. So, Jon decided to leave "TU" as his name. He was cat number two for Jon, even though Riff at that time lived with us, Riff later went to live with jon and mom. at her new place.



When Jon returned home to Sioux Falls, TU came along.. He is a dog cat, follows you around and a talker. When ever I went over to mom's, Tu would come out of no where and be my lap cat. Tu ended up with me, because it was either the pound or worse and I could not let that happen, so on the day the family was moving to a new place, Tu came home with me.

And now he has gone home to be with his cat buddies, Tu lived to be 14 years old and had a good life.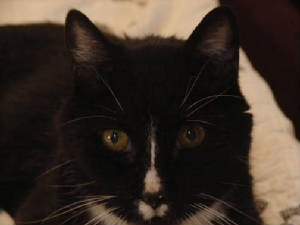 TU 4 Aug 2011
TU 23 Feb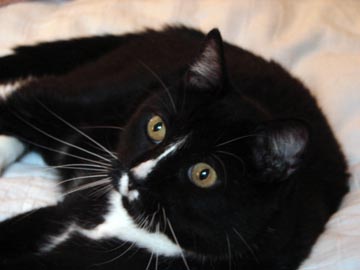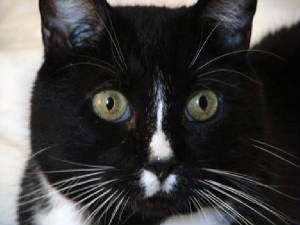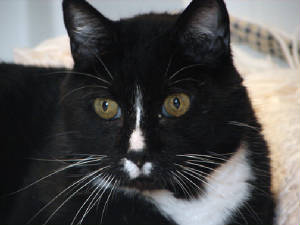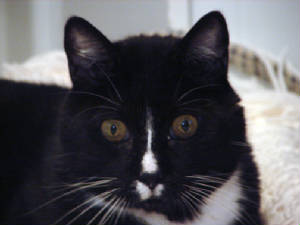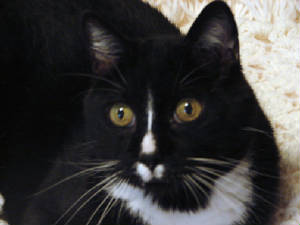 ***********************************************************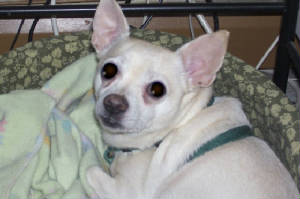 Ralphie
1 Jan 1994- 25 Jan 2011
Lilah Berdoff's fur ball
************************************************************************************************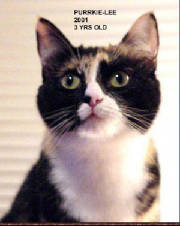 PURRKEY-LEE
1 JUN 1997- 17 nov 2010


Born in Sioux Falls SD 1 Jun 1997, rescued from a motel parking lot, 5 weeks old. sister of Jessie James and Wheezer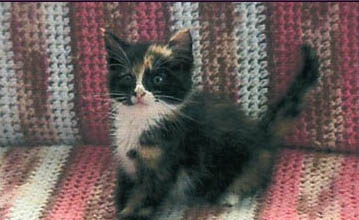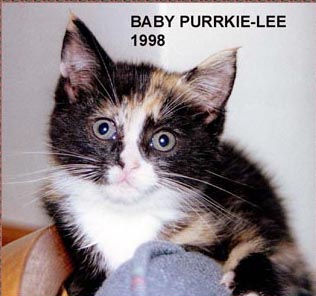 PURRKIE-LEE 5 weeks old 1998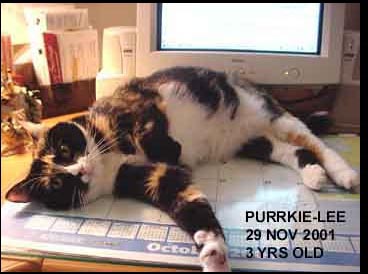 IT'S CALLED HAMPERING GET USED TO IT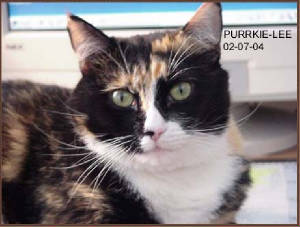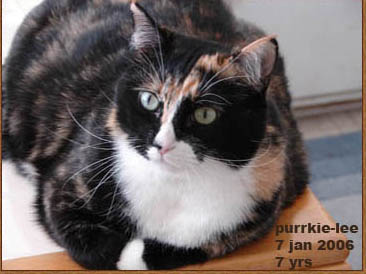 PURRKIE-LEE 7 Jan 2006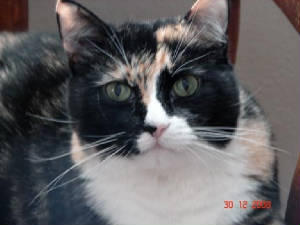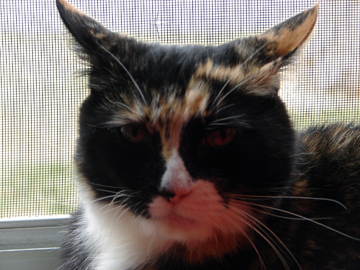 MY OWL EARS ARE BETTER THAN SMOOGES OWL EARS
**************************************************************************************************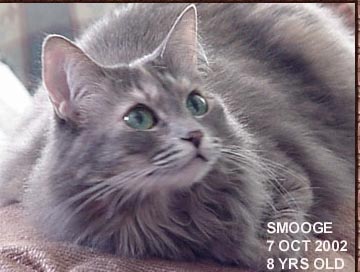 SMOOGE 7 Oct 2002
SMOOGE
19 SEPT 1994- 13 MAR 2010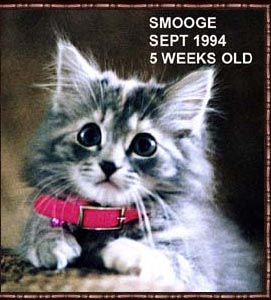 SMOOGE Sept 1994
What a little character she was. Born in New hyde Park long island, she loved pizza. and she was quite the little thief. She would steal food, the mail and haul ass with it to a secret place. She was a few days old and no mama, so we went every where together, I would carry her inside my jacket until she was too big. She always was a little slender gal.
She was always dragging the laundry from down stairs to the living room upstairs often when there was company. Smooge was not choosey what item she brought up. One christmas, I was taking to my sister in NY and all of a sudden this table top christmas tree was walking across the room. Plants never lasted because they all thought it was cool place to sit on. and plastic grocery bags ran across the floor, no telling who was in it.
She must have had a empty ness thing, she'd drag the clean folded rags out of the laundry and drag it upstairs doing her low serious meow meow, the sound of a hunter cat with a prize. There would be rags every where. To top that off, playing in the dog food and dropping each kernel down the stairs, became quite annoying at 2-3 in the morning. Of course there was not a cat to be found once you came upstairs to see who was doing it. However.........once you go back down stairs, it started all over again.
She was good cat fight breaker upper. She'd come out no where and slap the crap out of the other brats and had that DON'T MAKE ME COME OUT THERE AGAIN. expression on her face. more the look of disgust.
Smooge being raised inside my jacket, it was only fitting that she make the last ride to the vet the same way. When she started failing, and it's one thing I can't stand by and watch . Smooge was 15 1/2 years old and had a good life and I will miss her.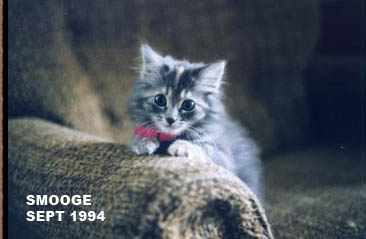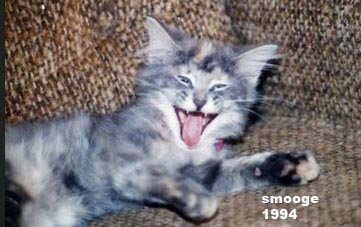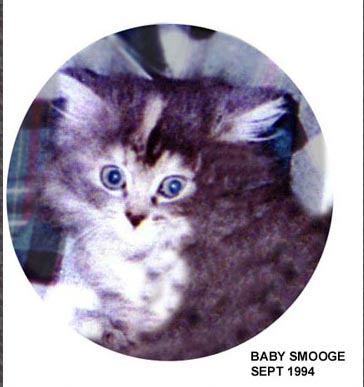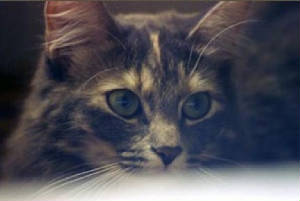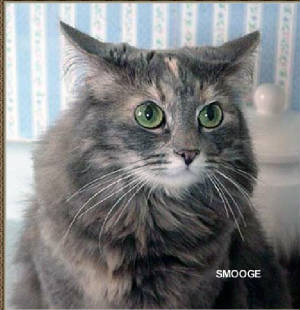 HOW DO YOU LIKE MY OWL EARS IMPRESSION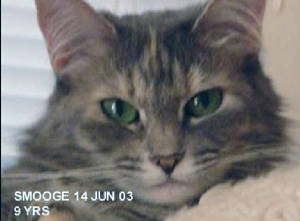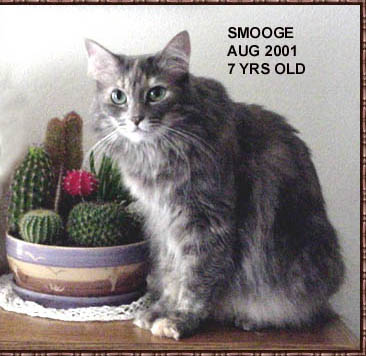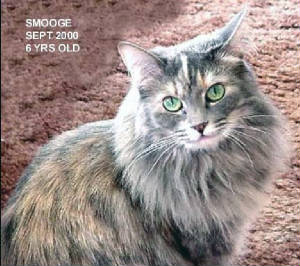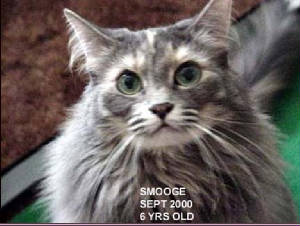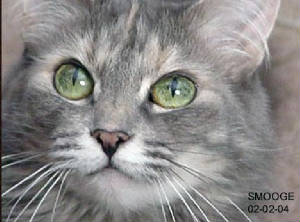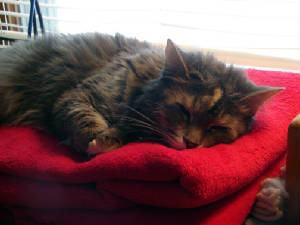 SMOOGE CAT NAPPING MAR 2010
*********************************************************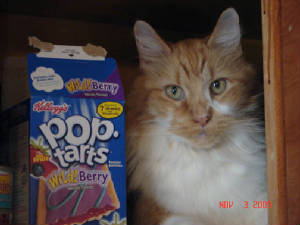 WHAT- YOU THOUGHT I WOULD NOT FIND THIS
CHARLIE Jr
20 Mar 1996 - 26 Dec 2009
Charlie Jr, adopted from the Sioux falls humane society. I was looking for another orange kitty and He was 5 weeks old and the last orange kitty in the kennel. He was a mix of Farm kitty and main coon. Little did we know, he would take over the house and turn out to be a big kitty. He was the watch cat, and made sure everybody who came into the house knew he was there.
Charlie was always very vocal and had his special ways of waking you up, some not very nice ,Especially when he had knocked down items, made noise and looked over to see if you were awake yet. and resorted to plan B, lets just back into your face after he visited the litter box.
Charlie loved donuts, no box was safe on the counter. My sister sent a bread box one christmas and a safe place for donuts. Charlie wasn't feeling good, and we noticed his weight was dropping. After several days of seeing him lay in a corner and didn't want to be picked up or touched was a sure sign he needed help on his journey
Charlie would had been 14 this march 2010 even though I picked him out of the humane society, he was Annette's cat, because she was the keeper of the kibble. Charlie will be missed.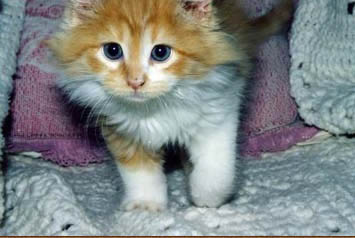 CHARLIE 1996 5 weeks old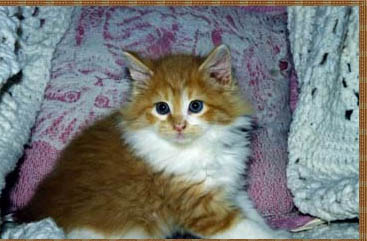 Charlie 4 mos old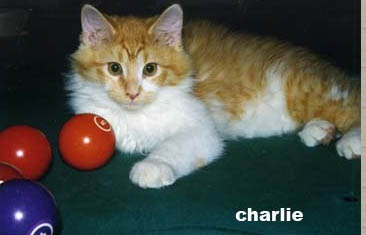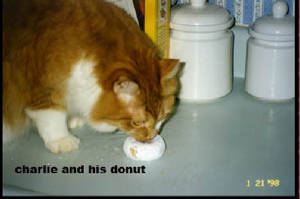 AM I BIGGER THAN A BREAD BOX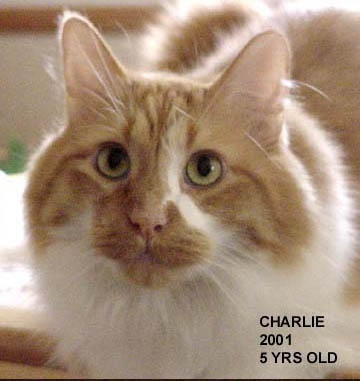 CHARLIE 2001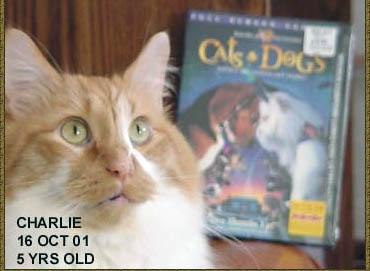 FREE CAT WITH DVD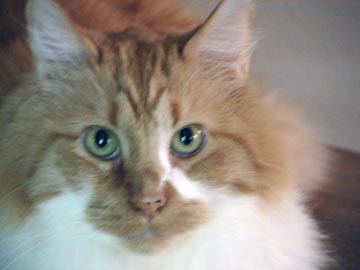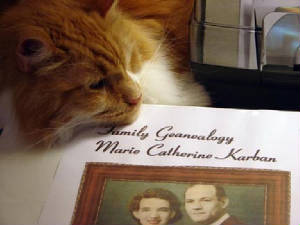 GENEALOGY IS HARD WORK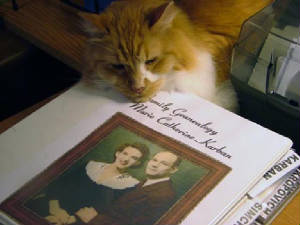 I'M TIRED LOOKING FOR THOSE SIMCHICKS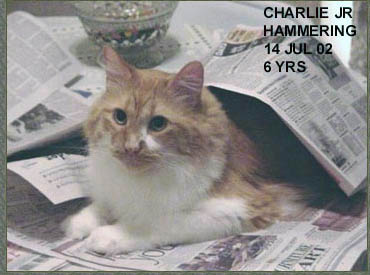 WHY WE CAN'T READ OUR PAPER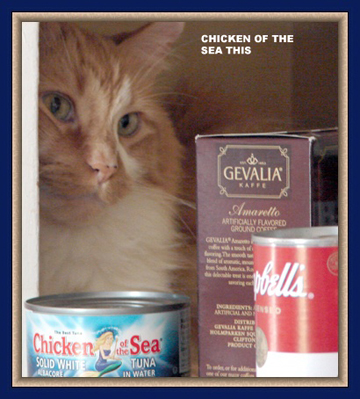 ******************************************************
ARGUS LEADER PET OF THE WEEK JUNE 2001
BENNY
5 Apr 1997- 22 Sept 2009
Argus leader pet of the week from the sioux falls humane society. He was 4 years old and given up being a family pet because somebody was allergic. He was dropped off on 24 May 2001. When I saw the Pet of the week picture, I asked around work to try and get somebody to adopt him, because he had a face.
I adopted him in 6 June 2001, When I called the Humane society and asked if he was still there, they said yes and I said NOT ANYMORE, I'd be there to pick him up. His name was ZIGGY, by the time I got him home, his name was now BENNY. I should had named him stubbie, his tail was short.
I will miss his head bonks and throwing his body at me when he felt like being friendly Just plain having his moment of being a pest, actually he wanted something. His daily marking me as his property, just in case yesterdays marking wore off. And his helpfulness untieing my shoes, when I just tied them. He would always have that look when I left for work , WHAT YOUR LEAVING ME and I'd say as I closed the door, I'M NOT GONNA LOOK AT YOU, peek back in and there he was giving me that look.
I'll miss our nap sessions and watching the Young and restless and Judge Judy . He seemed to know when those was on. Waiting for his milk, that he knew was in my cereal bowl and giving me lip service for making him wait too long it was a serious thing and he made sure I knew how upset he was about it.
I'll miss him being helpful making my bed, by messing it up. He'd push the bed spread all the way back down to the foot of the bed. WHY BOTHER He was proud of his handy work.......LOOK WHAT I DID. He was a good kitty sitter when we had kittens. Even though it looked like he hated it when they climbed all over him, he loved every minute of it.
I almost lost Benny in June. I didn't know he was having a problem peeing. He spent a week at the vet. He was plugged, not uncommon for older male cats to have that. I changed his diet to precription dry food, no more meow mix, worse for older cats. So Munchie, Tu and Scamp would just have to eat the same thing Benny had.
He had to be given a pill and liquid meds twice a day. He did not cooperate and this became a two person operation. So, bring on the TACO WRAP TRICK. I decided, well if I chop up the pill into a fine powder and mix it with the amoxcillin and put that in a syringe get his mouth open, do it fast...........done for the day.
Benny improved and was doing good, I thought the problem was solved, but out of no where in Sept, I saw the all the signs of happening again. He was in pain and this time around his kidneys shut down. There was nothing more I could do for him, but to let him go.
My Benny buddy.............rest in peace........miss you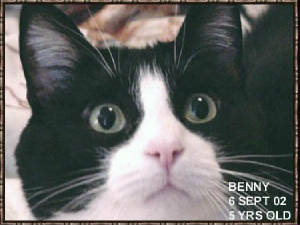 THE -MOMS GOING TO WORK LOOK
BED MESSING UP 101
PREPARING TO MESS UP MY BED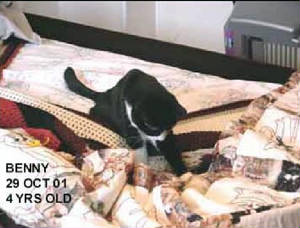 AHHHHH I'LL JUST SLIDE AND MAKE THIS PILE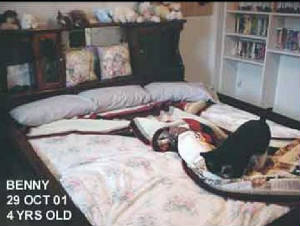 PURRRFECT- JUST LOOK AT MY HANDY WORK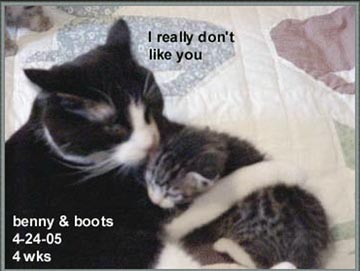 I REALLY HATE YOU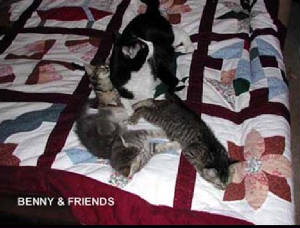 HEYYYY, QUITE NOW JUDGE JUDY IS ON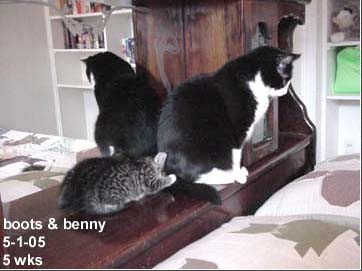 TOUCH THAT TAIL AND I'LL BITCH SLAP YOUR ASS ACROSS THIS ROOM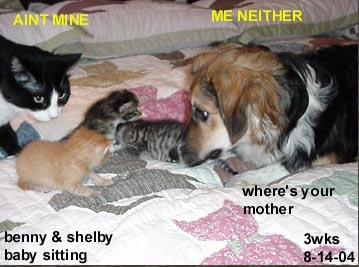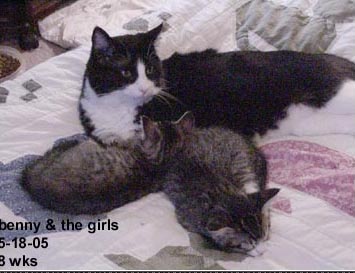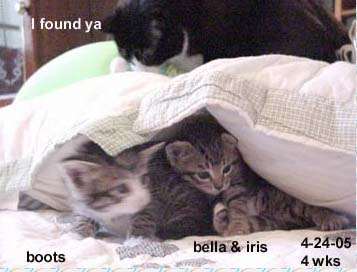 BENNY Dec 2004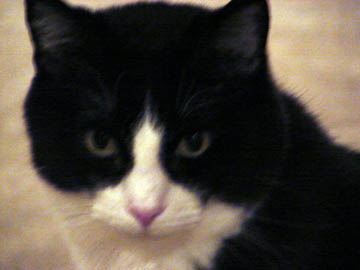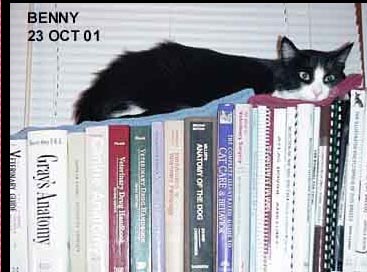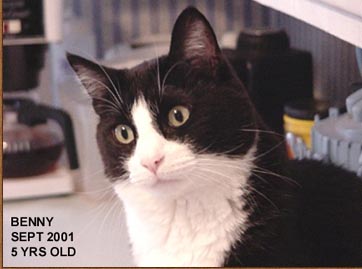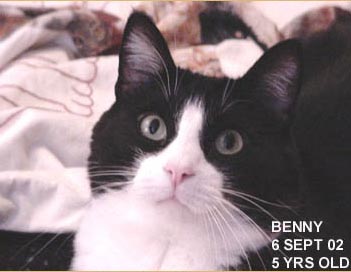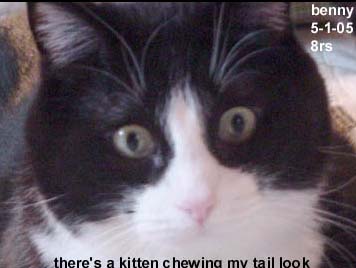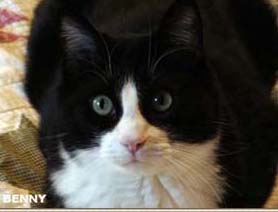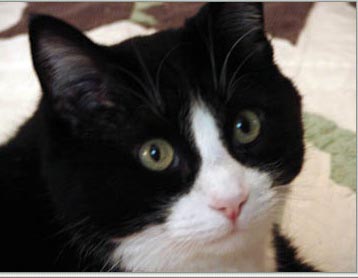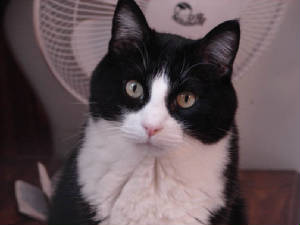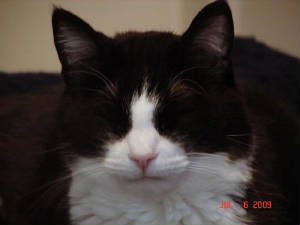 IT'S PILL TIME, I'LL PRENTEND I'M NAPPING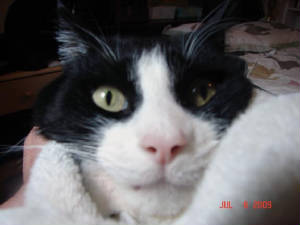 I HATE THE TACO WRAP THING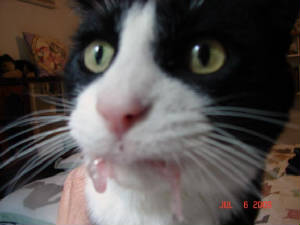 WHY DOES IT HAVE TO TASTE SO BAD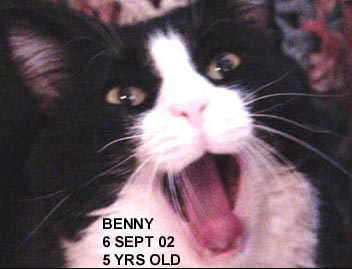 IT AIN'T OVER TIL THE FAT KAT SINGS
*******************************************************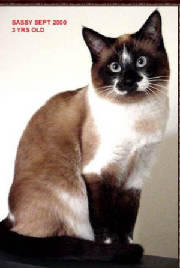 SASSY MAE
5 May 1997- 12 Sept 2009
Born 5 May 1997 Sioux Falls SD, bought at Mini Crtitters, she was about 6 weeks old. For some reason, Sassy never really fit in with the others. We called her the Bitch cat. The boys, Wheezer, Charlie and Jessie James would go out of their way, just to harrass her.
Sassy had a very high pitch scream that would levitate you out of bed, not a nice thing to do at 2am. Bad enough one of boys would go after her, but all three at the same time running through the house, sounded like a herd of elephants from down stairs.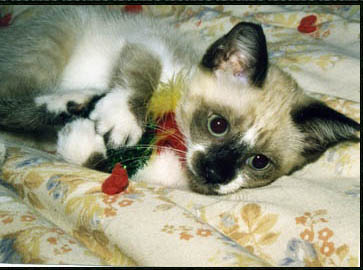 SASSY MAE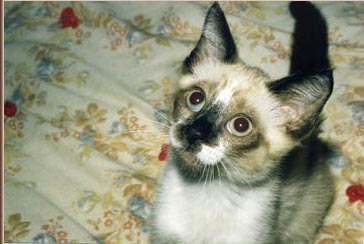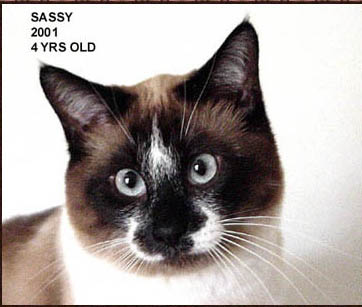 SASSY MAE 2001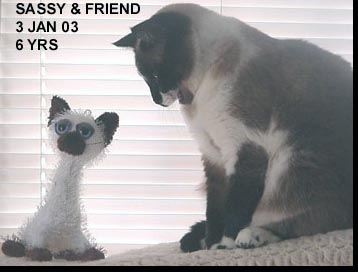 *******************************************************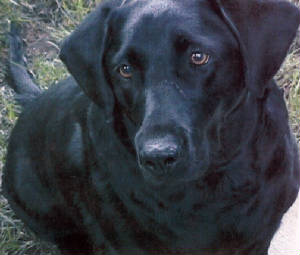 TORRIE 1996-2007(annettes black lab)
TORRIE
28 May 1996- 1 Jan 2007
Torrie was given to us when she was 6 months old. It took a year to get her to where she felt she had a home and was not going to be dumped somewhere. Torrie's life started out in a back yard, more or less, RAISE YOURSELF deal. When she became distructive and eating the air conditioner wires and digging up the yard. The owners wanted to put her down.
Torrie had no formal training and she had to be left in kennel when we were at work because the first day left alone inside the house, she thought the remote control was a tasty treat and the sofa pillows looked good, in fact, the living room looked like a snow storm.
After awhile of being sent to the kennel, one day, we were getting ready to leave and Torrie was already in the kennel. She knew we had a rountine and would be back. Then it was a matter of short trips and no kennel, until one day she was fine on her own.
But that didn't stop her from getting into the trash cans, we knew soon as we left, she made a bee line to the kitchen and made her rounds through out the house. Pretty bad when when you have to bungie cord your trash can and find it in the living room. Anything on the counters was also fair game. If we were lost on a island, Torrie would be the one to find food.
Torrie became a very clingie dog, one would think she was glued to the hip, she had to be there. Torrie turned out to be a good dog, she just needed to be loved and treated better.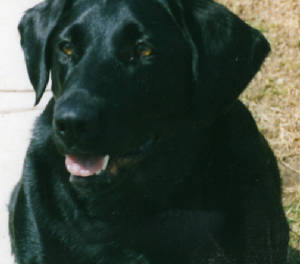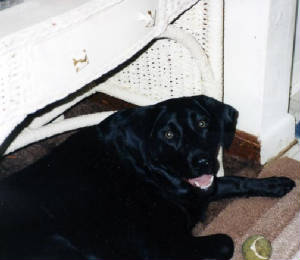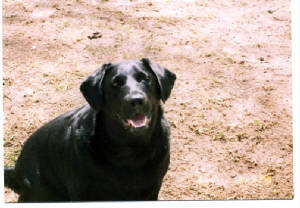 **********************************************************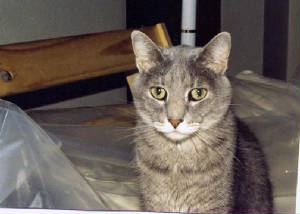 RIFF RAFF
1986-2008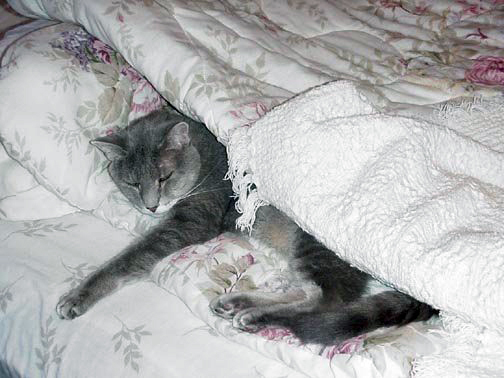 Riff Raff is Annette's brother Jon's cat, but he lived with us for a while. Riff had a special talent of opening doors by turning the door knob and opening draws by putting his paws on the top of the drawer and leaning back. He often got into the treat drawer and the dogs knew it. Riff had pulled out some treats and had them on the counter. The dogs were sitting in the kitchen staring at him. What a tease.
Jon picked up Riff Raff at the Humane Society. He went with his sister to deliver some stuff and saw the kittens, wanted the gold one; Annette told him he better check with mom first.
When mom finally relented the next day , Annette took Jon back to get the kitten, and it was gone. So, he noticed the gray striped kit climbing and took him instead. He named him after the cartoon character Riff Raff, because he was a frisky little critter.
Riff lived to be 22 years old and still tried to open drawers.
**********************************************************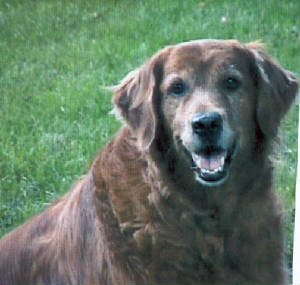 STELLA (Annettes golden retriver)
STELLA
28 Apr 1989- 14 Jun 1999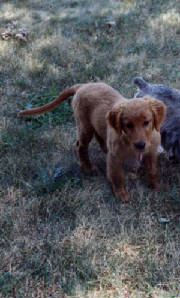 Stella was a nice dog, very laid back and the biggest sock thief I ever met. No sock was safe in the house. Once she had that sock, the chase was on. She also was good at pulling the socks off your feet.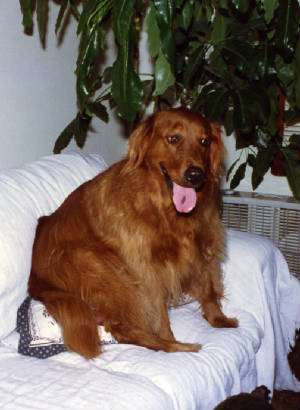 *******************************************************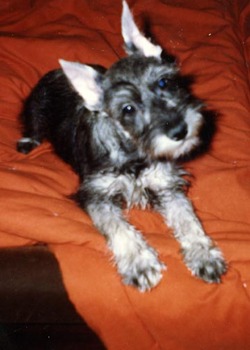 JULES
JULES
1 Oct 1991- 1999
Jules was the last puppy in the dog carrier when he was brought to Annette. He look scared and Annette just could not leave him, knowing that the kids who came along probably had been too rough with him. Jules and Stella grew up together.
*******************************************************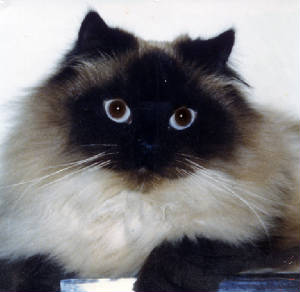 COCO
Aug 1984- 21 Nov 1996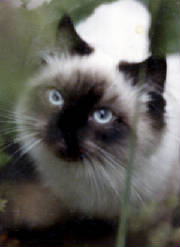 Coco was a cool cat. His eyes would looked they were floating from side to side. When he walked around, he'd get real flat to the floor, almost like a giant fur ball. Everyday before heading off to work, he had to go outside and eat grass.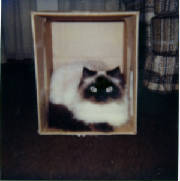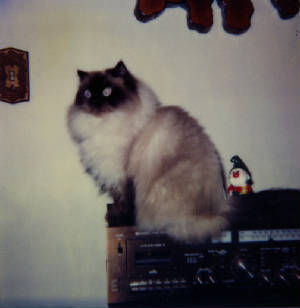 *******************************************************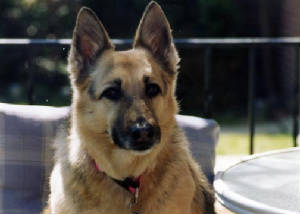 mandy 1984-1995 (marie's german shephard)
MANDY
17 Sept 1984- 8 May 1995
Mandy was born in San Antonio Texas. She was was about 7 weeks old when I got her. Her thing was chasing and catching sticks, balls and frisbee's. She had a face and eyes that could work you into giving in. Once she had a ball and laid it down, she'd stare at you, until you picked it up and tossed it again.
My sister would dog nap Mandy and her take up state to Downsville NY, where she would spend the summer. She said Mandy was the only dog that would come back when you called her. Mandy loved the country. She loved going for rides in the back of my truck. My mom would take Mandy for walks just so she could sneak a smoke down the block.
My Forever Friend
I know that it must be different,
now that I am no longer here.
I realize how much I was loved
and how all of you did care.
I know it will be hard at first
when you look around for me.
Expecting to find me in my bed
or beside my favorite tree.
Someday you will begin to see,
although it'll take some time,
the happy times you shared with me,
the memories are yours and mine.
I'll remember you, my family,
and how much you meant to me.
So please don't grieve and don't be sad
It was just my time to leave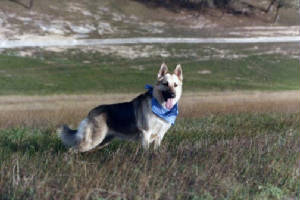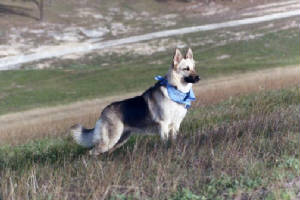 mandy at Cannon Lake Texas 1989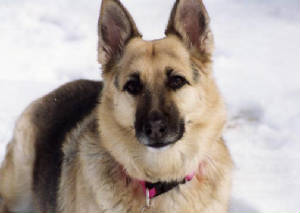 **********************************************************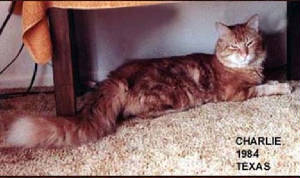 CHARLIE 1984-1995 (Marie's kitty)
CHARLIE EMERSON Sr
Jun 1983- 18 Nov 1995
Charlie was born in San Antonio Texas. He was a laid back kinda kitty. I sent him to my sister's house in New Hyde park NY when I was getting ready to move back to NY. Charlie wiggled his way into pampering and being spoiled, and carried around by the kids. Not that he wasn't already spoiled. He loved playing solitaire with my mother. He didn't make a very good partner, because laying on the cards and knocking them to the floor was not in the rule book.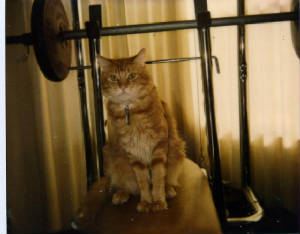 CHARLIE San Antonio Texas 1985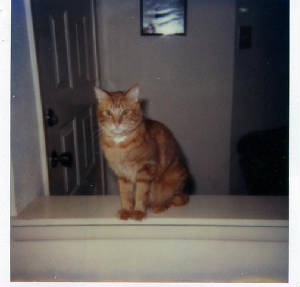 CHARLIE 1987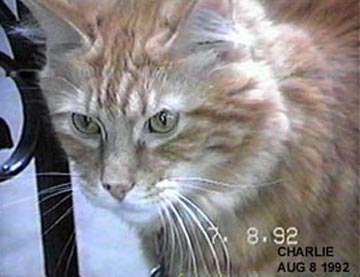 *******************************************************
VELVET (ginny's black shepherd)
VELVET BERDOFF
1981-1997
Velvie was my sisters sons dog, like all the pets the kids had, Ginny gets to take care of them. Velvet was a runner and would not come back when called. So you would have to be very careful she didn't sneak out the door and take off. New Hyde park road was a very busy street and that seemed to be her favorite place.
I remember one morning I looked out the window and saw Velvet with all four paws standing on top of the chain link fence and she took off down the street and she took off a couple times upstate.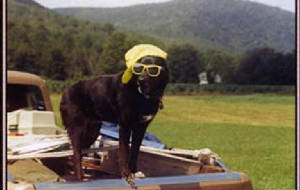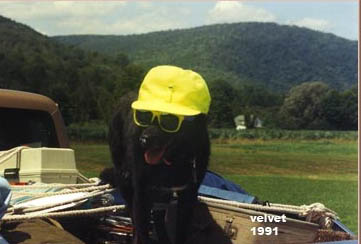 *********************************************************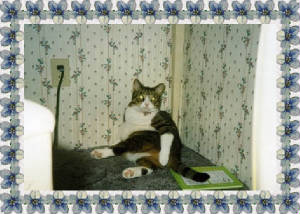 CLEO (Ginny's kitty)
CLEO BERDOFF
Aug 1988- 25 Aug 1994
*********************************************************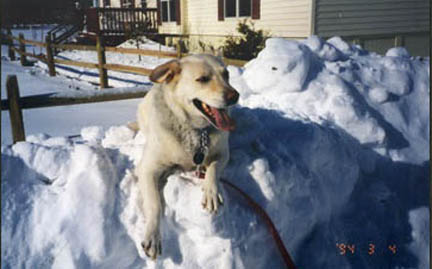 MILLIE- Ginny's dog
MILLIE BERDOFF
26 Jul- 1992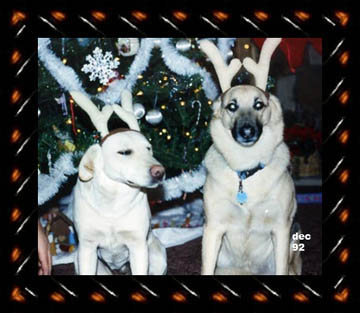 MILLIE AND MANDY CHRISTMAS 1992
Millie was the neighbors dog, she hung out with Rocky a black pup. Every time Ginny would go upstate, Millie and her buddy would be sitting at the front door, as if they knew she was on her way. Ginny finally adopted Millie. I think Rocky was given to somebody.
*********************************************************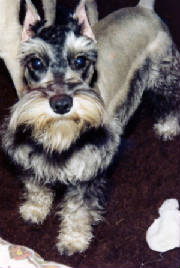 SHULTZ McCLAREN
1976-1987