TEAM STAR WALKERS
TEAM CAPTAIN KARLA SPRENGER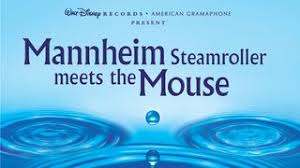 GO THE DISTANCE
RELAY 2017
O'GORMAN HIGH SCHOOL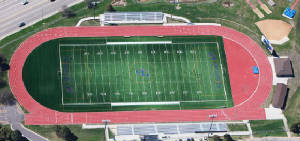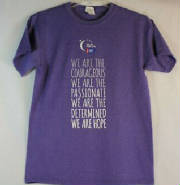 2017 SURVIVOR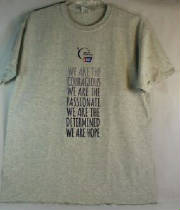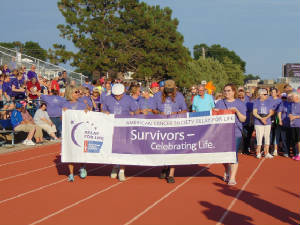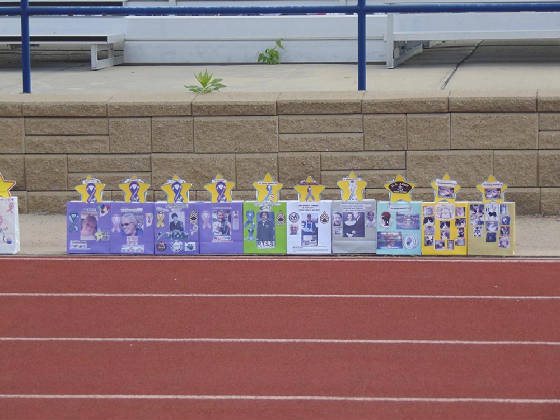 TEAM STAR WALKER LUMI BAGS
SERVICE TOGETHER SISTERS FOREVER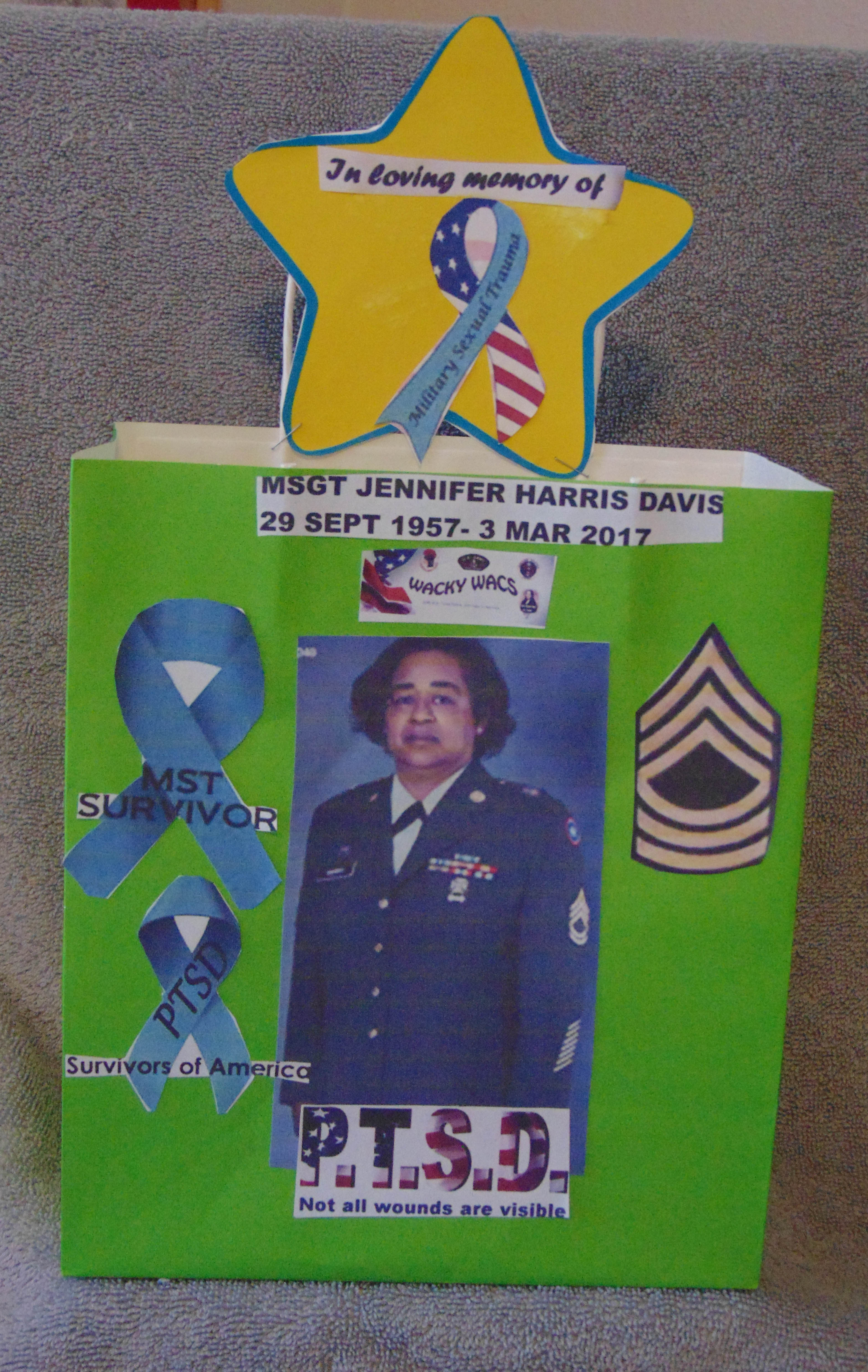 IN MEMORY OF MSGT JENNIFER HARRIS DAVIS
DEB KOHLER AND DAUGHTER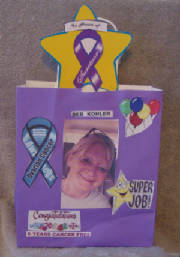 IN HONOR OF DEB KOHLER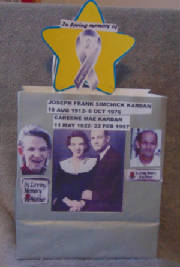 JOE AND CAREENE KARBAN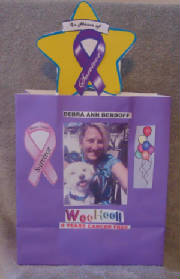 DEBBIE BERDOFF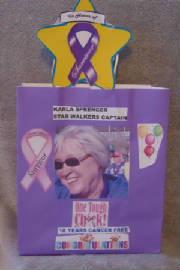 KARLA SPRENGER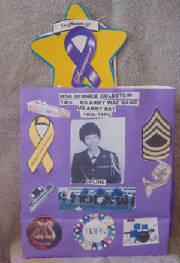 MSG BERNICE GOLDSTEIN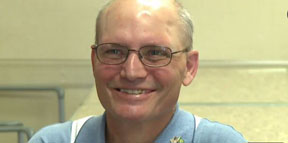 STEVE FRIMAN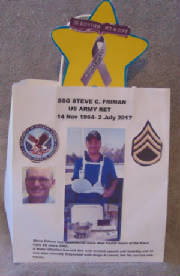 IN MEMORY OF STEVE FRIMAN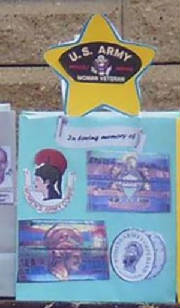 WOMENS ARMY CORPS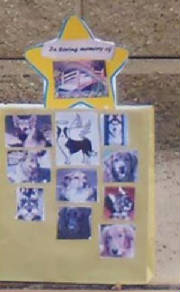 OUR DOGS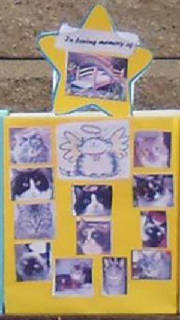 OUR CATS
***************************************************************************
RELAY 2016
O'GORMAN HIGH SCHOOL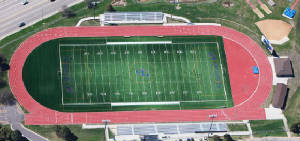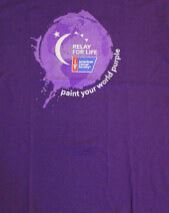 SURVIVOR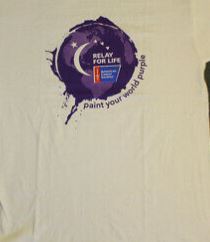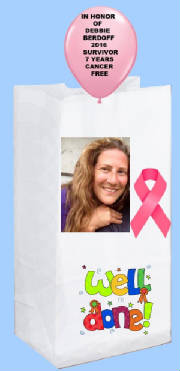 IN HONOR OF DEBBIE BERDOFF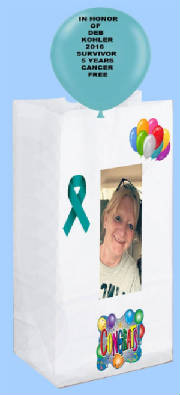 IN HONOR OF DEB KOHLER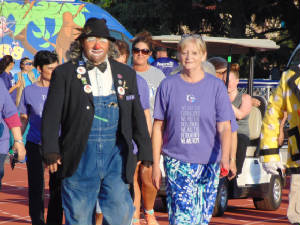 DEB KOHLER AND FRIEND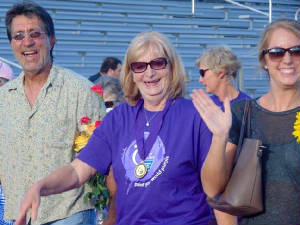 DEB KOHLER AND FAMILY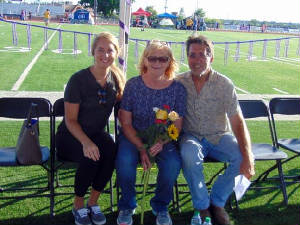 ***************************************************************************
RELAY 2015
O'GORMAN HS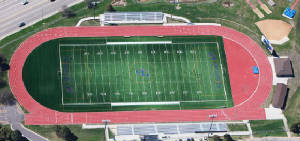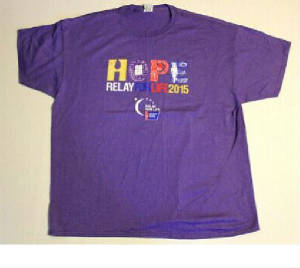 2015 SURVIVOR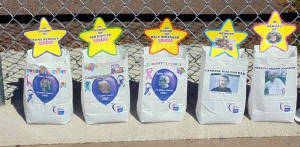 TEAM STAR WALKERS LUMI BAGS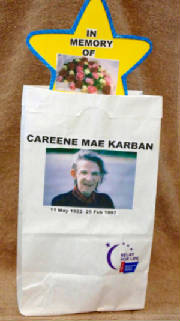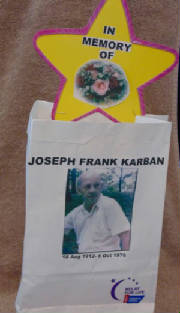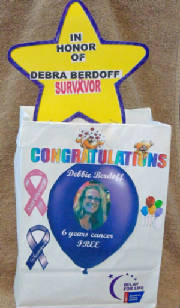 IN HONOR OF DEBBIE ANN BERDOFF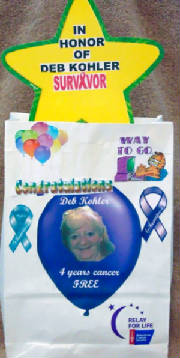 IN HONOR OF DEB KOHLER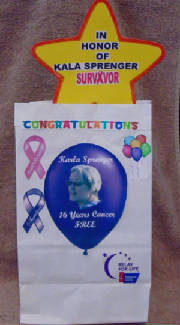 IN HONOR OF KARLA SPENGER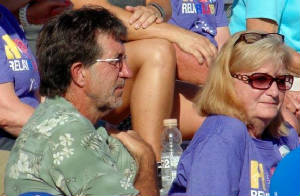 FRANK AND DEB KOHLER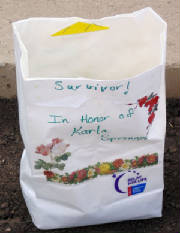 IN HONOR OF KARLA SPRENGER
****************************************************************************
RELAY 2014
O'GORMAN HIGH SCHOOL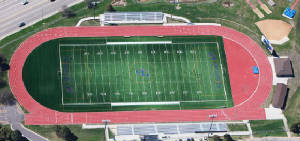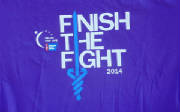 SURVIVOR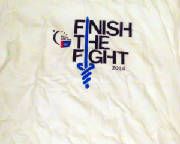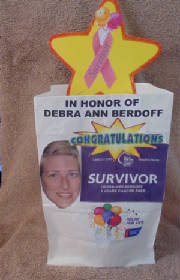 IN HONOR OF DEBBIE BERDOFF SURVIVOR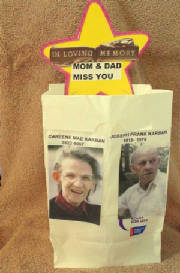 IN MEMORY OF JOE AND CAREENE KARBAN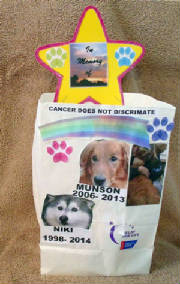 IN MEMORY OF NIKI AND MUNSON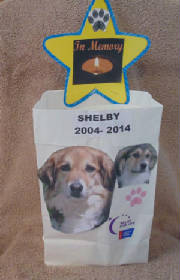 IN MEMORY OF SHELBY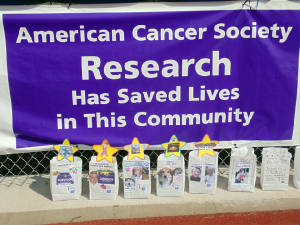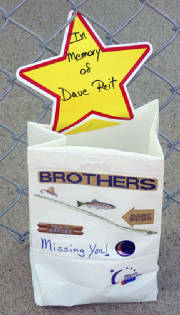 IN MEMORY OF DAVID REIT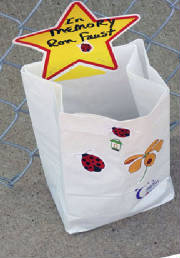 IN MEMORY OF RON FAUST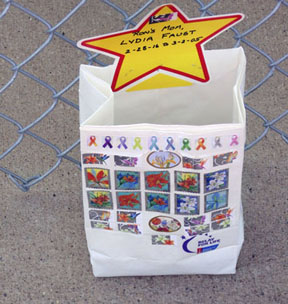 IN MEMORY OF LYDIA FAUST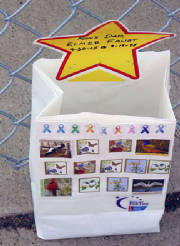 IM MEMORY OF ELMER FAUST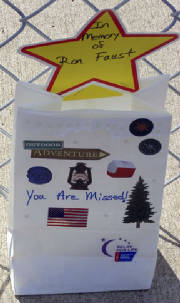 IN MEMORY OF RON FAUST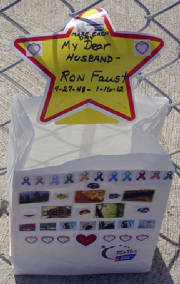 IN MEMORY OF RON FAUST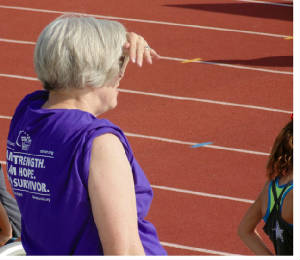 kARLA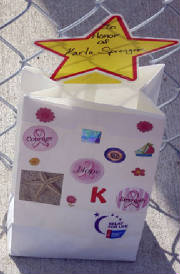 IN HONOR OF KARLA SPRENGER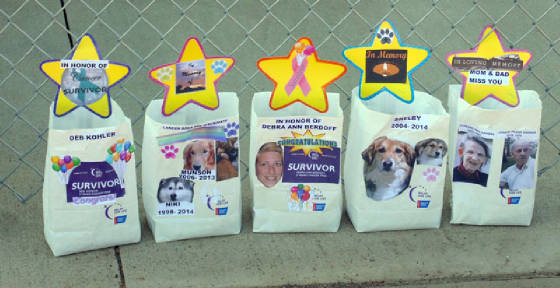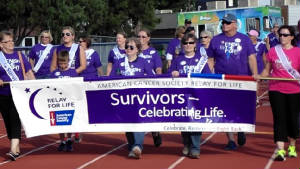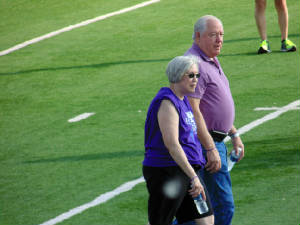 KARLA SPRENGER AND AL THOMAS
*****************************************************************************
RELAY 2013
O'GORMAN HIGH SCHOOL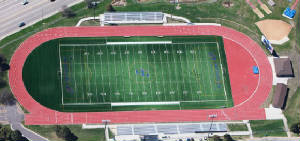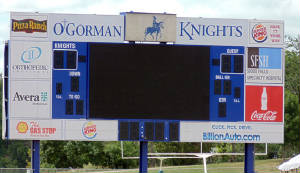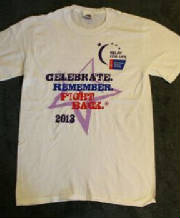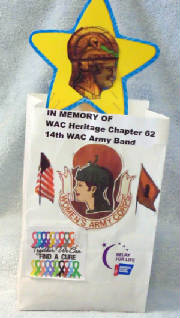 14th WOMENS ARMY CORPS BAND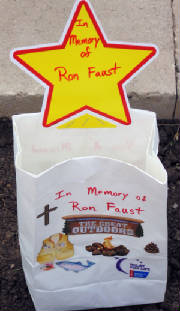 IN MEMORY OF RON FAUST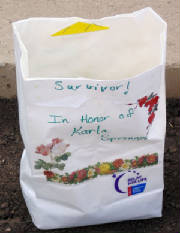 IN HONOR OF KARLA SPRENGER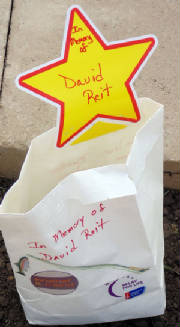 IN MEMORY OF DAVID REIT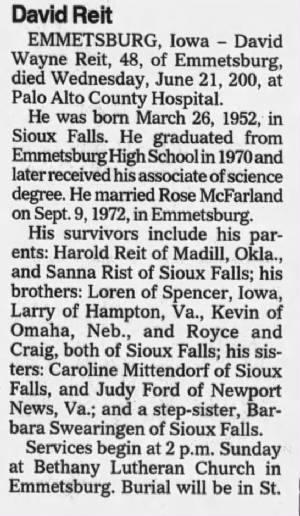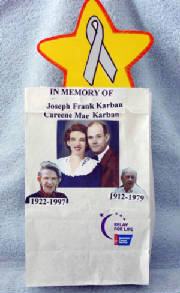 IN MEMORY OF JOE AND CAREENE KARBAN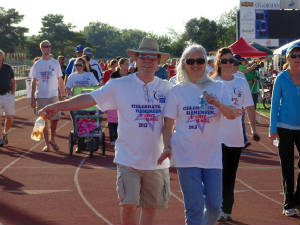 ROYCE AND MARIAN REIT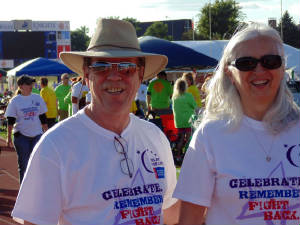 ROYCE AND MARIAN REIT
****************************************************************************
RELAY 2012
O'GORMAN HIGH SCHOOL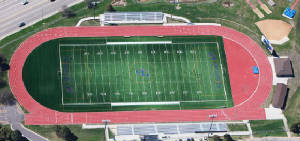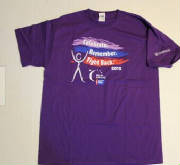 survivor 2012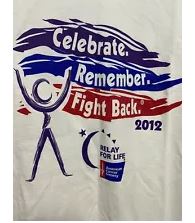 RELAY 2012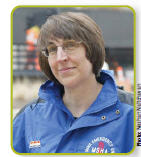 LINDA F. ZEILER 1956-2012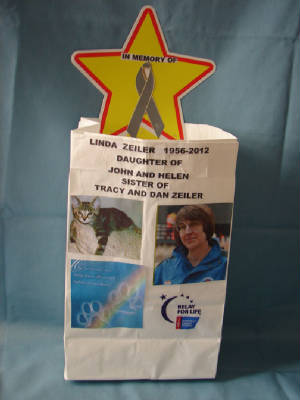 IN MEMORY OF LINDA ZEILER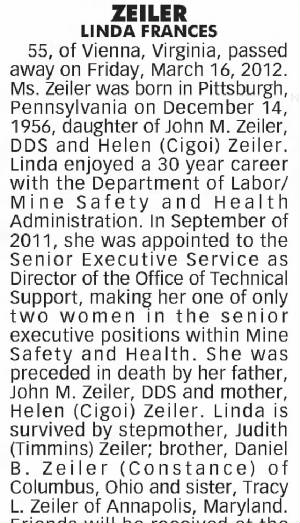 ****************************************************************************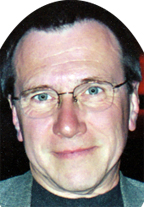 RON FAUST 1948-2012

MISSING YOU RON
Ron Faust, 63, of Dell Rapids, SD, died Monday, January 16, 2012, at Avera McKennan Hospital,in Sioux Falls, SD after a long, courageous battle with cancer.
Memorial services for Ron will be held in the spring at Palisades Park. Please continue to monitor the website at Heartlandfunerals.com for updates and dates for the services.
Ron was born on April 27, 1948 to Elmer and Lydia (Matchette) Faust in Allentown, PA. Hewas the youngest of three children and was educated and graduated from Catasauqua High School in 1966. Ron attended Penn StateUniversity for three years before he received a notice from Uncle Sam to serve his country in Viet-Nam. Instead, Ron enlistedin the Air Force and became an Electronics Warfare Specialist. Ron also married his sweetheart, JoAnn Ruth, in 1970, in Schoenersville,PA and promptly took her on a trip around the world. During his tenure, Ron served in Korea, Japan, Okinawa, Biloxi, Mississippi,Great Falls, Montana, and Dallas, Texas. Upon leaving the military, their travels took them to Fairbanks, Alaska, England,Omaha, Nebraska, and back to Fairbanks, Alaska.
In 1998, Ron took a position with the USGS Earth Resources Observation & Science (EROS)Center and they relocated to Sioux Falls and then to Dell Rapids, SD.
Ron loved to travel and was a great lover of the out doors and nature. He took time to appreciateit. Gazing at the stars next to a fire pit with a glass of fine wine or scotch and a cigar was one of his passions. He loved the Black Hills of South Dakota and camping or hiking were some of his favorite pastimes. Ron also enjoyed music, photography,reading, writing and philosophizing as well as studying people. He loved his work and the people he worked with. He liked to engage people in deep conversations and find out what they were passionate about. Ron also developed an admiration of theCrazy Horse Memorial and the family involved in its creation. He made connections with the creator and shared in the philosophy behind the Project.
Ron will be deeply missed by his wife and best friend; JoAnn, of Dell Rapids, SD, his brother; Roger (Brenda) Faust,Germansville, PA, his sister; Judy Parsons, Kingman, AZ, nine nieces and nephews, eleven great nieces and nephews, and onegreat-great niece.
He was preceded in death by his parents and his brother-in-law, Max Parsons.
In lieu of flowers, memorial contributions may be made to Crazy Horse Memorial, 12151 Avenueof the Chiefs, Crazy Horse, SD, 57730-8900.
RON'S MEMORIAL SERVICE SCHEDULED FOR SUN 29 APR 2012 2PM AT THE PALISADES STATE PARK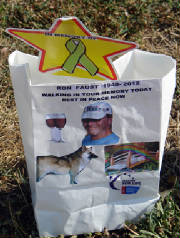 IN MEMORY OF RON FAUST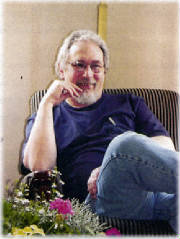 DAN TRAUT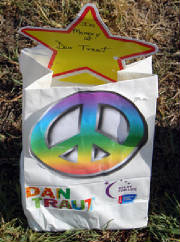 IN MEMORY OF DAN TRAUT
IN MEMORY OF DAN TRAUT
Daniel William Traut, 60, passed away April 21, 2011 at Dougherty Hospice House. Daniel Traut was born June 21, 1950 to John and Gisele (Lecomte) Traut in Mitchell, SD. He grew up in Mitchell, SD and graduated from Mitchell High School in 1968. Daniel was united in marriage with Donna Knell on January 23, 1976 in Sioux Falls, SD. The couple made their home in Sioux Falls where Daniel worked for EROS Data Center for 37 years as a computer technician.Daniel enjoyed playing the guitar, listening to music, gardening and talking with his friends and family.Grateful for having shared his life are his wife, Donna Traut, Sioux Falls, SD; two daughters, Jesse Traut, Minneapolis, MN, Elizabeth Traut, Wichita, KS; brother, Patrick (Nancy Dickinson) Traut, Sioux Falls, SD; sister Jackie (Tom) Hess, Mitchell, SD; and mother, Gisele Traut, Mitchell, SD.A memorial service will be held 1:00pm Monday, April 25, 2011 at Heritage Funeral Home. The family will be present one hour prior to services.
*****************************************************************************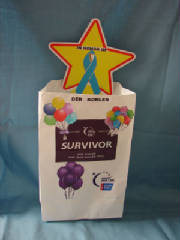 IN HONOR OF DEB KOHLER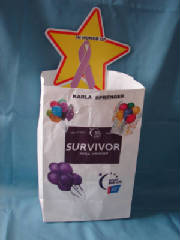 IN HONOR OF KARLA SPRENGER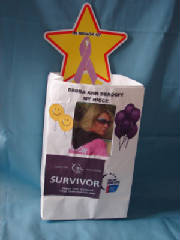 IN HONOR OF DEB BERDOFF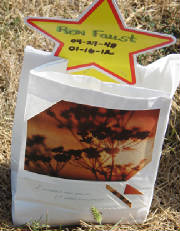 IN MEMORY OF RON FAUST
*****************************************************************************
RELAY FOR LIFE 2011
HOWARD WOOD FIELD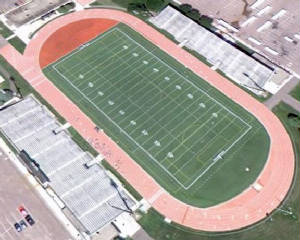 HOWARD WOOD TRACK AND FIELD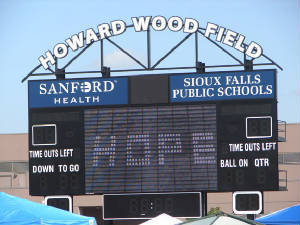 HOWARD WOOD FIELD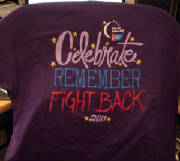 SURVIVOR 2011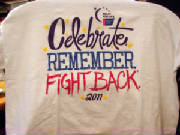 RELAY 2011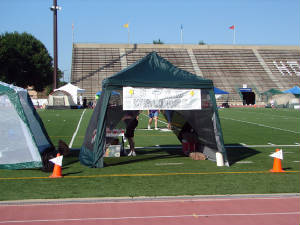 TEAM TENT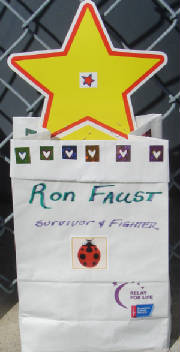 IN HONOR OF RON FAUST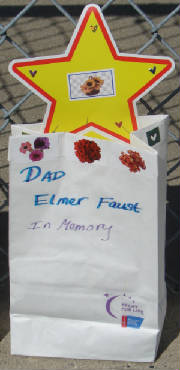 IN MEMORY OF ELMER FAUST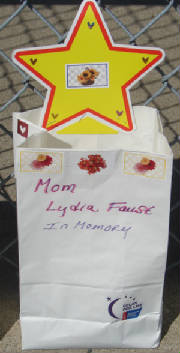 IN MEMORY OF LYDIA FAUST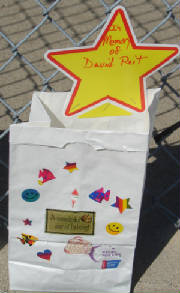 IN MEMORY OF DAVID REIT BORTHER OF ROYCE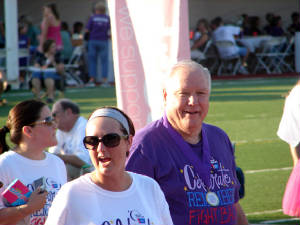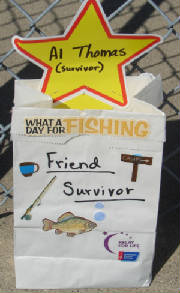 AL THOMAS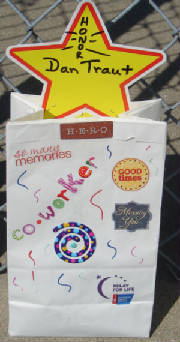 IN MEMORY OF DAN TRAUT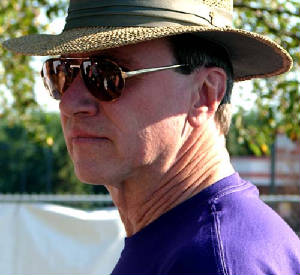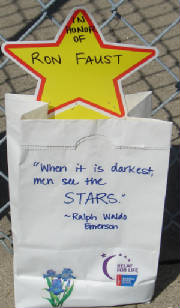 IN HONOR OF RON FAUST

ROBERT BOREY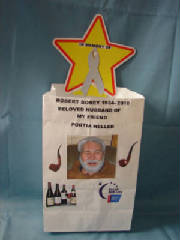 Borey, Robert J. Age 76, made his final transition at 11:05 a.m. on July 18 after a four month contemplative, mischievous, humor filled journey following diagnosis of Fourth Stage lung cancer. Bob is survived by spouse and best friend, Portia A. Heller; children, Ted, Diana, and Valerie; stepchildren, Greg and Troy Breiland; grandchildren and great-grandchildren. Bob served in the U.S. Army immediately after graduation from Edina High School. He pursued his love of electronics at the U of M, earning a B.S. in Electrical Engineering, and went on to become a Manager in design engineering of circuits boards at Univac. Intrigued with sales, he joined Engineering Products Associates, Inc., a manufacturers representative, which he eventually purchased from Bill Butler in the early '70's. Bob was a bibliophile, a poet, an entrepreneur, and an inventor known for his Snake Away and the Mole Shoe. Though he possessed a mind of analytical brilliance, he also had a spirit of expressive empathy. Bob immensely enjoyed flowers, but he would be delighted to know that his beloved basset hound, Elmo, who transitioned on Easter Sunday, would also be honored with donations to the GMSPBHC, (mnbasset.org) or Basset Buddies Rescue (bassetbuddiesrescue.org). The void he left will never be filled. Private celebration to be announced.
******************************************************************************
RELAY 2009
CARNARY BALL FIELD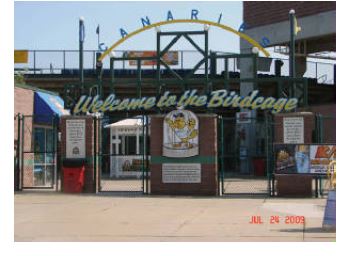 CANARIES BALL FIELD BIRD CAGE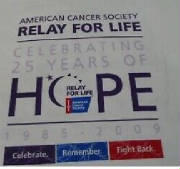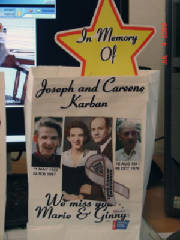 IN MEMEMORY OF JOE AND CAREENE KARBAN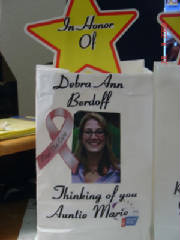 IN HONOR OF DEBBIE BERDOFF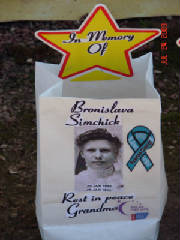 IN MEMORY OF GRANDMOTHER BRONISLAVA SIMCHICK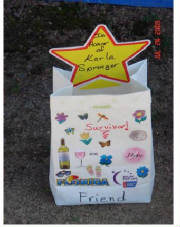 IN HONOR OF KARLA SPRENGER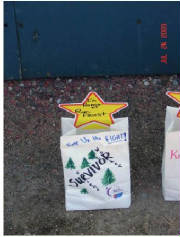 IN HONOR OF RON FAUST
****************************************************************************
RELAY 2008
ROOSEVELT HIGH SCHOOL TRACK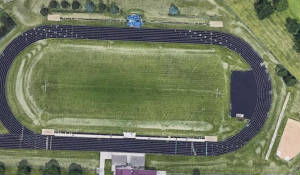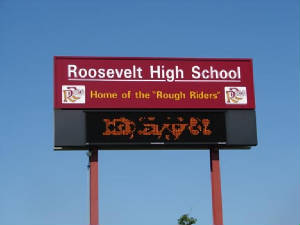 ROOSEVELT HIGH SCHOOL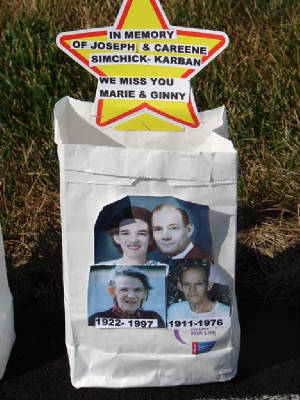 IN MEMORY OF JOE AND CAREENE KARBAN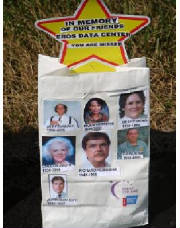 FRIENDS OF EROS DATE CENTER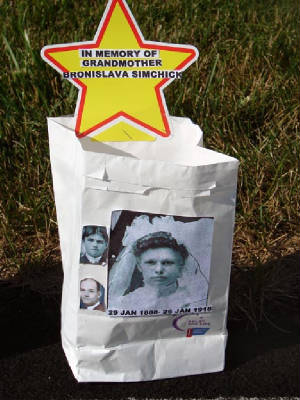 IN MEMORY OF BRONISLAVA SIMCHICK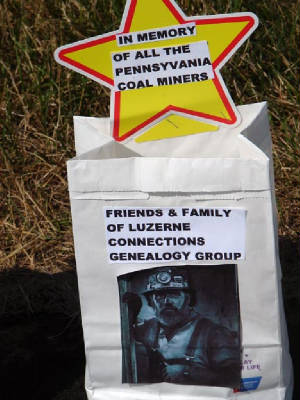 IN MEMORY OF ALL THE PA COAL MINERS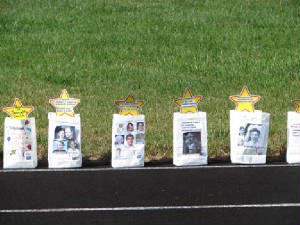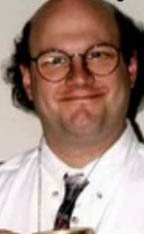 IN MEMORY OF JAY FEUQUARY 1956- 2006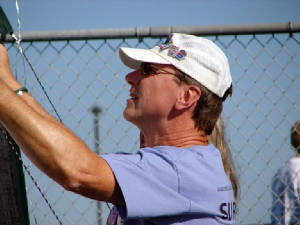 IN HONOR OF RON FAUST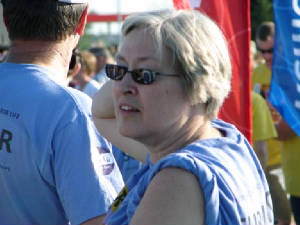 IN HONOR OF KARLA SPRINGER
****************************************************************************
RELAY 2007
O'GORMAN HIGH SCHOOL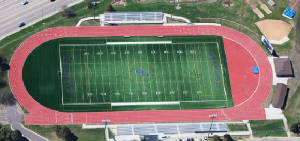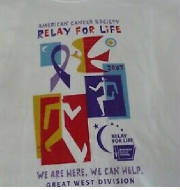 FRIENDS AND CO WORKERS
EROS DATA CENTER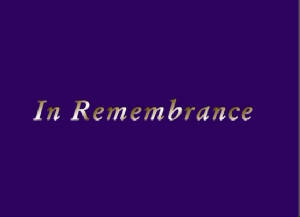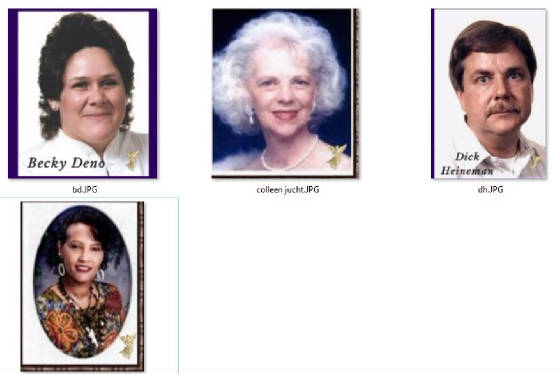 FRIENDS AND FAMILY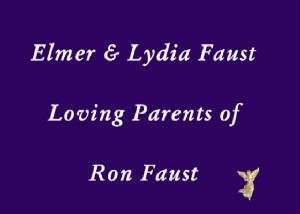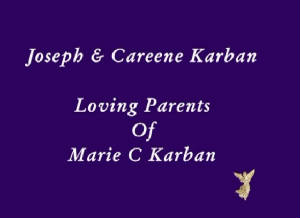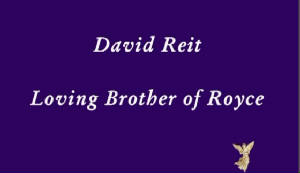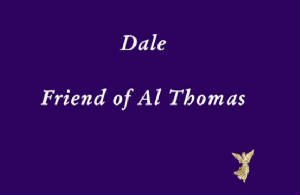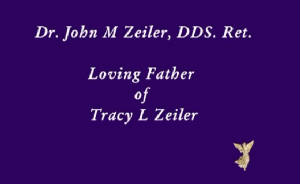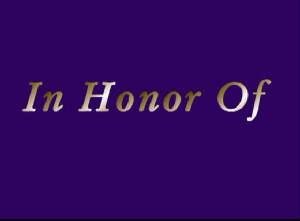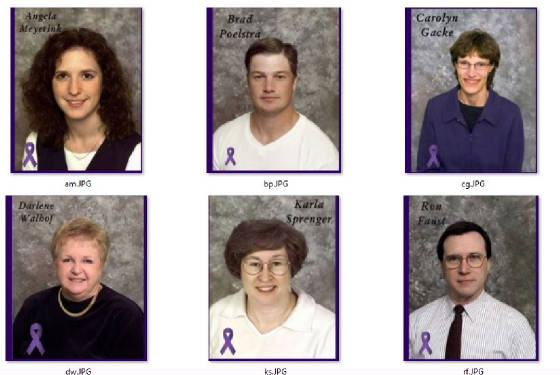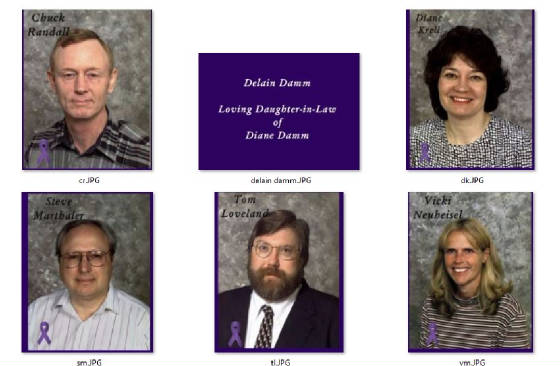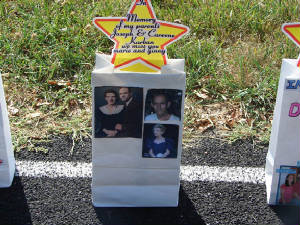 IN MEMORY OF JOSEPH AND CAREENE KARBAN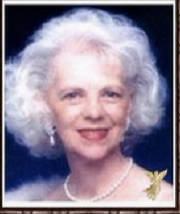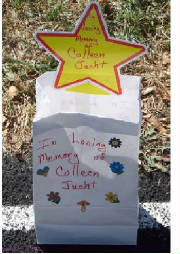 IN MEMORY OF COLLEN JUCHT 21Jun 1938-14 May 2004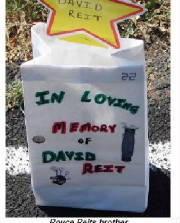 IN MEMORY OF DAVID REIT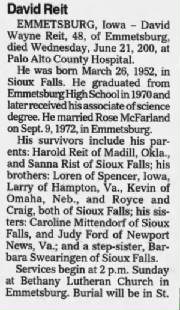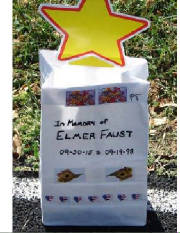 IN MEMORY OF ELMER FAUST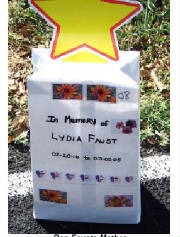 IN MEMORY OF LYDIA FAUST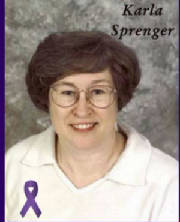 KARLA SPRENGER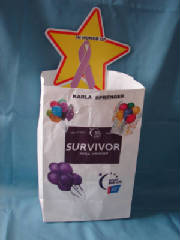 IN HONOR OF KARLA SPRENGER SURVIVOR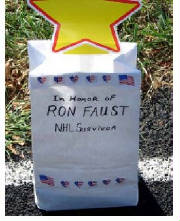 IN HONOR OF RON FAUST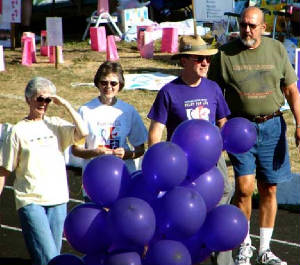 RON AND JOANN FAUST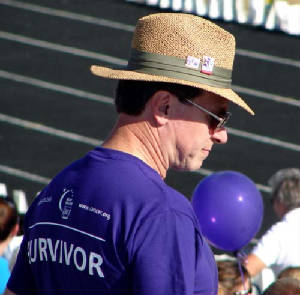 RON FAUST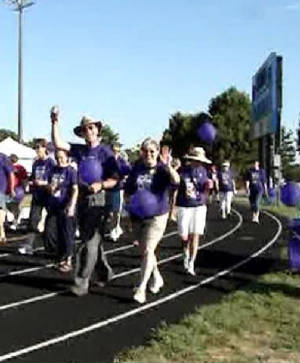 RON AND KARLA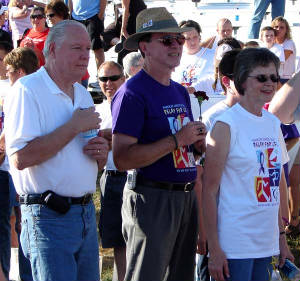 RON-AL-JO
AL THOMAS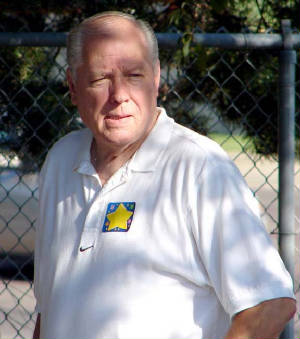 AL THOMAS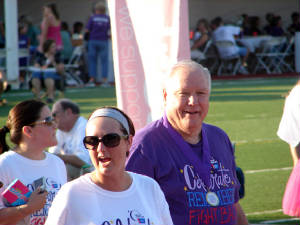 AL THOMAS SUVIVOR
*****************************************************************************