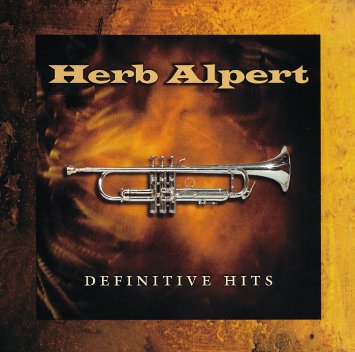 TIJUANNA TAXI
Herb Alpert
Definitive Hits CD
FLUFFY- -PRINCE- STRIPER- TOMMY CAT
Kittens we raised from outside kitty moms
seemed every 6-8 weeks our felines were bringing home or having babies in our shed, later down the road, we would catch the moms and spay them, the dads were a different story. There was always as stray male or a young cat coming by. We trapped and took them to the humane society, getting alittle expensive with shots and getting them fixed, no thanks from irresponsible owners who let their cats out to roam.
New rule............if your gonna hang out here, the nuts gotta go . Raising kittens also got to be hard, knowing in 8 weeks they would be gone. A local pet shop in town would take them and they all be gone within a week. how can anybody pass up cuteness. and of course they were all spoiled.
THE MOMS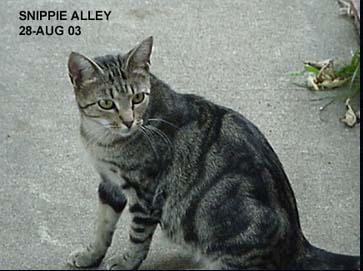 ALLEY CAT
Alley Cat was the meanest of all the females, never socialized, bitchy, snotty and always in the attack mode. She would strike like a corbra especially around her babies, which always became a snatch and grab when they were old enough to eat on their own. She would be locked in the cat shed. Finally did grab her to be spayed. We warned our Vet to be careful and gas her first inside the kennel. When we picked her up, Doc said "SHE'S WILD"
Alley cat could never be tammed, at least she won't be making anymore babies. Sadley, she met a traggic end. dogs across the alley got hold of her. Annette tried to catch her, but she took off, later found under the neighbors trailer.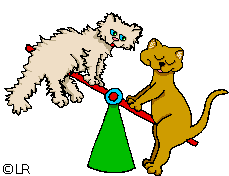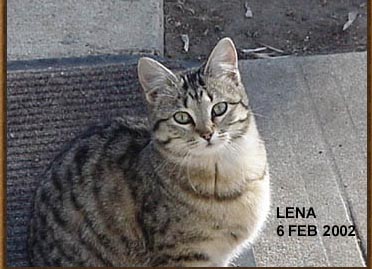 LENA
lena and her best buddy Puff shared mommie duties. lena just had her babies in the cat shed when Puff had her kittens. We don't know where Puff had them, but looking out the kitchen window, here comes Puff with a kitten in her mouth across the yard. Guess she liked the accommandations in the shed and we thought she just DROP THEM ALL OFF WITH LENA, and took off.
Lena took over right away, later we found Puff in the shed with Lena all cuddled up and sharing babies. No clue where Lena came from, She and Prince kitty were real friendly with each other. Lena is still with us, outside kitty and lives in the cat shed with Socks and Pookie.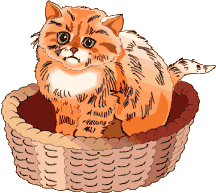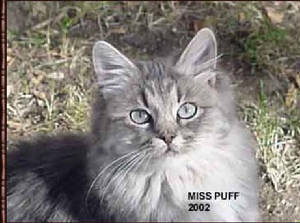 PUFF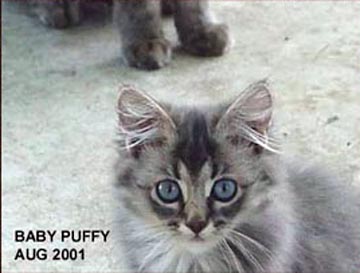 BABY PUFF
Just like her brother Fluffy, she showed up one day, just a kitten and made the shed her home. Word must go out where the food is. While the shed was being constructed, she was helpful grabbing screws and washers, it's a wonder there were not more parts missing.
She and Lena were the best of buds. Lena lost her babies one summer , we knew something was wrong when she showed up not pregnant anymore. well maybe she had them some place else. Puff was busy having her babies. Lena's babies were gone, we found them by a tree on the side of the house. Looks like she crawled inside the bottom of the tree.
The babies were all still attached to the cord, they looked normal and normal size. Lena managed to bring one to the shed. I checked in on Puff, she had two out already, and then Lena, crawled inside the box with Puff, snuggled up beside her and started nursing the new borns, Puff just kept on doing her thing. Plenty of milk for everybody, such good moms.
Puffy liked to play under cars and in the road. We found her one morning on the way to work on the corner. She was a nice cat.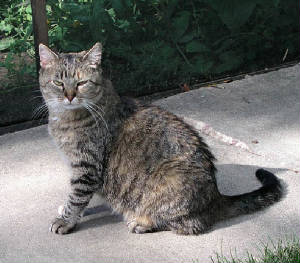 MAGGIE MOO
Maggie showed up one day because another male black cat brought her over from across the back alley on 4th street and she was pretty friendly, unlike the other snobs. As she got her belly rubbed, we knew she had babies some where. After she left our yard, she disappeared .
Lucky to had followed her without being seen, she was hanging out in a garage with no doors full of junk across the alley on 4th street and she had babies, sneaky little furballs, got under stuff and hard to catch. So, we knocked on the residents door and asked if the cat belonged to them, they said no and go a head set a trap.
The trap didn't work. On our way home from work, I thought, it would be nice if Maggie brought her kids over to our place. Well, she did just that, they followed her over and got into our garage. QUICK CLOSE THE DOORS. and they hid, they got under a pallet, but heavy cabinets were on top of that.
New plan, set up the big dog kennel, put a harness on mom and tie her inside. when she calls them, they will come to her. I wish I had taken pics of Annette sitting on a cider block with a string tied to the door. and it worked, one by one they went to mama. This was the only litter we knew she had and soon as they ate on their own, mom went for a spay. She was an outside kitty for a long time, but now is a inside kitty.
No telling how many other babies she had before finding the three, she was about 8 years old when she came around to our yard. In July 2011 is when we knew she had babies some where.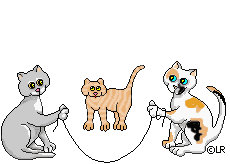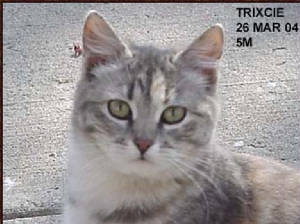 MUNCHIE
her name was Trixcie, but changed to Munchie, she had a thing going with Prince. She had 4 babies in our garage, snatched her and the babies up, brought them inside. one of the babies didn't live. Got her spayed right away and she lives down stairs with Scamp. Scamp came from Annette's mother's place, she just walked in the house and thought she should stay there. Scamp was a bit too wild for the two older cats living there and ended up at our house.
**************************************************************************************************
THE DADS
The ones we were sure about
And there were many, some stayed and others just stopped by and not for the coffee either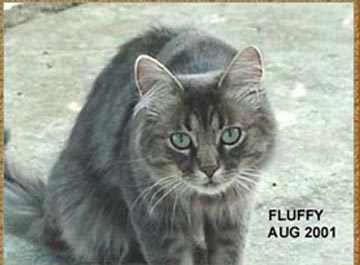 MR FULLY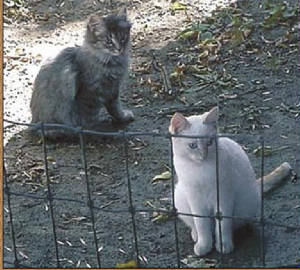 BABY FLUFF AND PRINCE
Fluffy and Prince were just kittens living under the neighbors shed in the back yard, no clue where they came from. Could had been mama Striper's babies.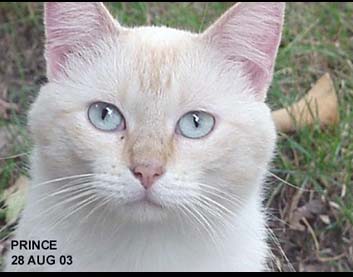 PRINCE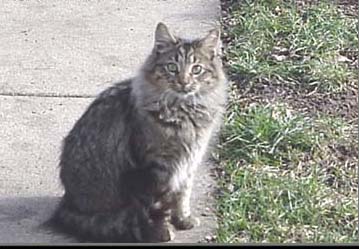 LEO
Leon, accounts for all the long hair kittens, a few looked just like him. Of course he just passes through when the girls are feeling friskie. This could be Puffy's dad.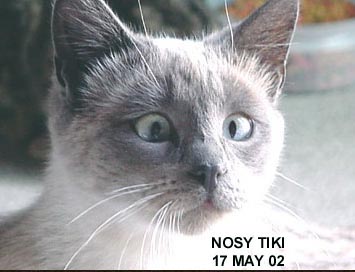 Tiki and Pookie showed up together, best buds while they were together, Spookie later latched on to Socks. Never know what happened to Tiki and Fluffy, both disapeard. Tiki was looking over the box in the shed where the kittens were staying.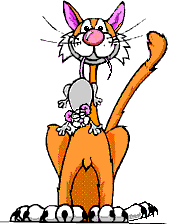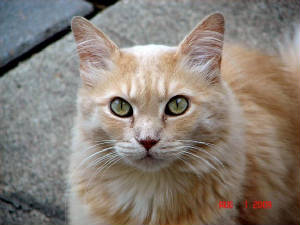 MR POOKIE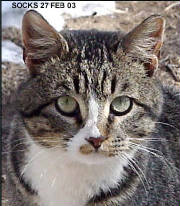 MR SOCKS
Socks like the rest, showed up one day and never left. I'm sure he had his share of father hood. He's an outside kitty living in the shed with Lena and Pookie. They are last of the outside kitties all getting up there in age, 12+.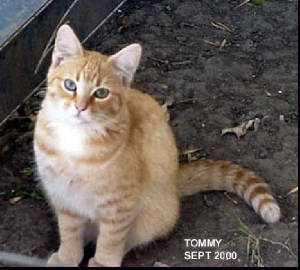 TOM CAT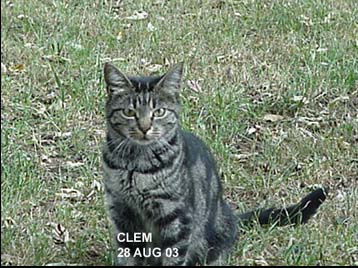 CLEM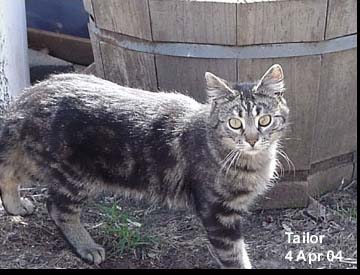 TAILOR
Tailor was another one of Munchie's boyfriends, his father was a big ugly tom cat we named Bruiser with ugly orange eyes. Clem might had been one of his too. Buiser was in bad shape, all beat up from fighting. We took him to the vet, better than living on the street and wondering where your next meal was coming from, felt sorry for him living a life like that.
*************************************************************************************************************************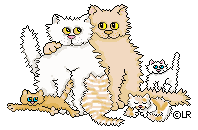 THE BABIES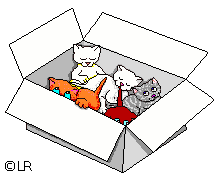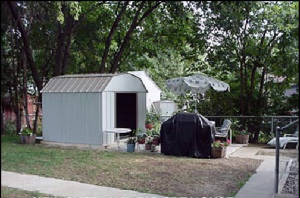 what was suppose to be a shed for the lawn mower & snow blower, lawn tools, ended up being HOME for all the strays that dropped by and where quite the few of the babies were born. This shed later got smashed by a tree and replaced with a wooden shed.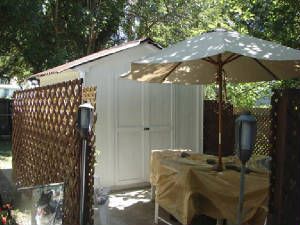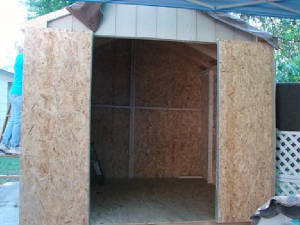 purrrfect home inside, blankets, chairs, heating lamp, litter boxes.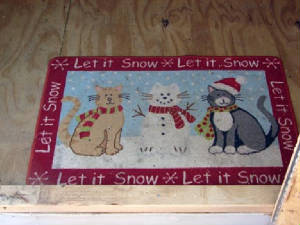 ********************************************************************************
SEPT 2001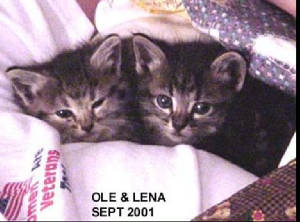 Mama Stripers babies, she was in the yard with her kitties, got spooked and took off. These two got left behine. Ole was adopted by a pastor in Dell Rapids SD, Lena went to a friend in town. Her name was. changed to Libby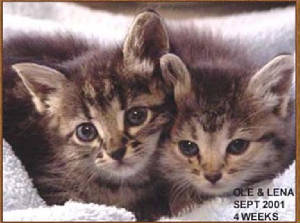 OLE AND LENA SEPT 2001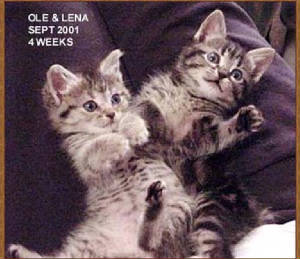 OLE AND LENA 2001
********************************************************************************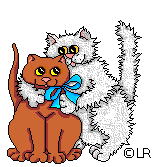 PUFF AND LENA'S BABIES 2002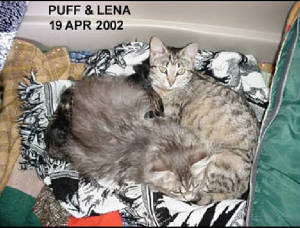 PUFFY AND LENA 2002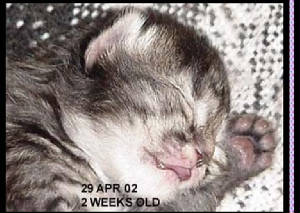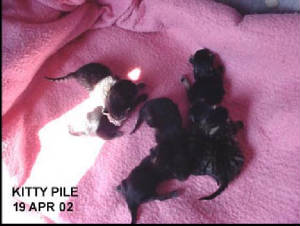 apr 2002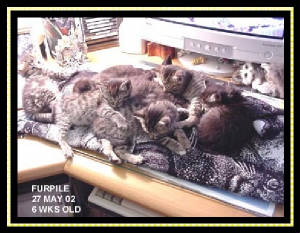 THEY FLOP WHERE EVER THEY FLOP
THE SEVEN UP'S 2003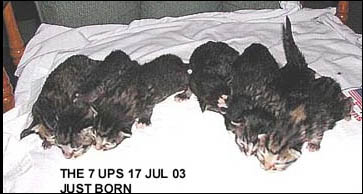 LENA'S NEW BORNS 17 July 2003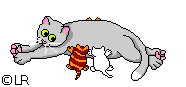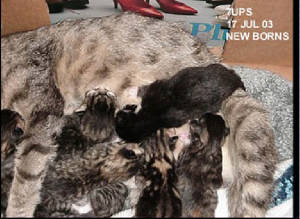 THE SNACK BAR IS OPEN 17 July 2003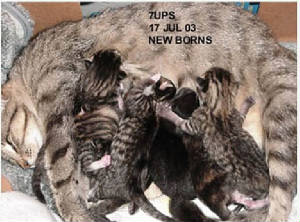 THE CHORUS LINE 17 July 2003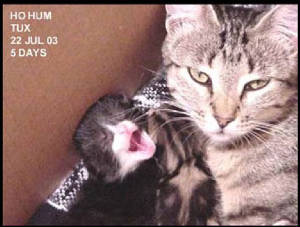 TUX 22 July 2003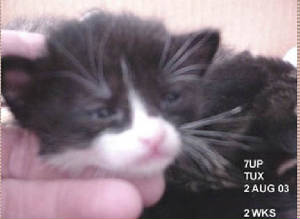 TUX 2 AUG 2003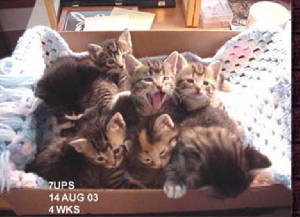 BOX OF BRATS 14 AUG 2003 4 WEEKS OLD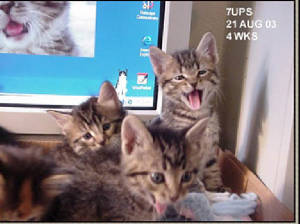 7UPS 21 AUG 2003
PATCH 10 AUG 3 WEEKS OLD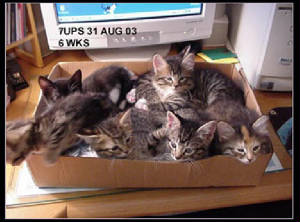 31 AUG 2003 6 WEEKS OLD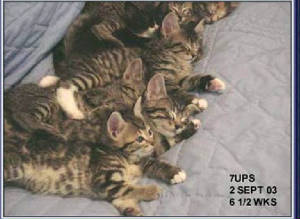 NAP TIME 2 SEPT 2003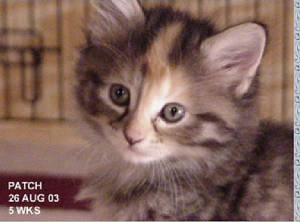 PATCH 24 AUG 2003 5 WEEKS OLD
********************************************************************************
THE BOBBLE HEADS 2003
(They looked just like those bobble dolls)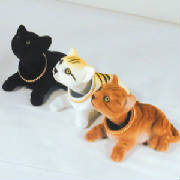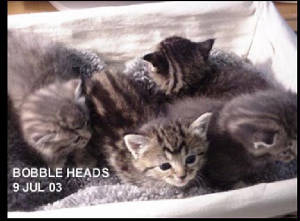 BOBBLE HEADS 7 July 2003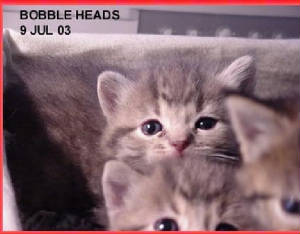 BOBBLE HEADS 9 July 2003
BOBBLE HEADS 20 July 2003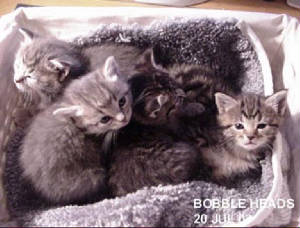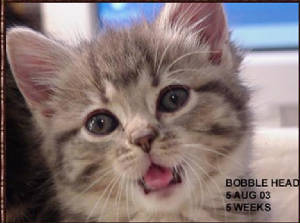 BOBBLE HEAD 20 Aug 2003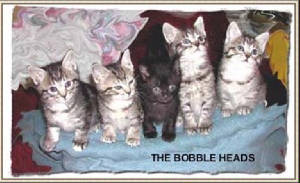 BOOBLE HEADS
*********************************************************************************
SIX PACK 2003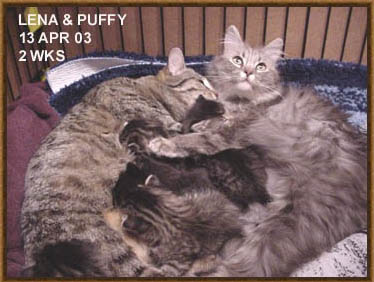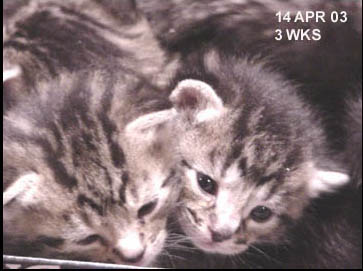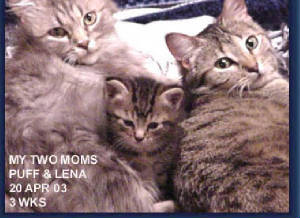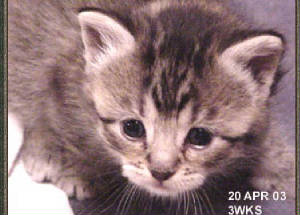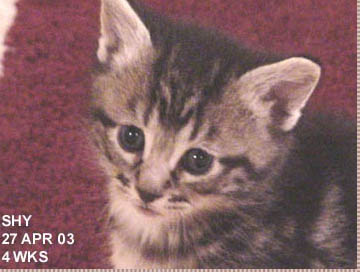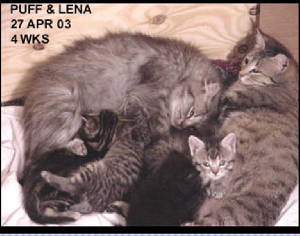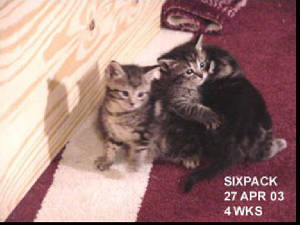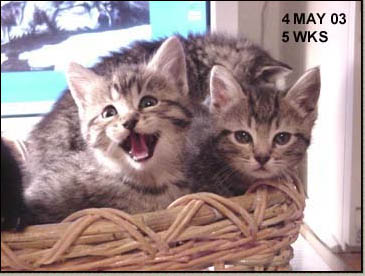 ********************************************************************************

THE PUMKIN PATCH 2004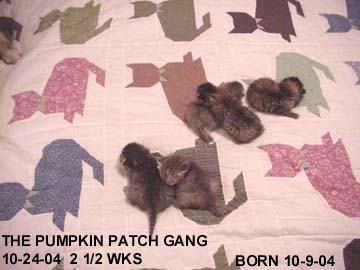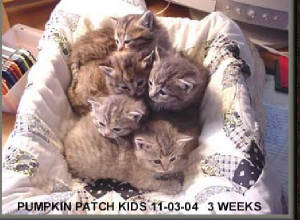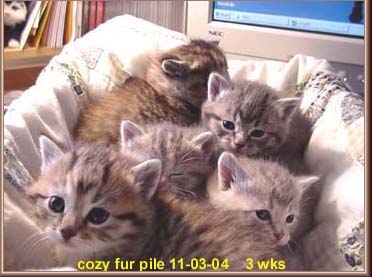 FUZZIE FACE 3 weeks old 4 Mar 2004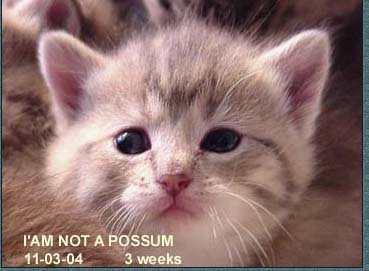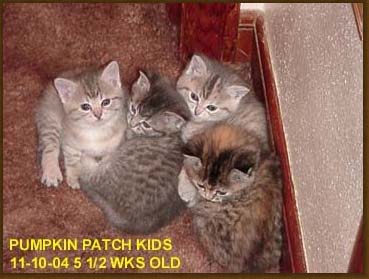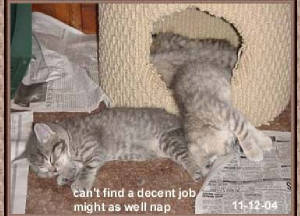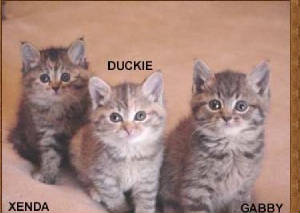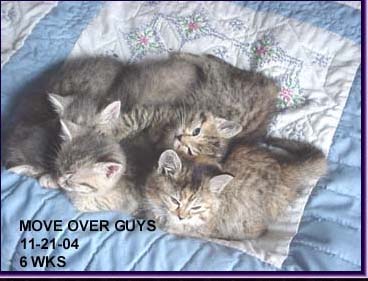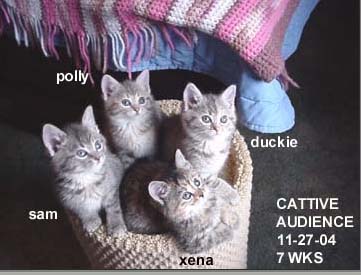 *******************************************************************************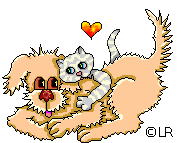 ALLEY CATS BABIES 2004
Alley cat sure got around, she had a bunch of litters, we should had trapped her sooner and got her spayed.......but she was hard to catch and would rip your face off.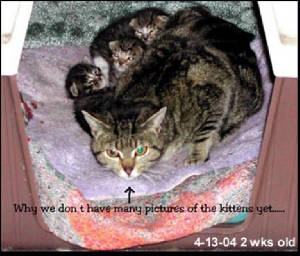 ALLEY CAT 13 APR 2004 2 WEEKS OLD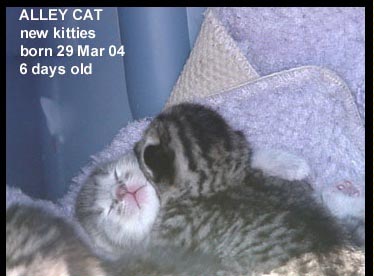 29 MAR 2004 6 DAYS OLD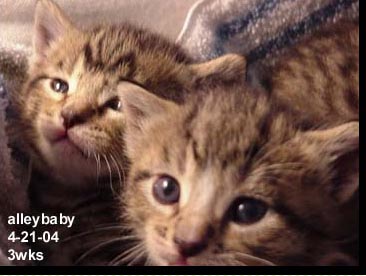 21 Apr 2004 3 weeks old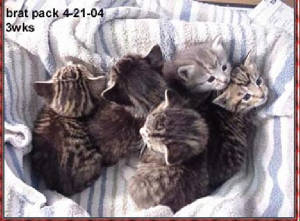 21 Apr 2004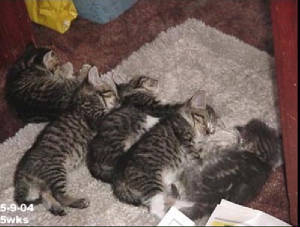 9 May 2004 5 weeks old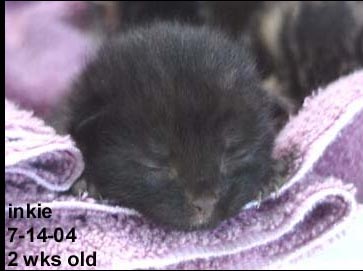 INKIE 14 July 2004 2 weeks old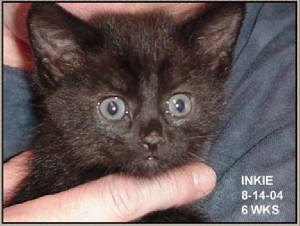 INKIE 14 Aug 2004 6 weeks old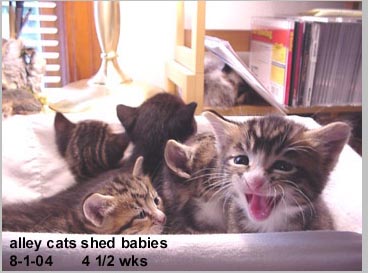 SHED BABIES 1 Aug 2004 41/2 weeks old
********************************************************************************
MUNCHIE'S BABIES (AKA TRIXCIE) 2004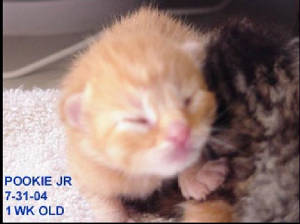 POOKIE Jr 31 Jul 2004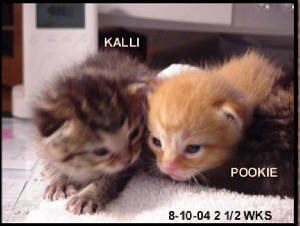 KALLI AND POOKIE 10 Aug 2004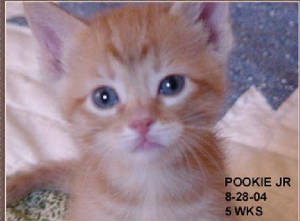 POOKIE 28 Aug 2004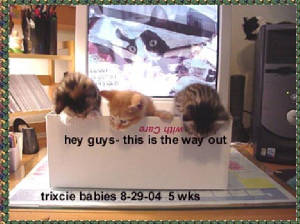 TROUBLE MAKERS 28 Aug 2004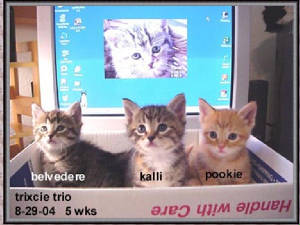 BELVEDERE, KALLI AND POOKIE 29 Aug 2004 5 weeks old.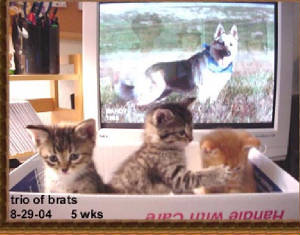 BELVEDERE, KALLI AND POOKIE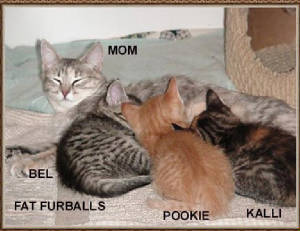 LAST CALL FOR DINNER 2 Sept 2004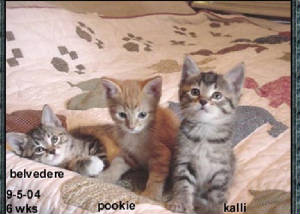 5 Sept 2004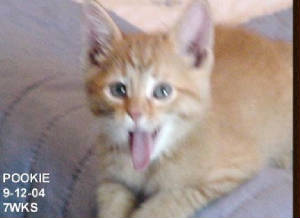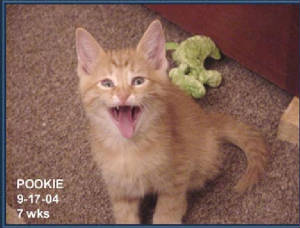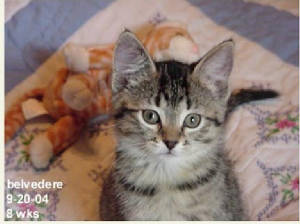 BELVEDERE 20 Sept 2004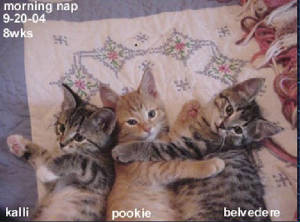 *********************************************************************************
2005
ALLEY CATS LAST SPRING FLING
She was ready to pop anyday, catching her and getting into the kennel was stressful and she was mad, at one point she actually grabbed on to the top bars and hung there and everything dropped down. Not a happy camper.when we got home from work, she had three little furballs, not her usual 6-7. It took a few days to get any photo's.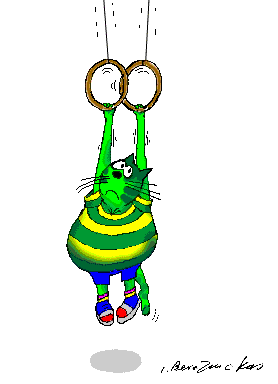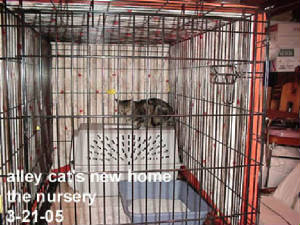 ALLEY CAT 21 Mar 2005 last littler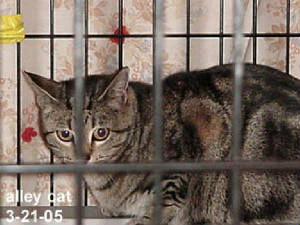 ALLEY CAT 21 Mar 2005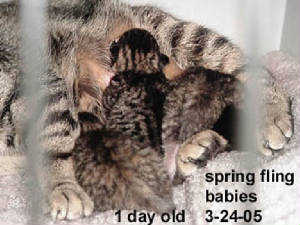 ALLEY CAT BABIES 24 Mar 2005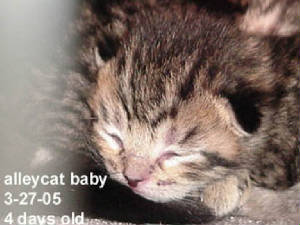 BOOTS 27 Mar 2005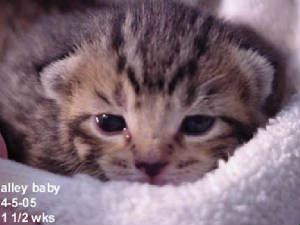 5 Apr 2005 1 1/2 weeks old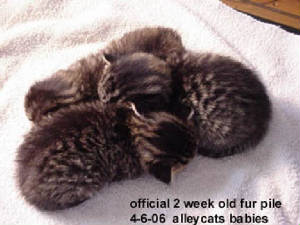 6 Apr 2005 2 weeks old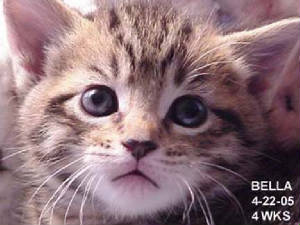 BELLA 22 Apr 2005 4 weeks old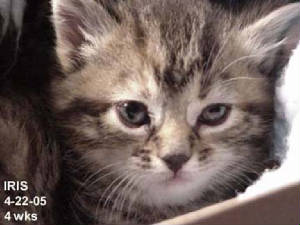 IRIS 22 Apr 2005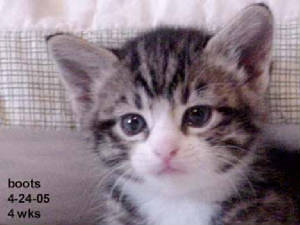 BOOTS 24 Apr 2005 4 weeks old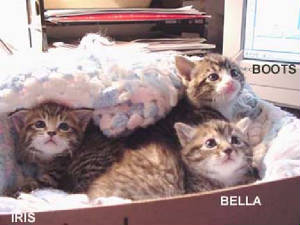 22 Apr 2005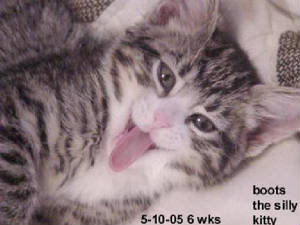 BOOTS 10 May 2005 6 weeks old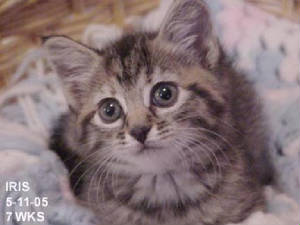 IRIS 11 May 2005 7 weeks old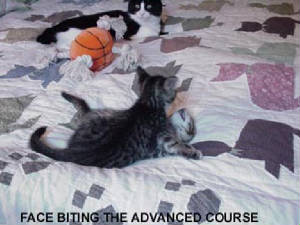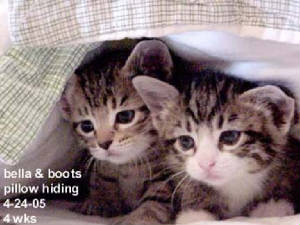 BELLA AND BOOTS PILLOW HIDING
********************************************************************************
MAGGIE MOO
2006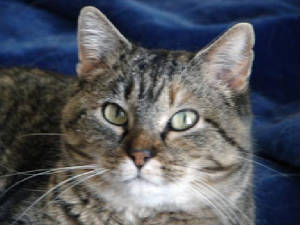 MAGGIE FEB 2006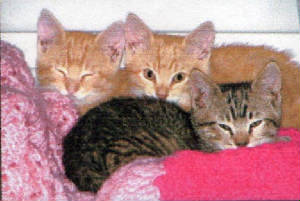 TOM-JERRY AND JIGS JULY 2011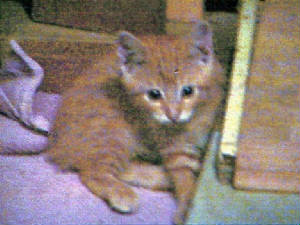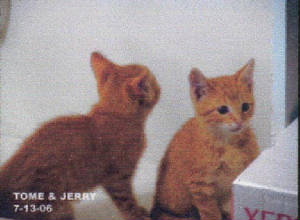 TOM AND JERRY 13 Jul 2006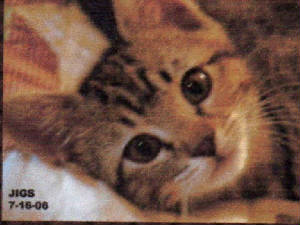 JIGS 17 JUL 2006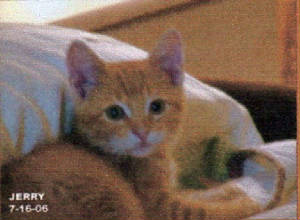 JERRY 17 JUL 2006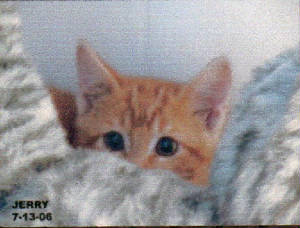 JERRY 17 July 2006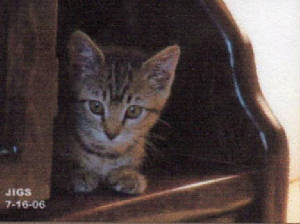 JIG 17 JUL 2006
ENTER SHELBY THE CAT MOM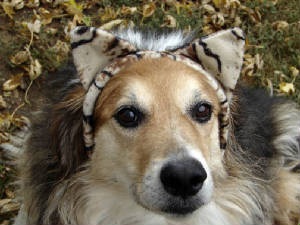 This is where it all started, 4 month old Shelby and her buddies