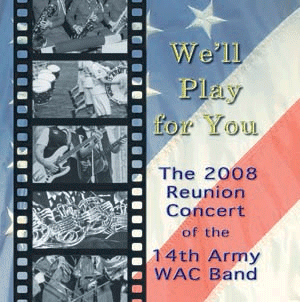 OCT 10 2008 CONCERT
There is nothing like a dame

2008 Reunion Concert
We'll play for you CD
Written by
Rogers and Hammerstein
South Pacific

Performed by the
14th Women's Army Corp Band

Recording Courtesy of Dyamix Productions, Inc
www.wacband.com
1- play for you (Kathy Tapps and the Wac Band)
2- colors forward
3- National Anthem
4- colors return
5- America the beautiful
6- Thank you
7 -WACC is a soldier too
8- there's nothing like a dame
9- Marche militare francaise
10-Credo for womens soldiers ( members of the WAC)
11-Duty Honor County ( SFC Karen Syverson)
12-Cavalcade of american song
13-dixieland jamboree
12-Beguine again ( listed again #12)
13-March medley ( listed again #13)
14-retire colors
15-enccore Stars and stripes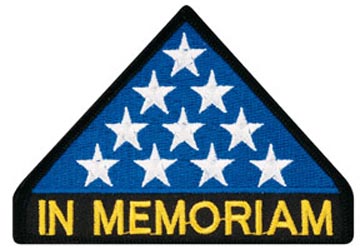 ALL THE WAC BAND SISTERS
*************************************************************************************************
THE BANQUET DIXIE JENSEN'S PLACE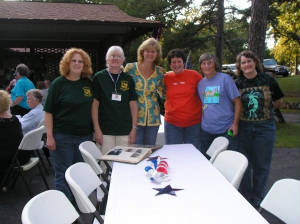 Linda McGaughley-Kathy Nelson- Cheryl Wasson- Debra Scarf- Candice Guy- Gennie Arledge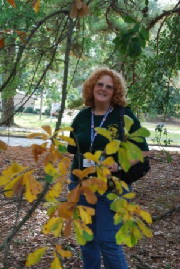 LINDA MACGAUHEY (perscussion)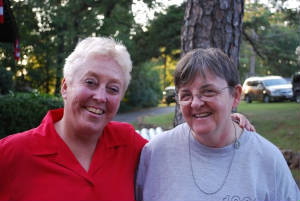 STARANN WISE AND MELINDA WHITMAN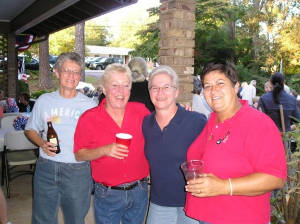 Deb Davis- Starann Wise- Lenore Blanton - Maureen Hayes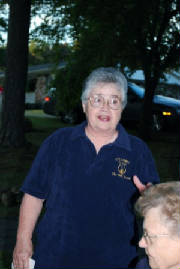 1SG DIXIE JENSEN
*************************************************************************************************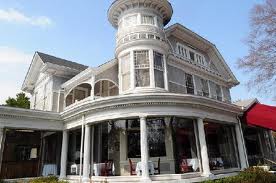 BAND REHEARSAL
Victoria Inn Anniston AL
PHOTO'S COURTESY OF
Debra Scharf-Linda Shelton Mcgauhey and Cindy Clark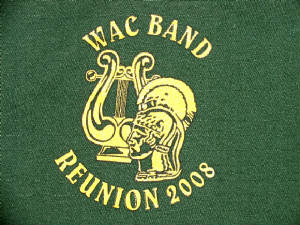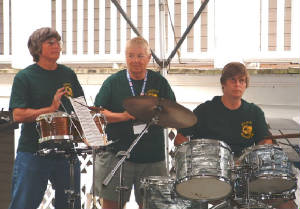 CANDICE GUY JONES- TEDDI HAMLETT-ANN FOX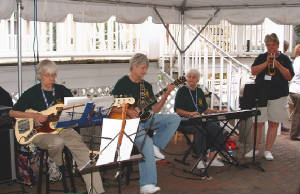 CAROL JENSEN- KAREN SYVERSON- JAN LARSON- KATHY TAPP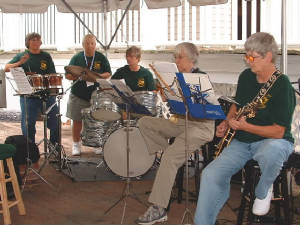 CANDICE- TEDDI- ANN- CAROL- KAREN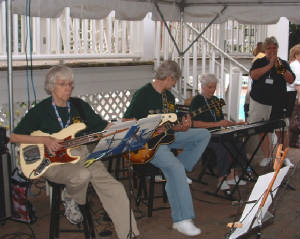 CAROL JENSEN- KAREN SYVERSON- JAN LARSON- KATHY TAPP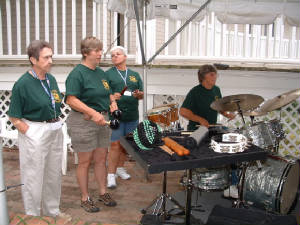 JANE KILGORE- ANN FOX- BARBARA LUSH- CANDICE
************************************************************************************************
BAND REHEARSAL
Wac Chapel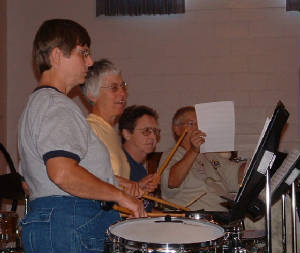 ANN FOX- JANE KILGORE- TEDDI HAMLETT
BONES 2008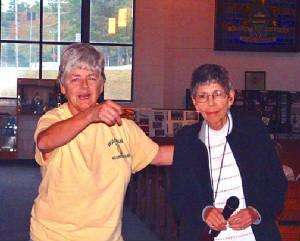 KAREN AND GOLDIE 2008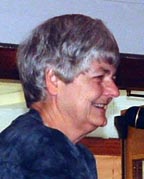 KAREN SYVERSON 2008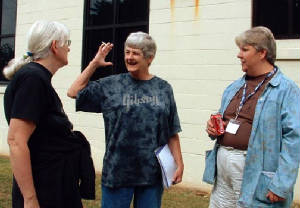 kathy nelson- karen Syverson- Cathy Tapps 2008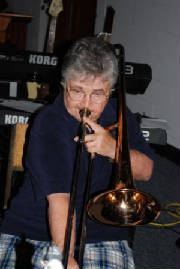 1SG DIXIE JENSEN (trombone)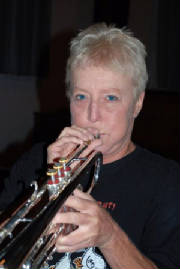 STARANN WISE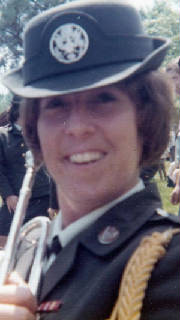 STARRAN WISE (1970's)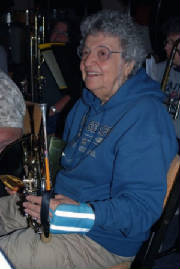 SID MAURER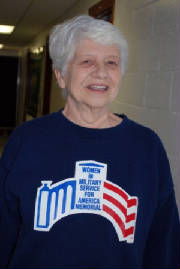 JAN RICHARDS LARSON
************************************************************************************************
WAC BAND SECTIONS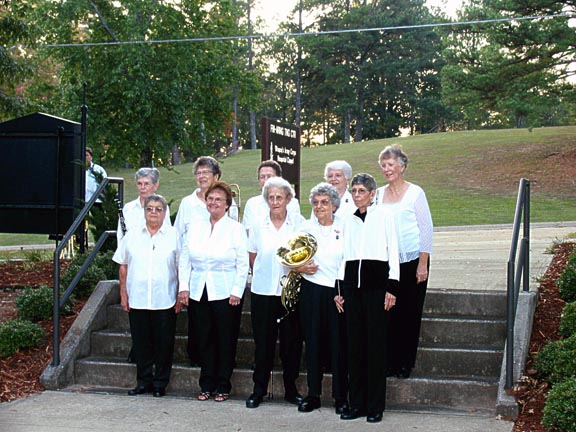 Juila Oliver- Jo Meyers- Jane Kilgore- Jan Larson- Marilyn Ferreris.- Sue Horne- Luthella Clinton- Helen Kolp- SID Maurer- Bernice Goldstein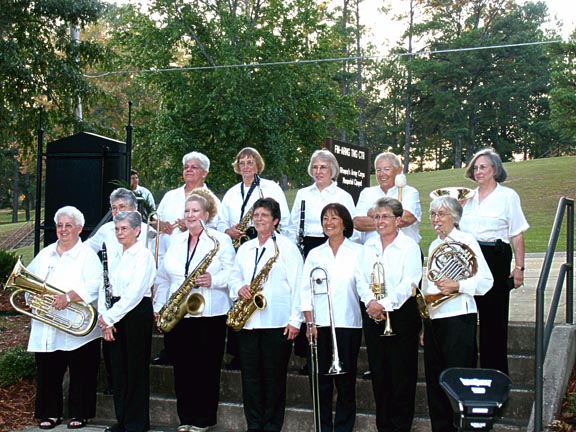 Barbara Lush- Karen Ekberg- Joy Bodner- Teddie Hamlett- Christine Marcelelle- Jeanne Anderson- Dixie Jensen- Julia Oliver- Kay Withers -Karen Nichol-Susie Hom- Gail Belmont- Carol Jensen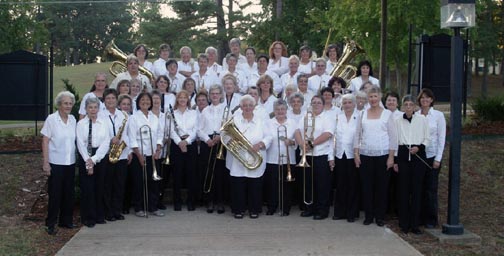 Pat Zuelke- Ann Fox- Teddie Hamlett- Barbara Lush- Karen Syverson- Linda McGauhey- Candice Jones Guy- Helen Gillespie-Kathy Tapp-Melinda Whitman-Gail Belmont-Debra Davis-Maureen Hayes-Starann Wise-Lenore Blanton-Sue Frasier- Jeane Pace- Gennie Arledge-- Karen Eckberg- Kay Withers- Cheryl Wason- Kathryn Nelson- Sue Horne- Jenne Anderson-Helen Kolop- Julia Oliver- Karen Nichol- Sue Andrellevick- Susie Hom- Jo Meyers- Diane Day- Connie Nelson- Kathy Hansen- Dixie Jensen- Sid Mauer- Cindy Clark- Deb Scharf- Jan Larsen- Marilyn Ferreris- Linda Crain Buckner- Bernice Goldstein- Therse Kirbey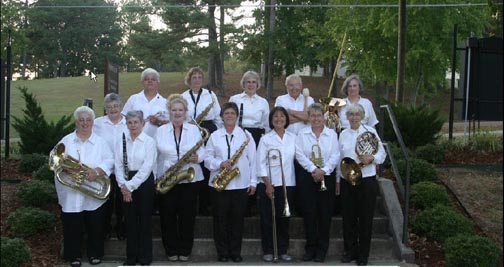 Barbara Lush- Karen Ekberg- Joy Bodner- Teddie Hamlett- Christine Marcelelle- Jeanne Anderson- Julia Oliver- Kay Withers -Karen Nichol-Susie Hom- Gail Belmont- Carol Jensen
Pat Zuelke- Karen Syverson- Ann Fox- Linda McGauhey- Candice Jones Guy- Hellen Gillespie- Deb Scharf- Kathryn Tapp- Melinda Whitman- Deb Davis- Maureen Hayes- Starann Wise- Lenore Blanton- Jeanne Anderson- Sue Frasier- Jeane Pace- Dixie Jensen- Connie Nelson- Diane Day- Gennie Arledge- Kay Withers- Karen Nichol- Sue Andrelevick- Susie Hom- NancyEllen Morris- Pat Langton- Cheryl Wason- Kathryn Nelson- Cindy Clark- Barbara Lush- Linda Crain Buckner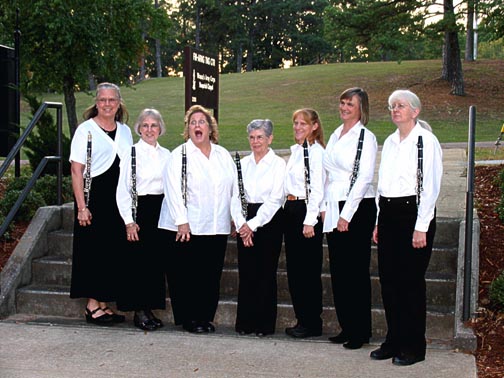 CW5 Jeanne Pace- Joy Bodner- Sue Andrelevick- Julia Oliver- Dianne Day-Nancyellen Morris- Kathyrn Nelson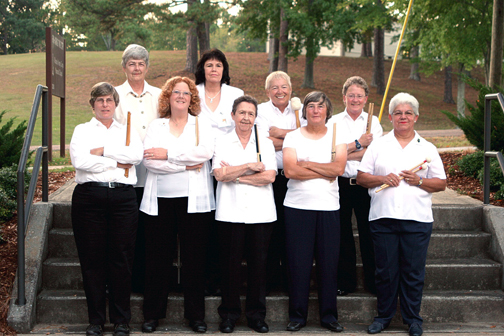 Karen Syverson-Sue Fraiser- Teddie Hamlett- Lisa Sterns
Ann Fox- Linda MacGauhey-Jane Kilgore-Candy Jones-Barb Lush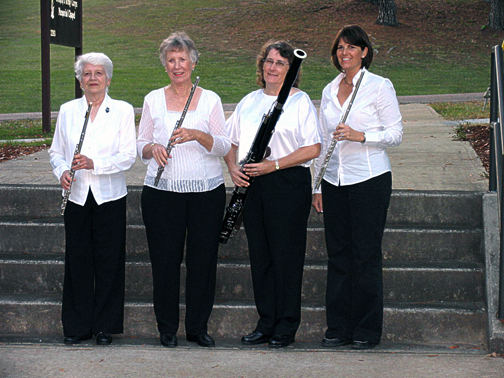 Jan Larson- Marilyn Ferraris- Gennie B Arledge- Therese Kirby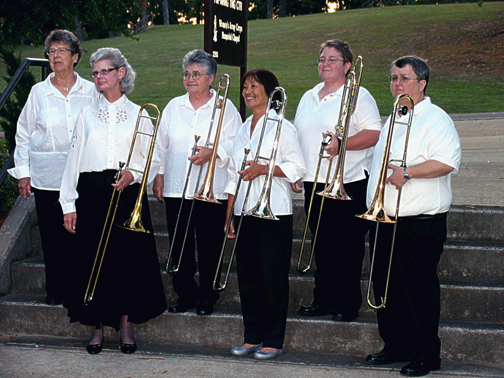 TROMBONE SECTION
Jo Meyers-Connie Nelson-Dixie Jensen- Susie Hom- Cindy Clark- Pat Langton
THE TRUMPET SECTION
Kathy Tapp -Melinda Whittman- Deb Kiwi Davis- Maureen Hayes -Starran Wise -Lenore Blanton- Gail Belmont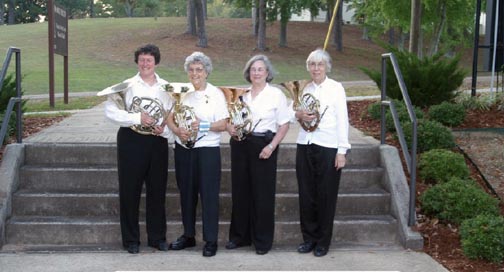 Debra Scharf- Shirley SID Maurer- Christine Marceille-Carol Jensen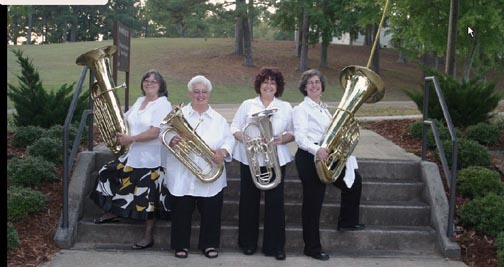 BARITONES
Pat Zuelke- Kathy Hansen-Jeanne Anderson- Helen Gillespie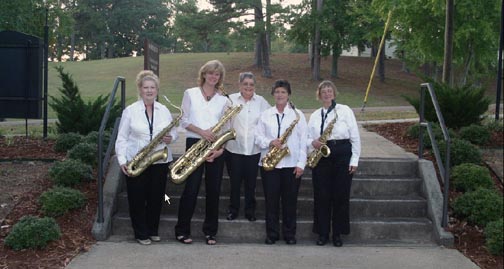 SAXOPHONES
Kay Withers- Cherly Wason-Sue Horne- Karen Nichol Karen Ekberg
***********************************************************************************************
WAC BAND CONCERT
10 Oct 2008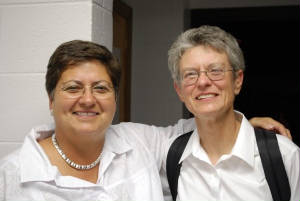 SFC Maureen Hayes and Deb Davis ( Trumpets)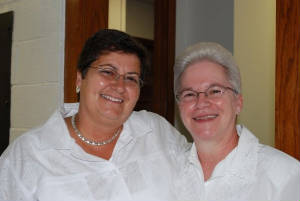 MAREEN HAYES AND LENORE BLANTON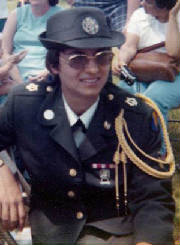 MAUREEN HAYES (1970'S)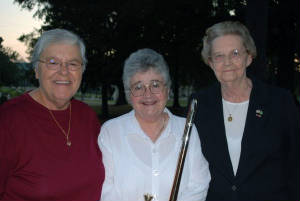 SFC MARIE BERNIER- 1SG DIXIE JENSEN - CSM HELEN JOHNSTON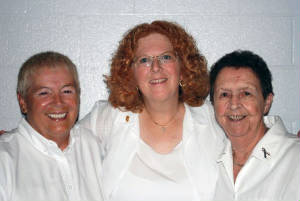 LTC Teddi Hamlett- Linda Magauhey- 1SG Jan Kilgore (Percussion)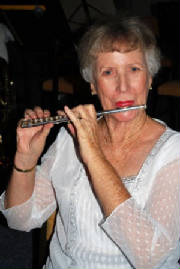 MARILYN (HARRIS) FERRERIS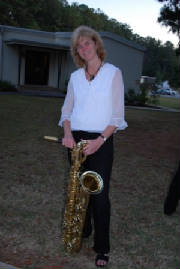 1SG CHERYL WASON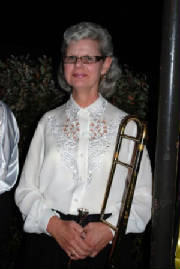 CONNIE NELSON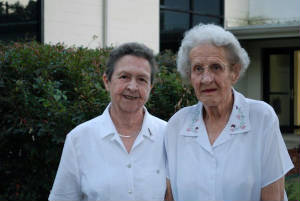 1SG JAN KILGORE and 1SG HELEN KOLOP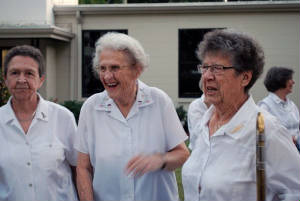 JANE KILGORE- HELEN KOLOP- JO MEYERS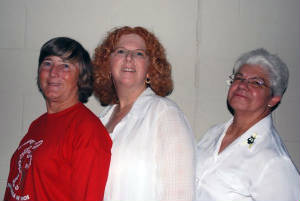 CANDICE JONES GUY- LINDA MCGAUHEY- BARBARA LUSH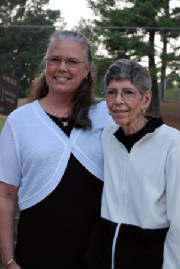 CW5 JEANE PACE AND MSG BERNICE GOLDSTEIN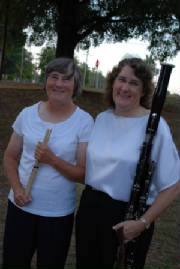 CANDICE JONES GUY AND GENNIE ARLEDGE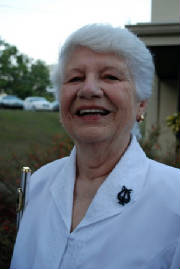 JAN (RICHARDS) LARSON
BAND GRAND ENTERANCE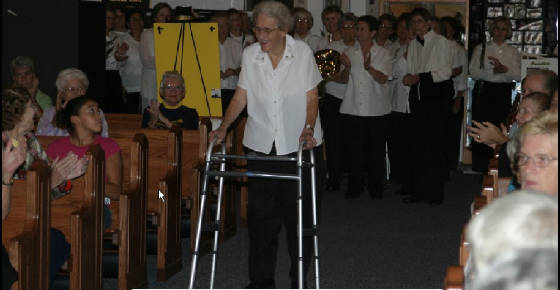 1SG HELEN KOLP LEADING HER BAND INTO THE CHAPEL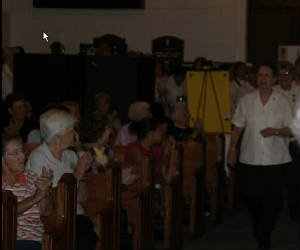 1SG JANE KILGORE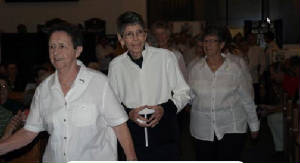 1SG CURLY KILGORE- MSG BERNICE GOLDSTEIN- JO MEYERS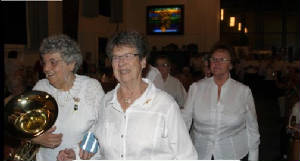 SID MAYER- JO MEYER- LUTHELLA CLINTON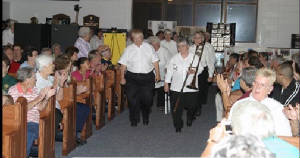 Teddie Hamlett and Dixie Jensen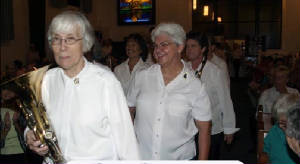 CAROL JENSEN- BARB LUSH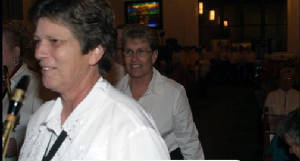 KAREN NICOL- GAIL BELMONT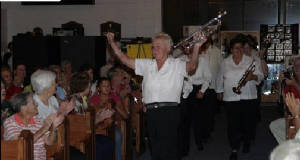 STARRANN WISE- MAUREEN HAYES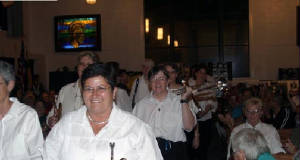 MAUREEN HAYES- LINDA WHITMAN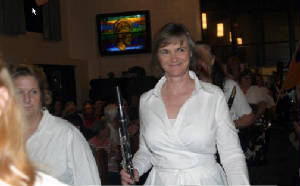 NANCYELLEN MORRIS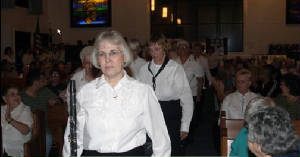 JOY (BOYD) BODNER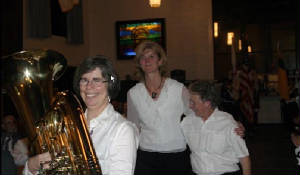 HELEN GILLESPIE- CHERYL WASSON- LISA STERNS- WARNER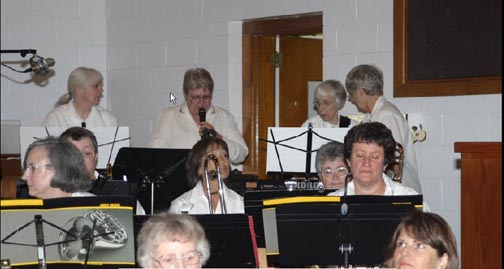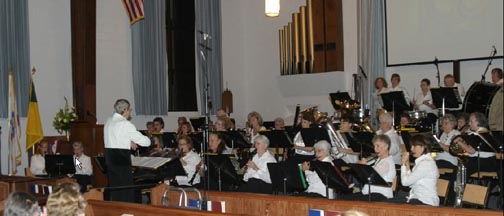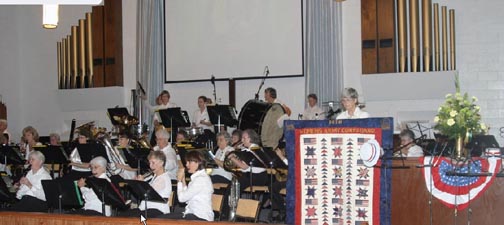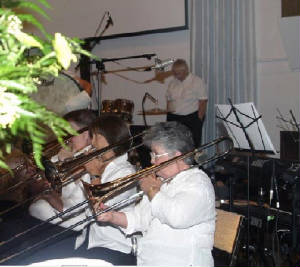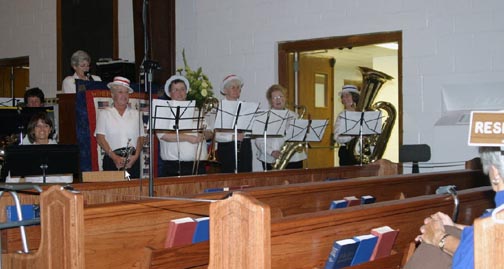 DIXIE LAND BAND
Starann Wise- Pat Langton- Katrhryn Nelson- Kay Withers- Helen Gillispie- Ann Fox on the drums.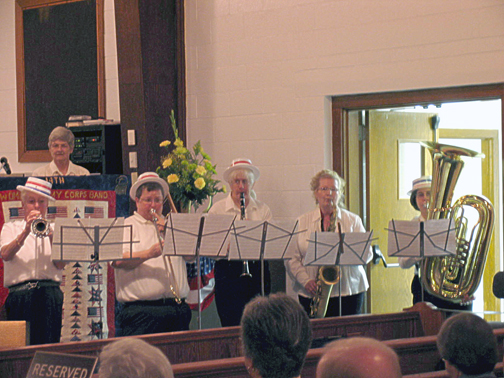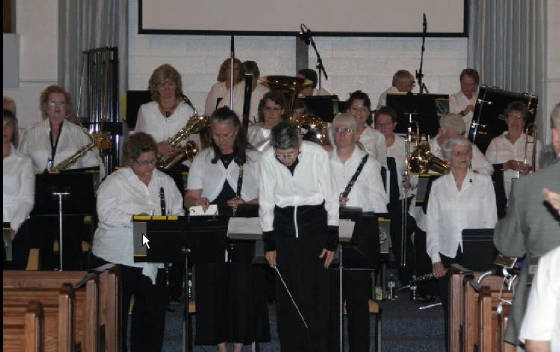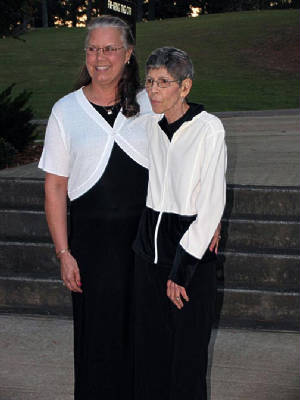 CW5 JEAN PACE and MSG BERNICE GOLDSTIEN
The 2008 Wac Band concert
10 Oct 2008
Announcer for the concert
SFC Karen Syverson
Conductors
CW5 Jeanne Pace
MSG Bernice Goldstein
Clarinet section
CW5 Jeanne Pace -Sue Andrewlevick- NancyEllen- Juila Oliver -Dianne Day-Kathhryn Nelson-Joy Bodner
Trumpet Section
Starann Wise- Melinda Whitman- Maureen Hayes- Deborah Davis- Lenore Blanton- Gail Belmont- Kathy Tapp (Vocals)
Percussion Section
Jane Kilgore- Ann Fox- Candice Guy- Thedora Hamlett- Barbara Lush-Linda McGauhey- Lisa Sterns-
Bassoon Section
Genni B Arledge
Flute Section
Marilyn Ferraris- Janice Larson- Therese Kerbey
Baritones Section
Jeanne Anderson- Kathryn Hanson
Trombone Section BONES
ISG Dixie Jensen- Susie Hom- Joan Meyers- Patricia Langton- Connie Nelson- Cindy Clark
French Horn section
Shirely Maurer- Deborah Scharf- Carol Jensen- Christine Maccelille
Saxophone Section
Karen Nicol- Karen Ekberg- Kay Withers- Cheryl Ann Wason
Basses Section
Helen Gillespie- Patricia Zuelke
Non playing members:
Commander Linda Buckner- ISG Helen Kolp- Luthella Clinton- Sue Frasier- Christine Schafrink- Dorma Parker- Mary Atkinson- Sue Horne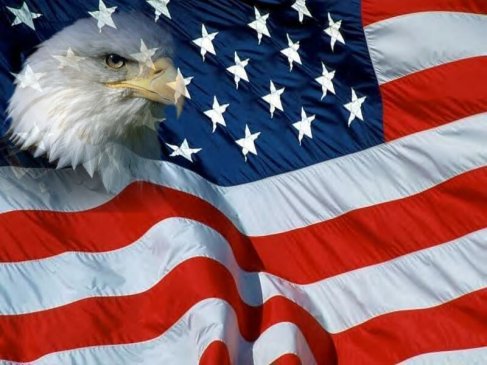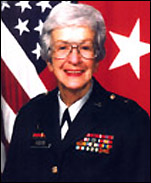 CREDO
By Brig Gen Evelyn P Foote
SFC KAREN SYVERSON
I am an amercian soldier. Since the earliest years of our nation, I have taken part in it's defence.
MAJ SHARON KUPSICK
I marched with Gen Washington and the continental army, suffering with them the cold harsh conditions of war. Sometimes disguised as a man, I shouldered a rifle and fought the enemy.
ISG MOLLY EDWARDS
During the war of 1812 and in the war with mexico, I cared for the wounded, I was on the battlefields of the civil war, serving the north or south. Whatever my task- soldier, spy, courier nurse or doctor. I performed my duties with courage and devotion.
LTC PEGGY LONG
Early in the twentieth century, out nation recognized the caliber of my service by founding the Army Nurse Corps.
ISG HELEN KOLP
When the first world war came, I was one of the women who manned switchboards, drove ambulances and perform many essential tasks on the home front or with General Pershings forces in France.
COL ARLENE BURBANK
I gained status of the soldier in May 1942, when the army formed the Womens Army Corps Auxiliary Corps. That summer I stood tall with the other volunteers on the parade ground at Ft Des Moines as we acknowledged our date with Destiny and Debt to Democracy.
LTC LINDA CRAIN
With in a year I was no longer an Auxiliary, I was now a member of the Womens Army Corps, joining women known for their strong sense of duty and their espirt. We served the army with pride, whenever our skills were needed. At home and abroad, in peace and in war, from Europe to Japan, Korea to south Vietnam,
CSM MARY LEE
In 1978, the Womens Army Corps passed into history. We became a truly integal part of the army. Today, I honor all the women who came before us who gave us our heritage and who made possible the opportunities we now have. The spirit of these women and the spirit of the Womens Army Corps will always live in our hearts.
MSG TINA SCHAFRIK
Now I am one with the women who served in countless peacekeeping missions around the world, from Grenada to Panama, Desert Storm to Somalia and Bosnia. I am one with the long line of women who suffered wounds and died on the battlefield, endured separation and uncertainty, were prisoners of war and survived to return to serve again.
ISG DIXIE JENSEN
I am in deed, an american soldier proud of my profession , ready to perform any duty assigned to me and answer the call when my country needs me.
WAC BAND REUNION CONCERT MUSIC CD'S
www.dxaudio.com
Neil Kesterson 332 N Ashland Ave. Lexington, KY 40502 Phone: 859-335-1011 Fax: 859-335-1012