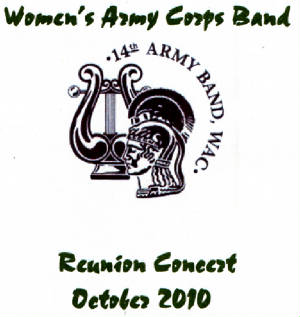 BANDOLOGY
2010 Reunion Concert
Women's Army Corps Band CD

Written & Arranged by Eric Osterling

Performed by the 14th Women's Army Band

Recording Green Quest Video Productions
www.greenquestvideo.com
Celebration

Washing post- bring in the colors

National Anthem

Washing post- Retire the color guard

Tympani Roll

America the beautiful

Bandology

Folk festival

There's mothing like a dame

WAC Medley:

COL Bogey ( Duty)

WAC is a soldier too

Pallas Athena

Boogie Woogie Bugle boy

This is my country

Duty, Honor, Country

Army song

Army goes rolling along

Washing post- Color guard in

Washington post- Retire the colors

Encore: Stars and Stripes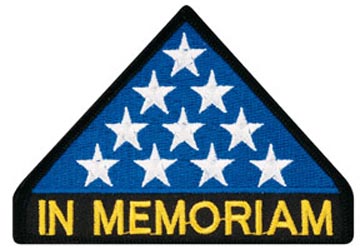 IN MEMORY OF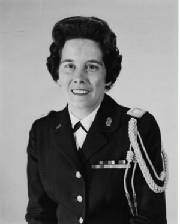 LTC Joyce E. Eslick
1929- 2010
Wac Band Company Commander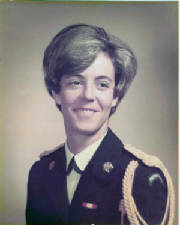 SP4 Kathryn Macallister Blount
1951-2010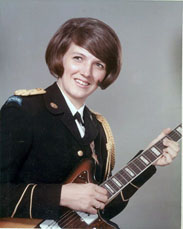 SGT Karthryn Tapp
1949-2010
"Tapper"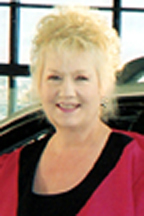 SP4 Kay E. Whithers
1949-2009

**************************************************************************************************
For over four decades, women from all over the country came together to serve in the Women's Army Corps (WAC) Band. The 14th Army Band (WAC) was deactivated in 1976, in preparation for the integration, the following year, of the Women's Army Corps into the regular Army.

The 2010 reunion marked the 4th time this decade the former WACs have gathered at their previous "home" of Ft. McClellan, Alabama for several days of rehearsal and fun, followed by one of the most moving concerts a person could be privileged to be a part of. As one of the "babies," I stand in awe of these women: their talent, their service, and their friendship!
Linda Shelton Magaughey
Percussion section
Oct 2004, falling silent for over 30 years, the WAC band responded to the command of FALL IN and here we came to FT McClellan continuing in our mission to entertain the troops.

The 2004 theme for this reunion was THE WAY WE WERE. 50 Wac band members came home and 37 of us played the music that annouced our return to the concert stage. We were astonished and gratified by the response of the WAC band members and the WAC community.

Oct 2006, The WAC band took a SENTIMENTAL JOURNEY home, remembering our Ft Lee roots and the decades of women who so proudly served in the WAC band. 40 Wac band members came home and 36 played on the concert stage. During that reunion, we had the honor of playing a piece remembering Dec 7 1941, narrated by Robert Delano, the last official member of the WAC band.

Oct 2008: The WAC band reunion members followed the theme WE'LL PLAY FOR YOU and even sang for you. 53 came home and 45 played the concert stage . 1SG Helen Kolop became the 1SG of the band in 1951 and proudly led her unit into the chapel.

Women of the 50's decade reported to 1SG Kolop and after reporting to her, 1SG Jane Kilgore stood fast and recieved the women of the 60's and after reporting to her 1SG Dixie Jensen stood fast and received the women of the 70's.

It is a wonderful living example of the continuity of the WAC band and now it is Oct 2010, continuity once again has driven home for the celebartion by a lady here tonight, representing 401st ASF band, Sylvia Greenstien , member one of the 5 Wac bands from WW2. 57 Wac band members came home and 44 played on the concert stage.
***************************************************************************************************
WAC band members hold biennial reunion

Anniston Star newspaper



Chief Warrant Officer 5 Jeanne Pace is a 38-year veteran of the U.S. Army. She is also a clarinetist spending part of her two-week R&R from Iraq in Anniston in the company of friends, recalling old times when Fort McClellan was covered in khaki, not kudzu.

Pace is one of 57 former members of the 14th Army Band (WAC) who;ve enjoyed a homecoming in Anniston this week. Their biennial reunion has taken place since October 2004, its highlight always a concert.

At Friday night;s performance 44 members picked up instruments, their music; some of it inspirational, some of it fun; joyously shaking the rafters in the WAC chapel.

Prior to the show, while her fellow band members warmed up, Pace spoke movingly of the significance the reunions have for her.

There (is) quite a sisterhood among us, even though we didn;t serve together,; Pace said, explaining how each generation ;created a foundation; for her and other servicewomen/musicians coming along later.

California resident Gail Belmont is no longer in the Army. The trumpet player now operates Quilts of Honor, a nonprofit dedicated to making quilts for returning veterans from Iraq and Afghanistan. As a member of the WAC band, she was posted to Fort McClellan from 1969 to 1972.

She said former band members arrived in town early this week and have been rehearsing ever since. There was no practice on Friday, however, she said, because members wished to ;save our lips for tonight.;

We feel very honored to do this,; Belmont said.
Of McClellan, Belmont said, Everything looks the same. The mess hall ain;t changed in 40 years.;
She said Anniston hasn;t changed that much, either.
Dixie Jensen, a former WAC band member who lives in Saks, has been instrumental in planning the reunion.

The camaraderie never goes away, she said. Indeed, the theme of this year;s reunion was ;Celebration.;
Jensen was stationed at McClellan for most of 20 years starting in 1960. She plays trombone.
Speaking by phone earlier Friday, Jensen mentioned a list of celebrated figures returning this year.

Master Sgt. Bernice Goldstein (ret.) is the conductor.
;Goldie,; as she;s called ; ;Everybody gets a nickname,; said Jensen ; was bandleader of the 14th Army Band (WAC) from 1973 to 1975. She signed up with Uncle Sam in 1952, and now plays the keyboard at events around Washington, D.C.
Another band member is Carol Eggert, who just returned from Iraq and will soon make brigadier general. She plays the French horn.We are very, very proud of these people,; Jensen said.
THE BANQUET DIXIE JENSEN'S PLACE
Photo's shared by Linda Shelton McGauhey-Deb Scharf - Carol Bazan Spencer- Linda Whitman WAC band reunion Oct 2010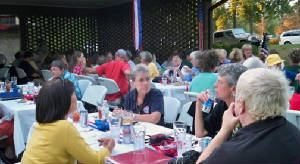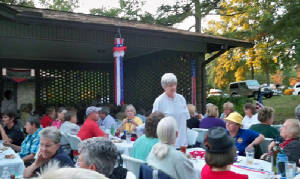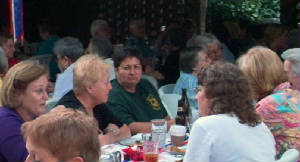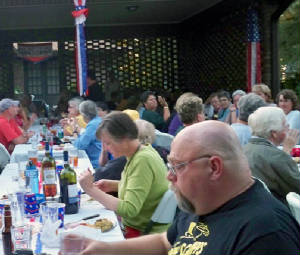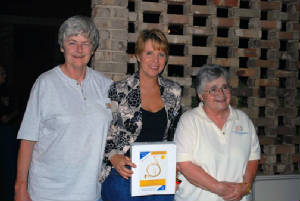 SFC KAREN SYVERSON-BG CAROL EGGERT-1SG DIXIE JENSEN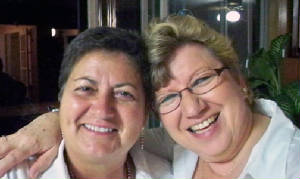 Maureen Hayes and Carol Bazan Spencer Oct 2010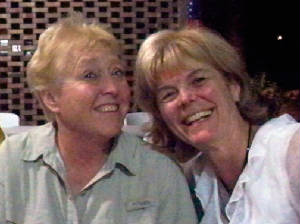 Starrann Wide and Cheryl Wasson Oct 2010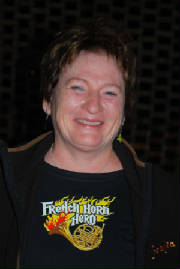 ANN LOGAN CROSSLAND "LOGIE"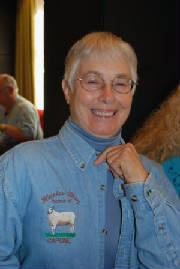 SSG JUDITH (TOTH) BINGHAN 1968-1974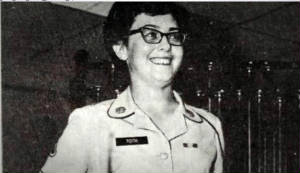 photo courtesy of Dyamix Productions, inc www.wacband.com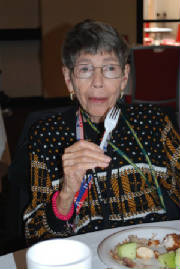 MSG BERNICE "GOLDIE" GOLDSTEIN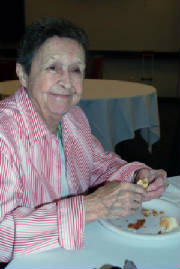 1SG JANE KILGORE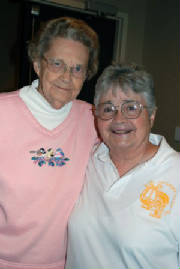 CSM Helen Johnston Ret
1SG Dixie Jensen Ret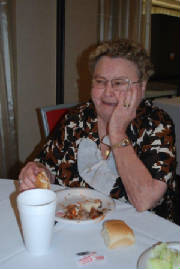 1SG Molly Edwards Ret
************************************************************************************************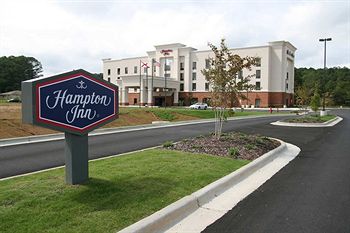 BAND RESHEARSAL
Hampton Inn
Anniston AL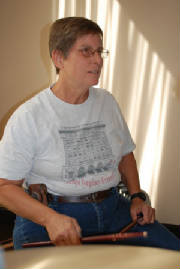 ANN " FOXIE" FOX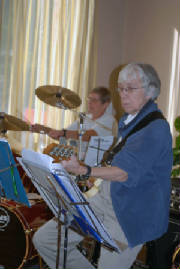 CAROL JENSEN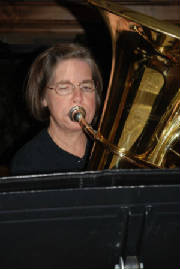 SFC HELEN GILLESPIE- 1971-1974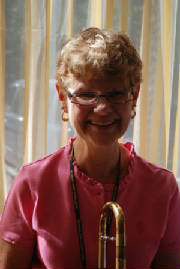 CONNIE NELSON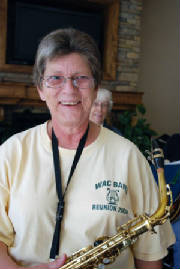 KAREN NICHOL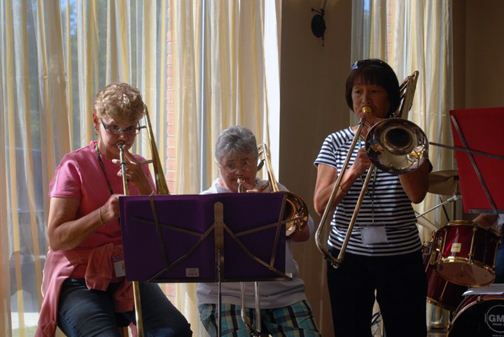 Connie Nelson-
Dixie Jensen-
Susie Hom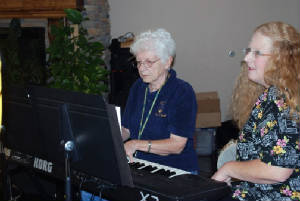 Jan Larson and Linda McGauhey Oct 2010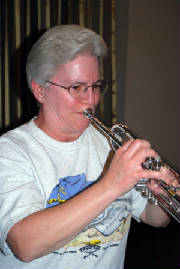 LENORE BLANTON WAC BAND TRUMPET 1973-1975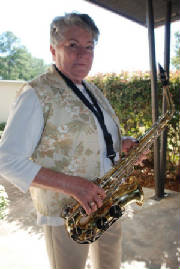 JENNIE BETH MURDOCK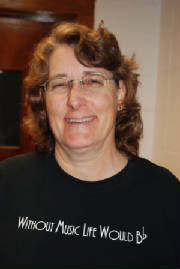 GENNIE ALLEDGE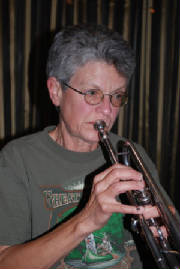 DEB KIWI DAVIS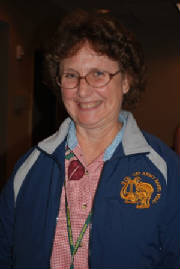 PAT WADLINGTON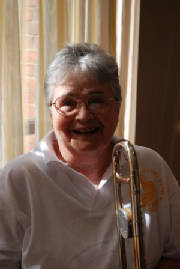 1SG DIXIE JENSEN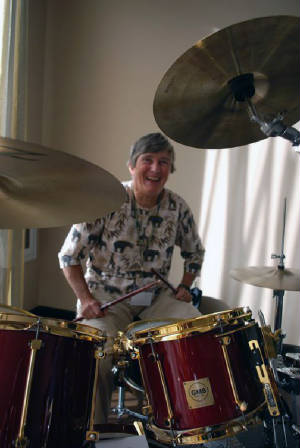 CANDICE GUY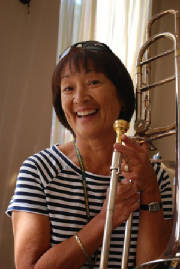 SFC SUSIE HOM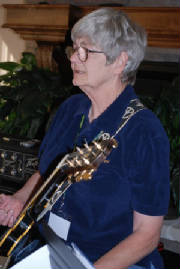 SFC KAREN SYVERSON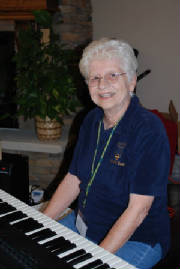 JAN RICHARDS LARSON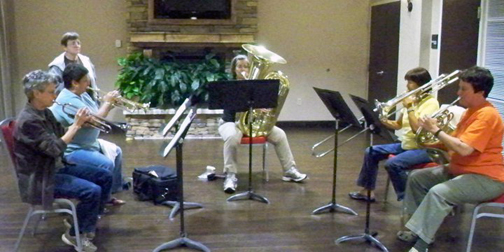 Deb Davis- Maureen Hayes-Melinda Whitman-
Helen Gillsepie- DebScharf-Susie Hom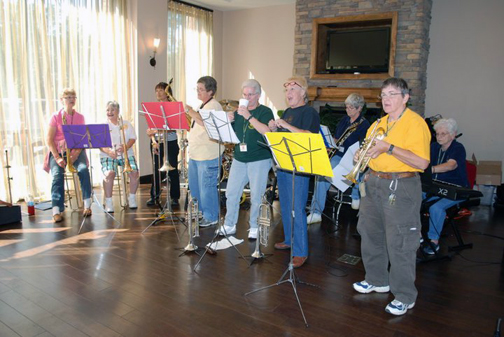 Connie Nelson- Dixie Jensen- Susie Hom- Karen Nichols-
Deb Blanton- Judy Toth- Melinda Whitman-
Karen Syverson- Jan Larson.
*************************************************************************************************
BAND REHERSAL
Wac Chapel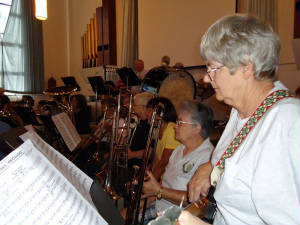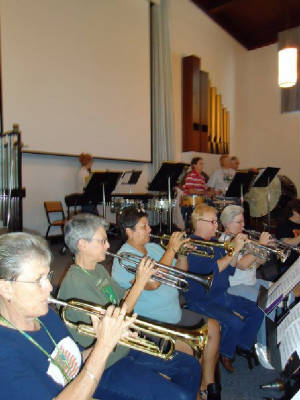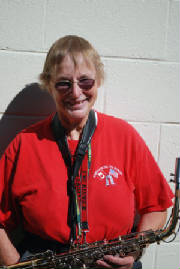 LTC KAREN ECKBERG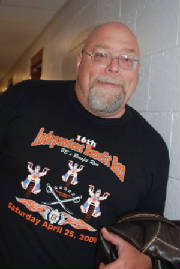 BOB DELANO WAC BAND SAAPHONE 1976-1977
***************************************************************************************************
BAND SECTIONS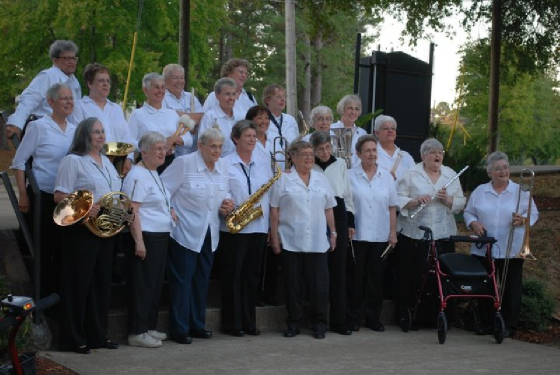 1950's and 1960's WAC BAND MEMBERS

Gly Holland- Ruth Glaspey-Lori Lawreence- Judith Toth-Gail Belmont-Karen Eckberg-Susie Hom-Carol Jensen- Barbara Lush-Christine Marcellelle-Paula Copestick- Janic Krauge Pleadger- Karen Nichol- Sue Horn- Bernice Goldstein-Jane Kilgre- Jay Beard- Dixie Jensen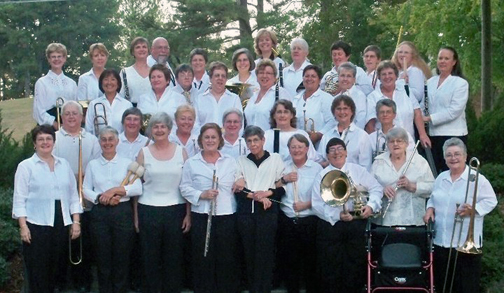 Connie Nelson- Carol Eckberg- NancyEllen Morris- Bob Delano- Karen Nichol- Helen Gillespie- Cheryl Wason- Kathryn Nelson- Deb Scharf- Ann Fox -Linda Shelton Mcgauhey- Jeanne Pace- Susie Hom- Ann Logan Crossland- Melinda Whitman- Lori Lawrence- Carol Bazan Spencer-Maureen Hayes- Gail Belmont- AnnSteinkeliner- Pat Langton- Candice Jones Guy- Starann Wise- Lenore Blanton- Gennie Arledge -Pat Waldlington- Deb Davis- Linda Crain Buckner- Judith Toth- Karen Syverson- Marye Campbell Boggs- Bernice Goldstein- Lisa Sterns- Lynn Valerio- Jay Beard- Dixie Jensen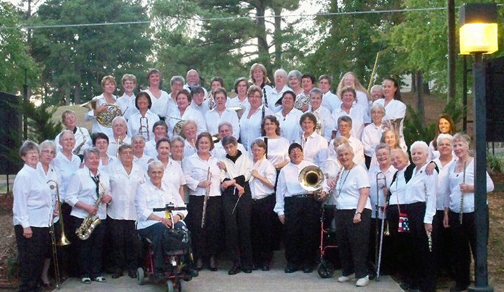 Carol Eggert- Connie Nelson- NancyEllen Morris- Gly Holland- Bob Delano- Karen Nichol- Hellen Gillespie- Cheryl Wason- Kathryn Nelson- Karen Syverson- Deb Scharf- Ann Fox- Linda Shelton McGauahey- Teddie Hamlett- Jeane Pace- Susie Hom- Ann Logan Crossland- Melinda Whitman- Lori Lawrence- Carol Bazan Spencer- Maureen Hayes- Gail Belmont- Ann Steinlener- Karen Eckberg- Pat Langton- Candice jones Guy- Starann Wise- Lenore Blanton- Gennie Arledge- Pat Wadlington- Deb Davis- Christine Marcellelle- Carol Jensen- Therese Kirbey- Ruth Glaspey- Linda Crain Buckner- Judith Toth- Sid Maurer- Marye Campbell Boggs- Bernice Goldstein- Lynn Valerio- Paula Copestick- Dixie Jensen- Sylvia Greenstein- Jan Richards Larson- Barbara Lush- Marilyn Ferrerris- Jo Meyers- Joy Bodner- Jennie Beth Murdock- Sue Horne- Janice Krause Pledger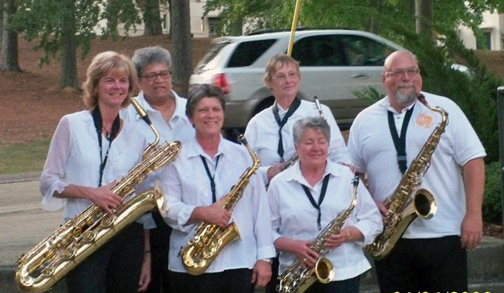 SAXOPHONES
Cheryl Wason- Gyl Holland- Karen Eckberg
Karen Nichol- Jennie Beth Murdock- Bob Delano
PERCUSSION
Barbara Lush- Ann Fox- Teddie Hamlett- Linda Magauhey- Karen Syverson
Lisa Sterns- Ann Steinkeliner-Jane Kilgore-Judy Toth- Candace Jones Guy
FLUTES
Marilyn Ferreris- Therese Kirbey
Marye Campbell Boggs- Jay Beard- Pat Wadlington- Jan Larsen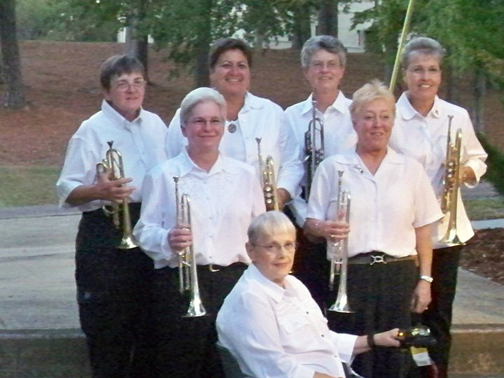 TRUMPETS
Melinda Whitman- Maureen Hayes- Deb Davis- Gail Belmont
Lenore Blanton-Starrann Wise- Janice Krauge Pledger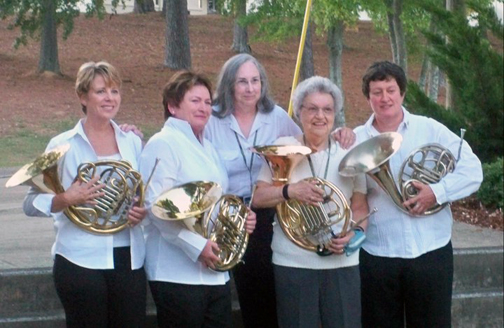 FRENCH HORNS
Carol Wolfe Eggert- Christine Marceille
Ann Logan Crossland- Sid Maurer- Deb Scharf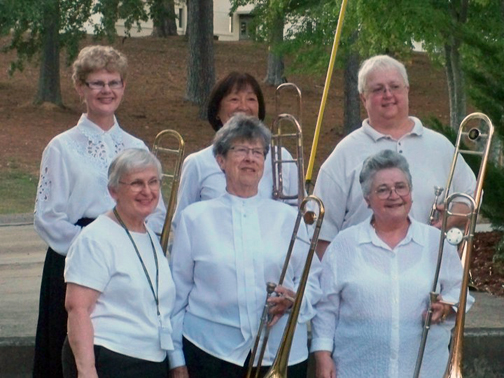 TROMBONES
Connie Nelson- Susie Hom- Pat Langton
Paula Copestick- Jo Meyers- Dixie Jensen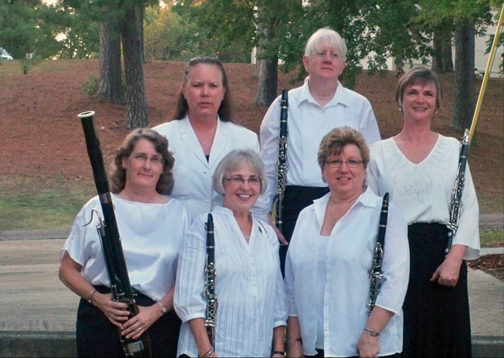 Jeane Pace-Kathy Nelson-NancyEllen Morris
Jennie Arledge- Joy Bodner-Carol Bazan Spencer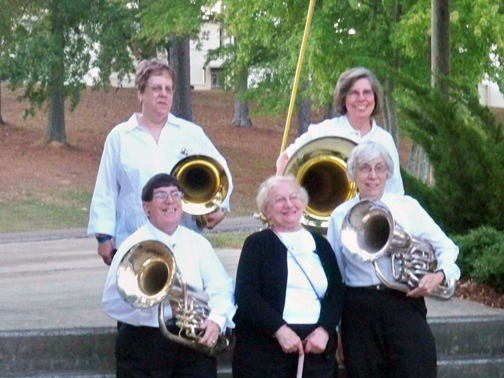 BARITONES
Lori Lawrence- Helen Gillespie
Lynn Valerio- Sylvia Greenstein- Carol Jensen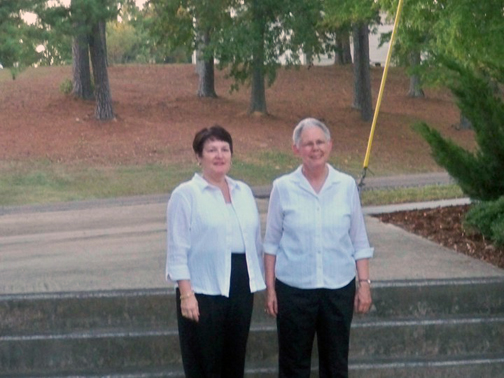 LTC Linda Crain Buckner
LTC Ruth Glaspey
Wac Band Company Commanders
**************************************************************************************************
THE CONCERT
Wac Chapel
Oct 2010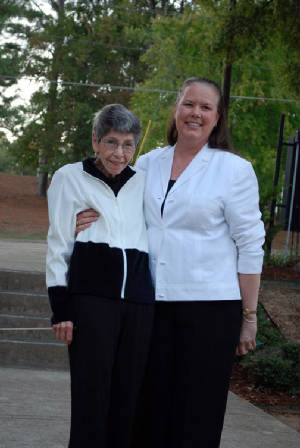 MSGT Bernice Goldstein and CW5 Jeanne Pace
Conductors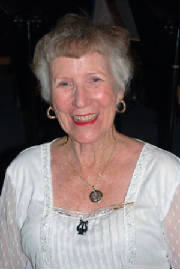 MARILYN (HARRIS) FERRERIS
The 14th Women's Army Corp Band 2010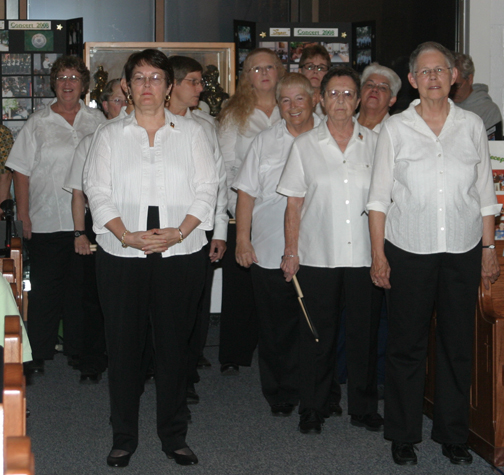 Wac Band Company Commanders
LTC Ruth Glaspey
LTC Linda Crain Buckner
US Army Ret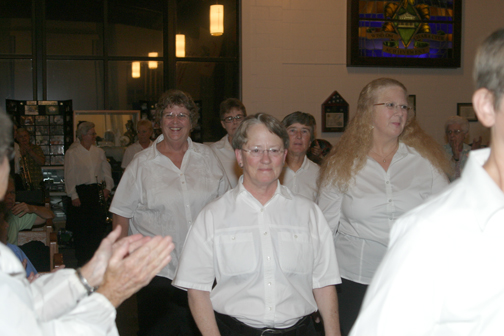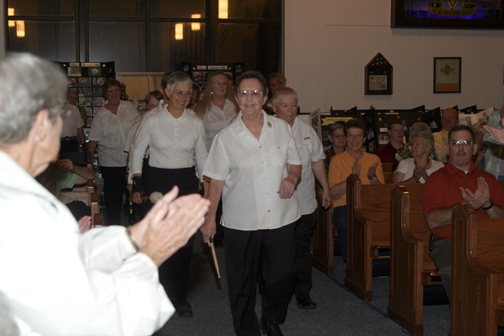 PERCUSSION SECTION
1SG Jane Kilgore
Section Leader

Ann Fox- Teddy Hamlett- Barbara Lush- Judith Toth Bigham- Candice Jones Guy- Lisa Werner Sterns- Sure Fraiser- Ann Steinkelner- Linda Shelton McGauhey- Karen Syverson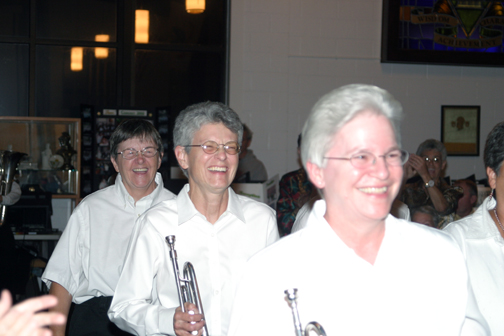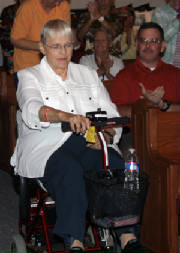 JANICE KRAUGE PLEDGER (Trumpet)

TRUMPET SECTION

Starrann Wise- Melinda Whitman-Maureen Rene Hayes- Lendora Blanton-Deborah Keiwa Davis- Gail Belmont- Janice Krauge Pledger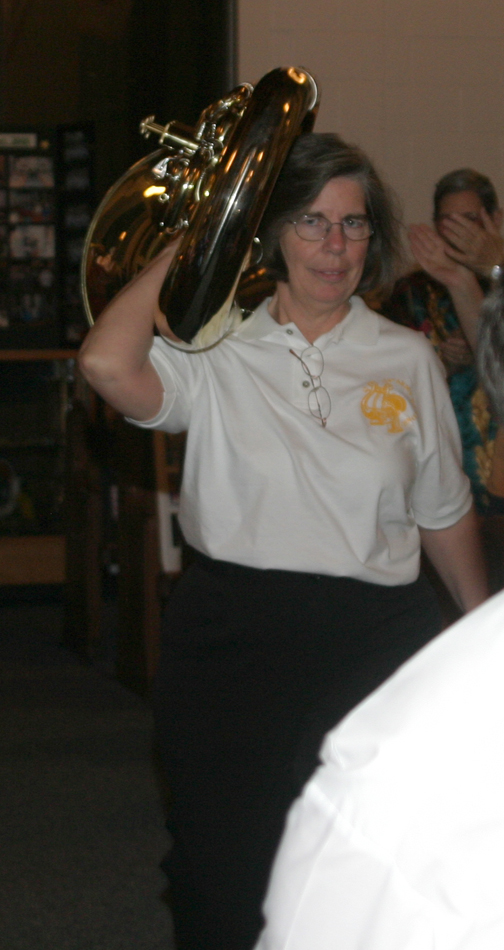 TUBA
Helen Gillespie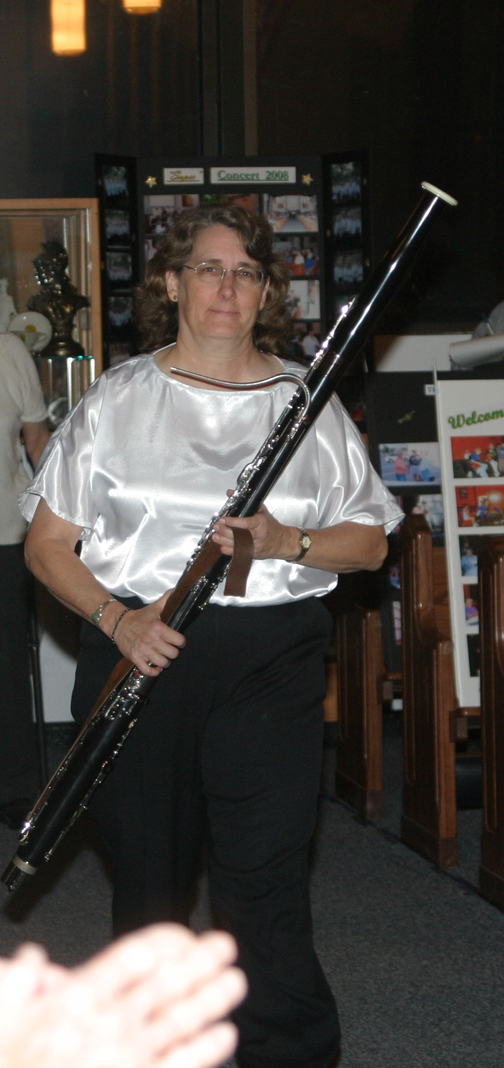 BASSOON
Genni B. Grover Arledge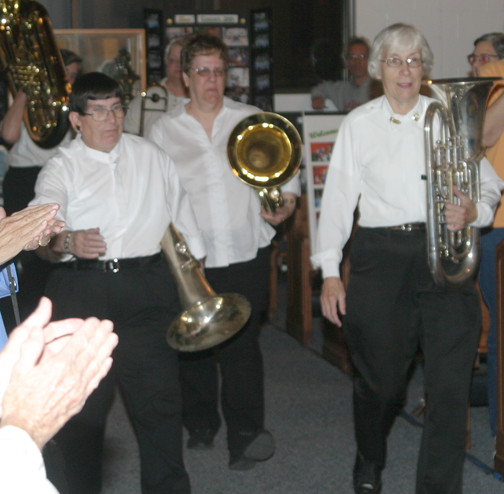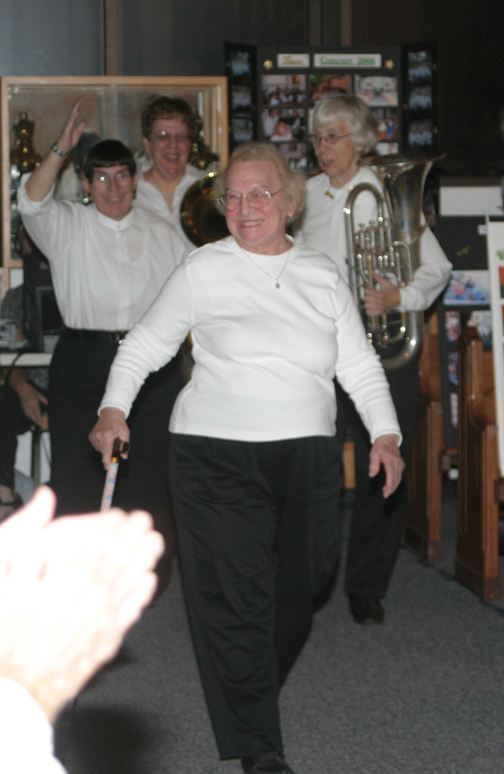 BARITONE SECTION

Slyvia Greenstein- CarolJensen- Lori Lawrence- Lynn Valerio-Tina Schafrik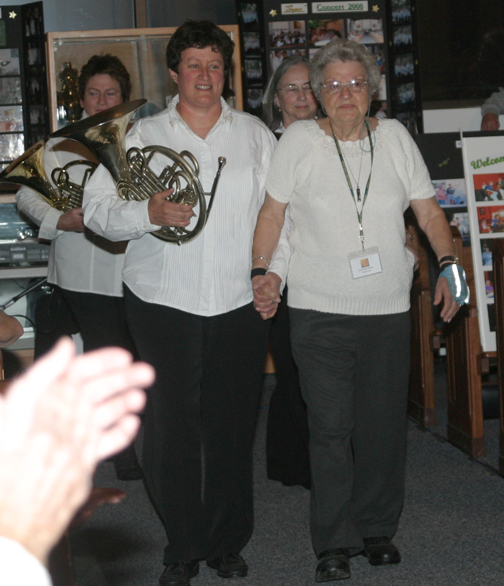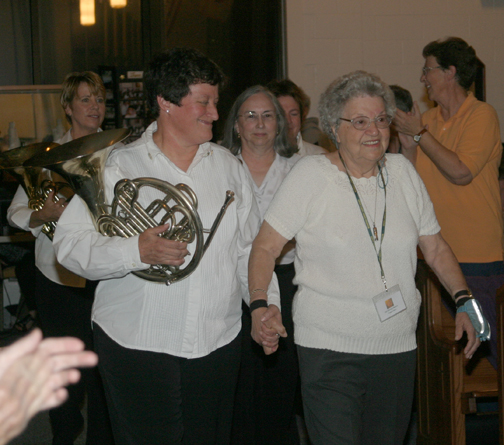 Debera Scharf- Christine Marceille- Sid Maurer- BG Carol Wolfe Eggert-Ann Crossland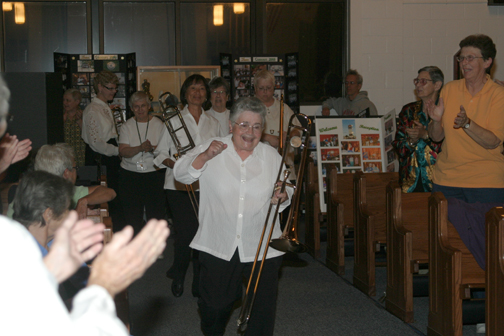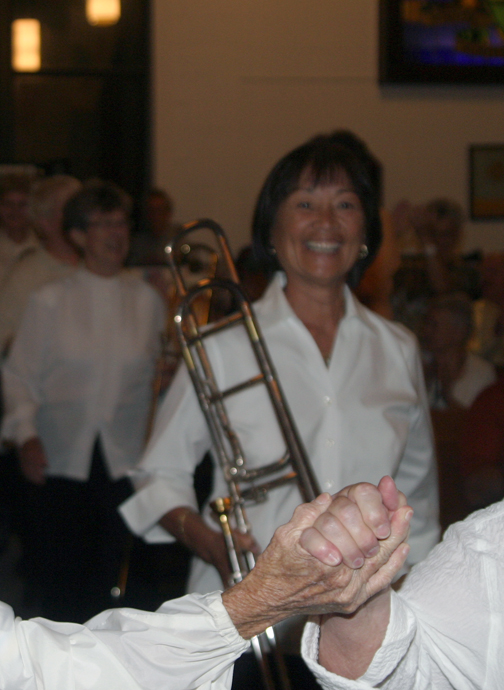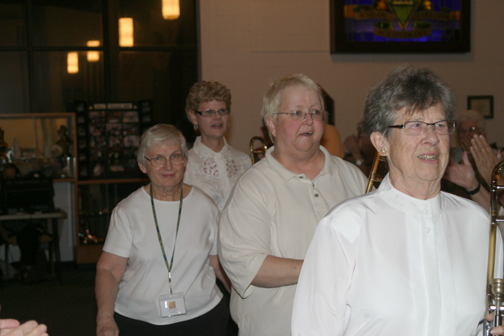 Susie Hom- Pat Langton- Joan Jo Meyers- Connie Nelson- Paula Copestick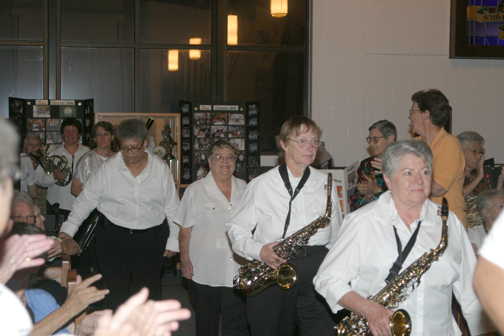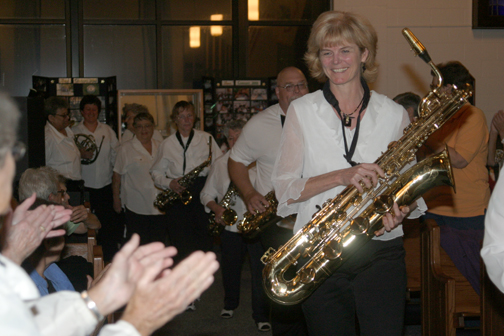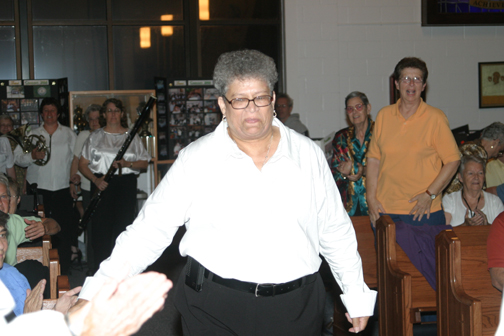 SAXOPHONE SECTION

Karen Nichols- Karen Ekberg- 1SG Cheryl Wasson-Jenny Murdock- Sue J. Horne- Gly C. Holland- Robert Bob Delano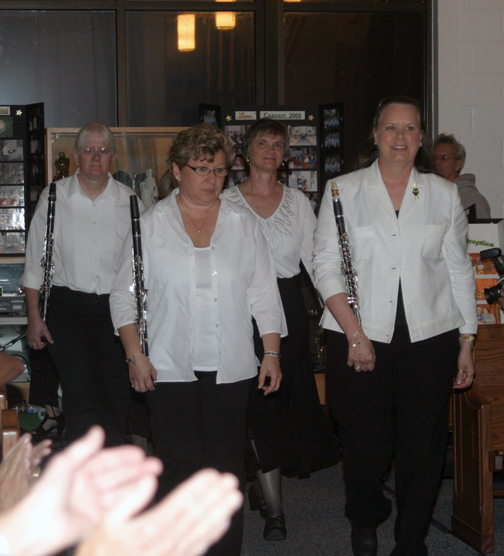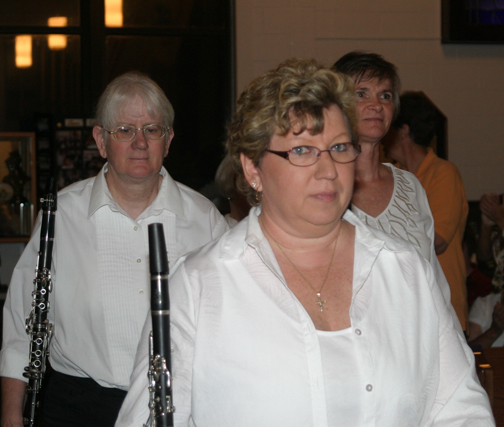 CLAIRINET SECTION

CW5 Jeanne Pace-NancyEllen Morris- Kathryn Nelson- Carol Bazan Spencer- Joy Boyd Bodner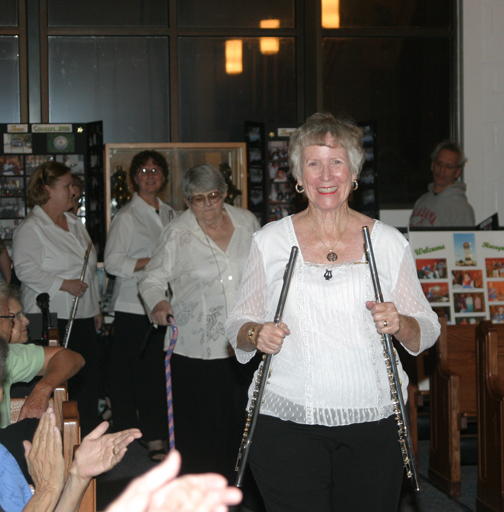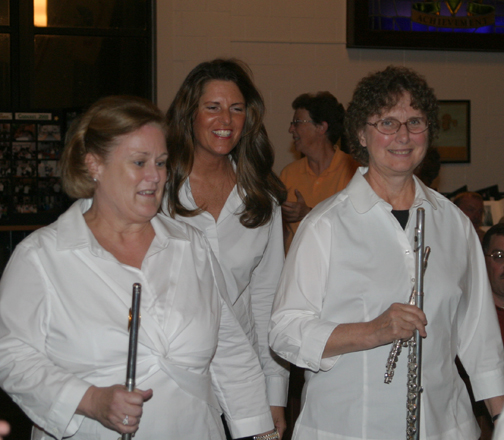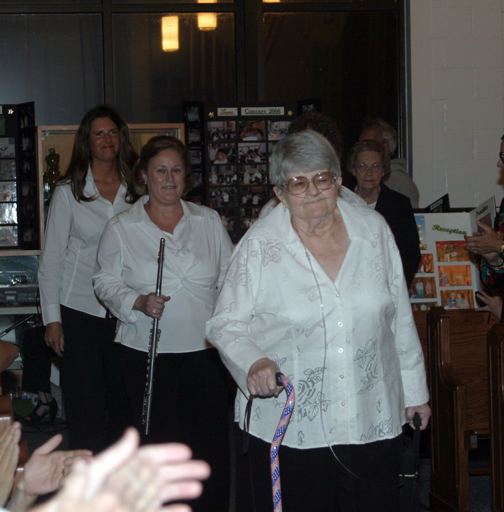 FLUTES

Marilyn Ferreris- Jeanette Jay Beard-Therese Kirbey- Pat Waldlington- Marye Campbell Boggs- Jan Richards Larson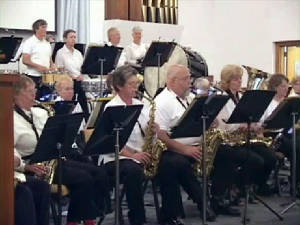 photo courtesy Greenquest Video Productions www.greenquestvideo.com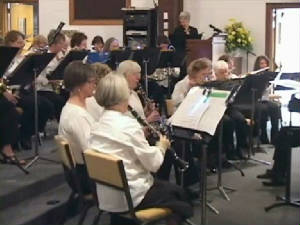 photo courtesy Greenquest Video Productions www.greenquestvideo.com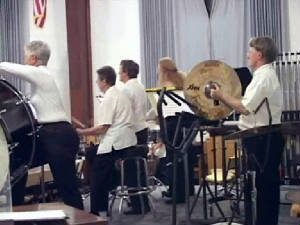 photo courtesy Greenquest Video Productions www.greenquestvideo.com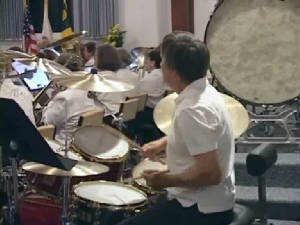 photo courtesy Greenquest Video Productions www.greenquestvideo.com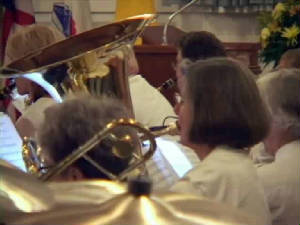 photo courtesy Greenquest Video Productions www.greenquestvideo.com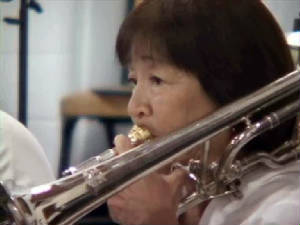 photo courtesy Greenquest Video Productions www.greenquestvideo.com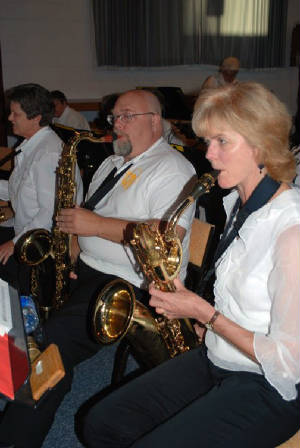 CHERYL WASSON- BOB DELANO- KAREN NICHOL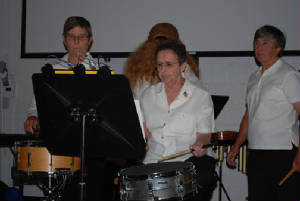 Ann Fox- Jane Kilgore-Candice Jones Guy - Linda Shelton Mcgauhey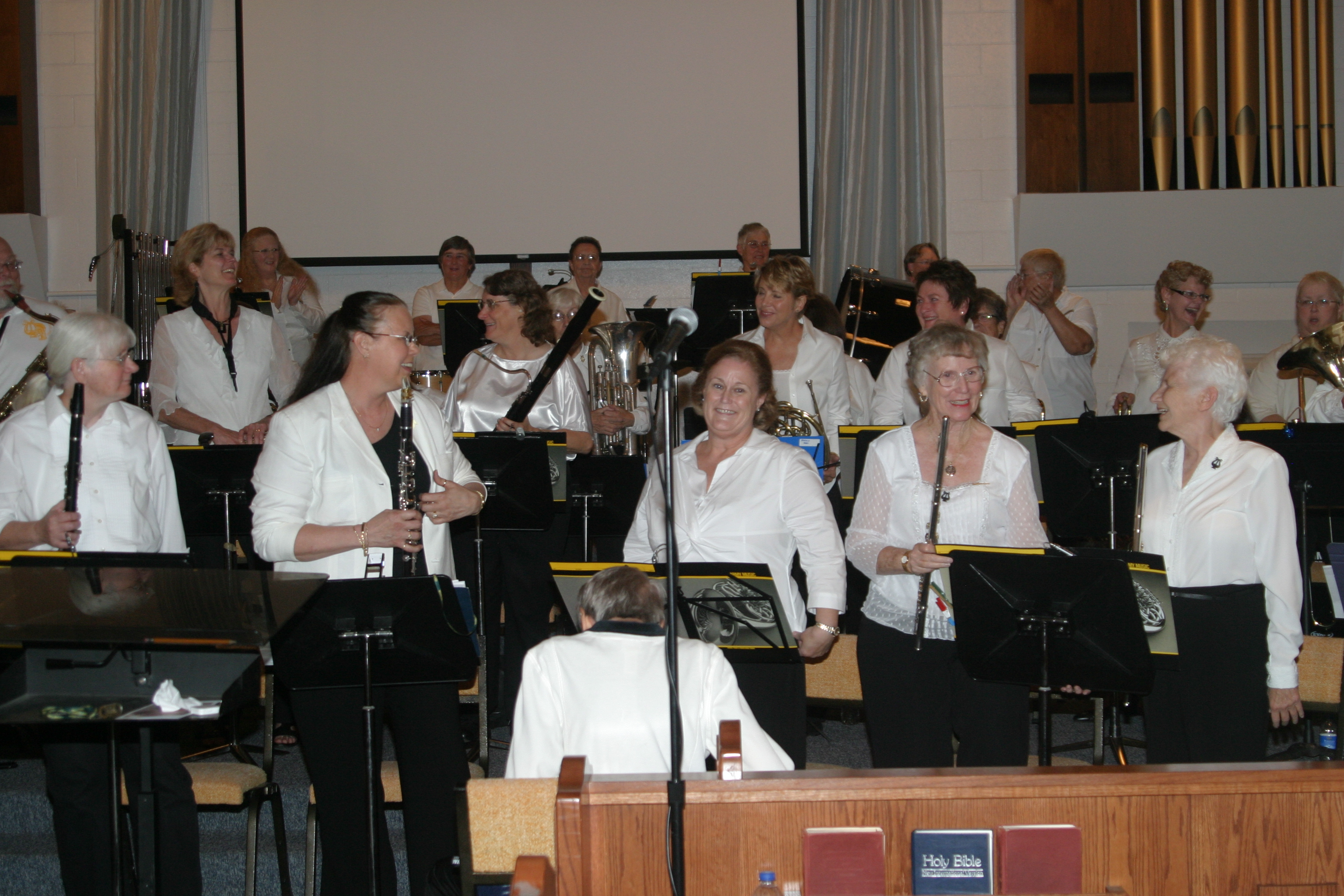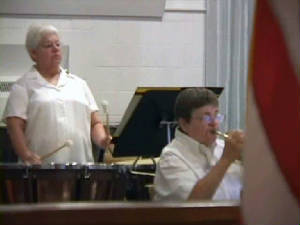 photo courtesy Greenquest Video Productions www.greenquestvideo.com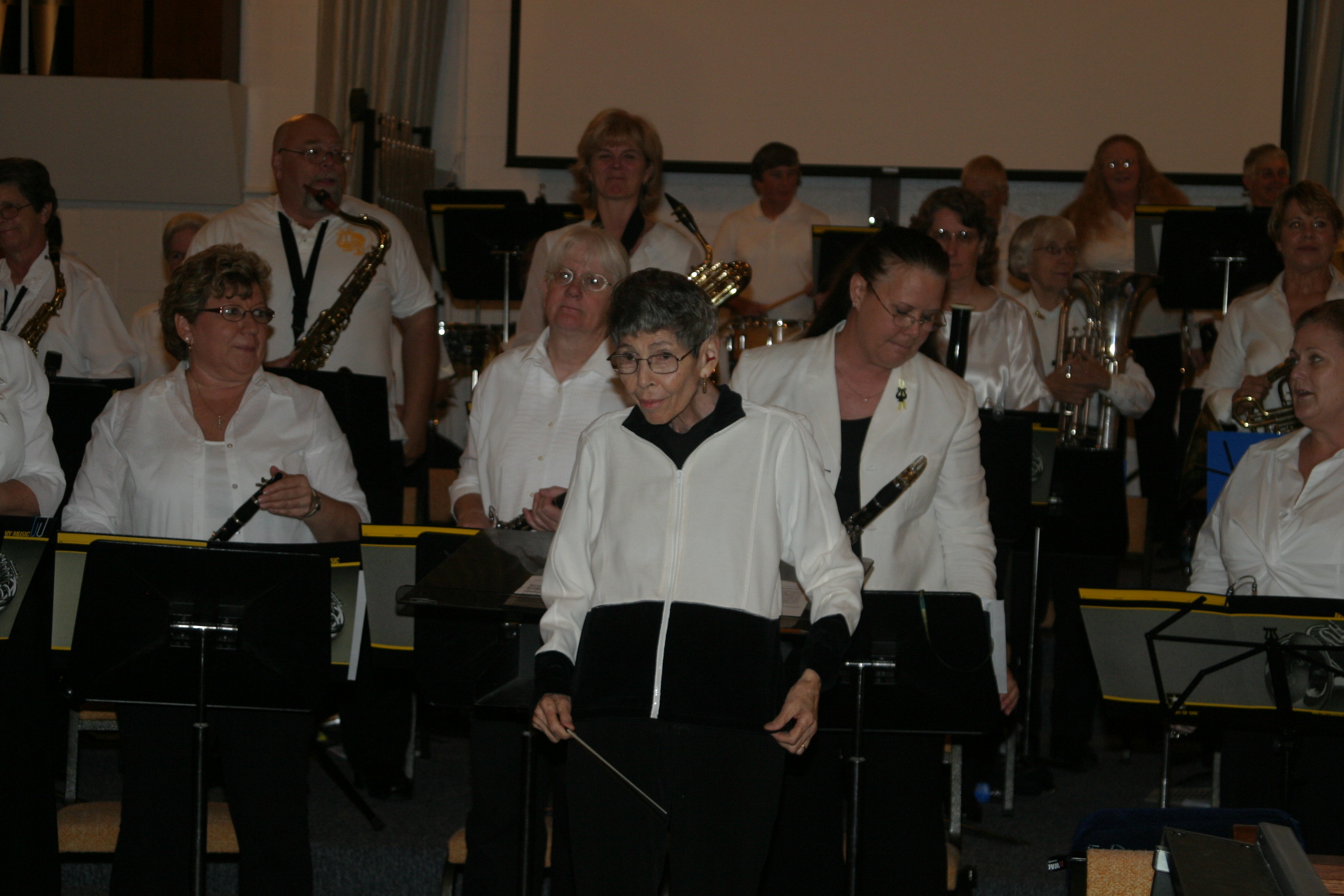 **************************************************************************************************
WAC VETERANS ASSOCIATION HONOR GUARD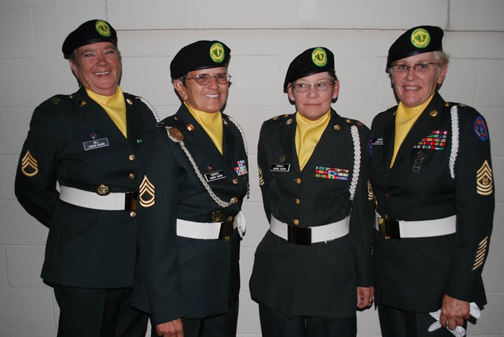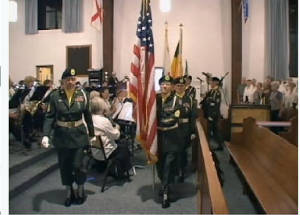 photo courtesy Greenquest Video Productions www.greenquestvideo.com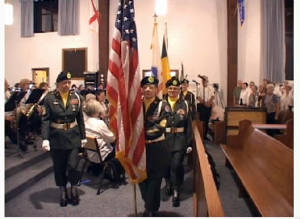 photo courtesy Greenquest Video Productions www.greenquestvideo.com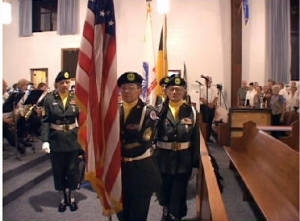 photo courtesy Greenquest Video Productions www.greenquestvideo.com
**************************************************************************************************
INTERVIEWS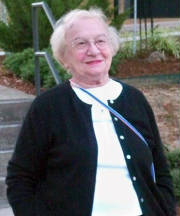 Sylvia Greenstein Member of the 401 ASF WWII Band
SYLVIA GREENSTEIN
WWII ASF
401st WAC BAND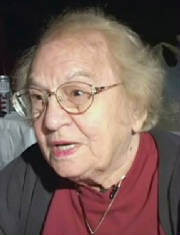 photo courtesy Greenquest Video Productions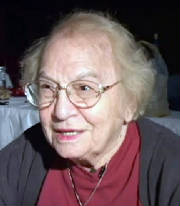 photo courtesy Greenquest Video Productions
Sylvia Greenstein of Hackekensack NJ served in the Wac band from 28 Sept 1943 to 6 Feb 1946. She was among those performing at New York ports when soldiers departed and returned and she was there to welcome home the soldiers, who were prisoner's in German POW camps. She says she had fun in the band. Not all of it was a hardship, but alot of it was.

Playing on the pier when the soldiers came off the ship on stretchers and wheels chairs. Fun at the pier was meeting somebody you knew going off to war and coming home.

Her fondest memory was playing on the ship that brought back the POW's from Germany. The band usually stood on the pier, but this time, they were invited on the ship by the Captain. She recalls one man who never came up on the ship all during the voyage home.

Apparently he was badly disfigured from being burned when his plane went down, so they assumed. When he heard that the WAC band was playing on the ship, He came up. Sylvia didn't sleep for two weeks after that.

Sylvia was born in Bayonne, NJ and brought up in a small town of NJ -- Carteret. Carteret was a small industrial town between Perth Amboy and Rahway located in the center of the state of NJ. and that is where she attended school.

Sylvia graduated from Carteret High School where she was a member of the high school band. In her senior year, she played in the state solo contest and was given second rating. One of the judges was Arthur Pryor, the composer of "The Whistler and his Dog".

She graduated in the year 1940. Hadn't touched the baritone again until she was in the WAC band . Sylvia said the WAAC was formed in 1942, but she was too young to join. The age at that time was 21 and she was only was 20. At that time, a neighbor brought over a newspaper article saying the army needed musicians. All they had to do was play.

So she said she would join. (she was too young). Never having been away from home, she was scared to death to go. She prayed the war would be over before she reached her 21st birthday. In the meantime, Sylvia kept telling everyone she was going to join the Army! The age limit was lowered to 20 the month before her 21st birthday. Her neighbor came over to tell her she could now join. Sylvia said she waited all this while, and will wait til she was 21 -- still praying the war would be over (Life was so different in her youth than it is today)

The war was not over and since she told everyone she was going to join, she did . There was a big ceremony when she went in. They saved a great number of them up and they were sworn in at Rockefeller Center.

Sylvia was standing in front of the fountain and getting all wet during the swearing in. she knew she was being sworn into the Army but I did not know she had to be baptized at the same time!!

From there she was put on a train and sent to the 2nd WAC training center in Daytona Beach, FL. and was assigned to a basic training company and after she finished basic, she was assigned to Band #1 and she play baritone horn. There were two bands at that training center.

The 401 band was formed. The band director of band #l was M/Sgt. Celia I. Merrill who was authorized to compose a band from the 2 bands and then they were sent to Ft. Hamilton, Bklyn, NY as the 401st. And while she was with the band, It was always the 401st.

Sylvia said being in the Army during WW2 was awesome. she was extremely proud to walk down the street in the uniform of the US Army. And, being a veteran of WW2 is awesome, too.. Sylvia's license plate on her car is WW2 WAC... She says she is just Just flaunting her pride


YOU GO RIGHT A HEAD SYLVIA AND FLAUNT ALL YOU WANT
THANK YOU FOR YOUR VALUABLE SERVICE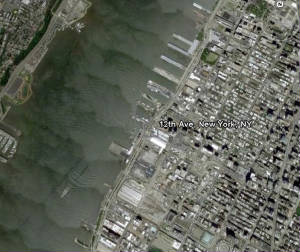 These are the piers Sylvia played at were off 12th Ave. Where the big ships came in at piers 88 and 90 in Manhattan. They also did some playing in Staten Isand and the Bklyn Navy base.

Some of the additional jobs were for recruiting drives, entertaining the wounded soldiers at hospitals, and incidentals such at marching down 6th Ave. When the name of the street was changed to The Avenue of the Americas. One day when they had off, they were recalled back to play a concert in the general's back yard because his wife was entertaining some ladies. The general was very apologetic and to make up for that, he invited the band to take a cruise on his yacht!!! Unfortunately Sylvia promised to give a pint of blood and she was call to do it the day the band went on the trip.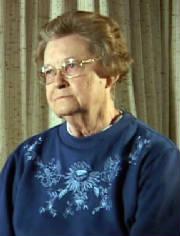 Photo Courtesy of Dyamix Productions www.wacband.com
CSM HELEN JOHNSTON

She enlisted in the Womens Army Corps in Jan 1952, retiring in Jun 1980. She spoke of her brother who served in WW2. His aircraft a B17 bomber was shot down over France. He escaped through the French underground into Spain and returned to England. When he came home, she knew what she wanted to be, IN THE ARMY.

CSM Johnston first met the WAC band when she was assigned to Ft McClellan AL to be a 1SG in one of the WAC basic training units. Although her cadre did a wonderful job teaching her women to march. It was the first time they went out onto the parade field and heard the WAC band playing. That was when these women could really march.

She has all the respect in the world for the WAC band and when she retired in 1980 and gave her retirement speech, she not only complimented her own unit where she served as CSM with the 548th, but the Womens Army Corps band also and how much they had done for her while she served.

There was no way not to listen to the WAC band and be inspired for life.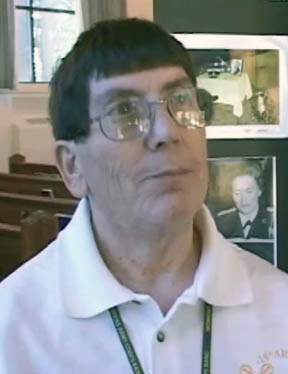 photo courtesy Greenquest Video Productions www.greenquestvideo.com
Lynn Valerio
Tuba
1970-1972

When she joined the WAC band, alot of young people did not play large instruments or brass. So seeing the wac band interacting with them after a concert, saying were breaking the glass ceiling for you, Come on in and play, do what you want, be what you wanna be, play what you wanna play, and that's what we do.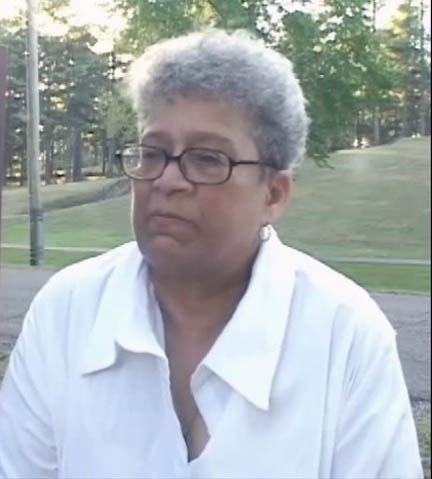 photo courtesy Greenquest Video Productions www.greenquestvideo.com
Gly Holland
Saxophone
1964-1965

She remembers when they played to the very first ship of soldiers in Savannah GA that were going to Viet nam. and remembers looking up at that ship as the band played for them, she thought, only half of these soldiers will come back and she started to cry as the ship pulled away from the dock. She would never know who came home.

Many years later, Gly became a military wife and while in Germany, she had looked at this guy in her husbands unit , thinking she knew him and he looked at her thinking the same thing. After a while they got to talking and he says, he thought he knew her.

Having felt the same way, they began comparing places they been too. He asked if she had ever been in Savannah GA and she said yes. He says, there was a band that played us off and they were really good. She said she was a member of that band and was so happy to know that somebody from that ship came home
photo courtesy Greenquest Video Productions www.greenquestvideo.com
Robert "Bob" Delano
Saxophone
1975-1976
Last official member of the
womens army corps band

Coming back here to this group of people is so special and they became over the years even more important than he could imagine. When he signed into the unit in 1976, he had no idea 30 years later, they would be this important a part of his life.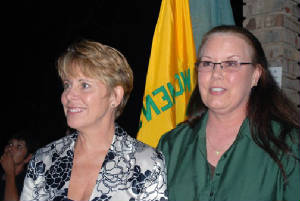 BG Eggert and CW5 Jeannie Pace Oct 2010
The two highest ranking former WAC Band members. The woman on the left (Carol Eggert) was just selected for Brigadier General. The woman on the right is a Chief Warrant Officer 5 (CW5) Jeanne Pace. Jeannie attended the concert while on leave from her current assignment in Iraq; ironically the two women met for the first time a few months ago when they were simultaneously serving in Iraq.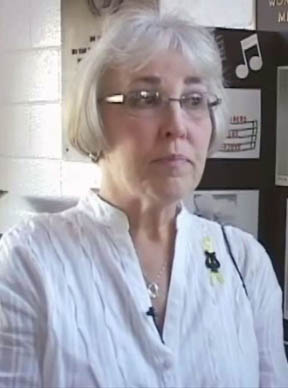 photo courtesy Greenquest Video Productions
CPT Joy Boyd Bodner
Clarinet

She says the band was held at a very high standard and for the first time in their lives, had to deal with real accountability, not just for themselves but also for each other.

The band motto is Service together, friends forever and this is what entices them to continue to return every two years for the reunion concert. They had two ladies who had never been to a reunion and Joy never met them, but in 2009 and 2010 they passed away.

Being in the WAC band was an 8 hours aday job, not 1 hour in a high school band. This was their vocation and they had directors who held them to that, because they were the commanders band.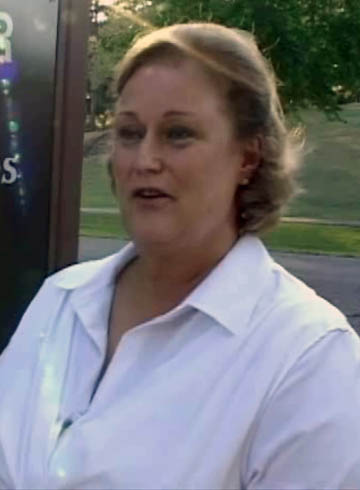 photo courtesy Greenquest Video Productions www.greenquestvideo.com
Marye Campbell Boggs
Flute/Picolo
1973-1976

The WAC band is a part of history, like a important part that went away and nobody seems to care, but the people are still here. They still share somethig very unique.

At the time she joined the army, the WAC band was the only band you could get into. Then about 6 months later, they opened all the other bands to women. But it was a unique opportunity for women to get together and play a very high level of professionalism that nobody really appreciated and never heard them play. What a wonderful group it was.

When everybody got together back in the 1990's and the Womens memorial was dedicated, they realized they needed each other, these are precious times and why the WAC band returns every other year. A time to reminisce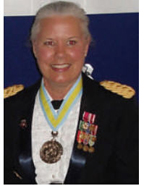 Chief Warrant Officer 5 Jeanne Pace

from Tacoma, Wash, planned to enlist in the Air Force, following in the path of her parents and her sister. When she found that the Air Force band sought college-educated musicians. she turned to the Army. Enlisting in the WAC in July 1972 she began her career with the 14th Army Band (WAC), then the only band assignment open to women. She has since served in many Army bands .

She is the former commander of the 1st Cavalry Division Band, FortHood, Tex, 79th Army Band ,Panama, 399th Army Band, Fort Leonard Wood, Mo, and, she served as the commander of The OldGuard Fife and Drum Corps, Fort Myer, Va.

She is the last member of the WAC band serving on active duty. Chief Pace will have 37 years of active service in July 2009.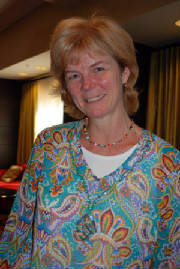 ISG CHERYL WASON SAXOPHONE WAC BAND 1975-1976
1SG Cheryl Wasson
Saxophone
1975-1976

It's almost like you never left. In a away Because it's like the soul of the music is right there in the spirit of the women and it feels good like your coming home to a piece of when you were 18 years old and all of a sudden your back in that area, Centering in on the music.

That feeling you have being able to entertain the people and be at the same wave length as all the other people putitng music together and pouring out your heart to a audience.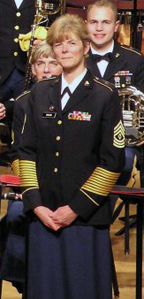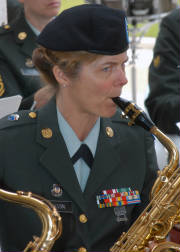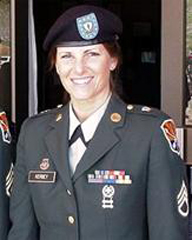 SSG THERSE KIRBEY- (1SG)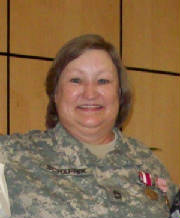 MSG CHRISTINA SCHARFRINK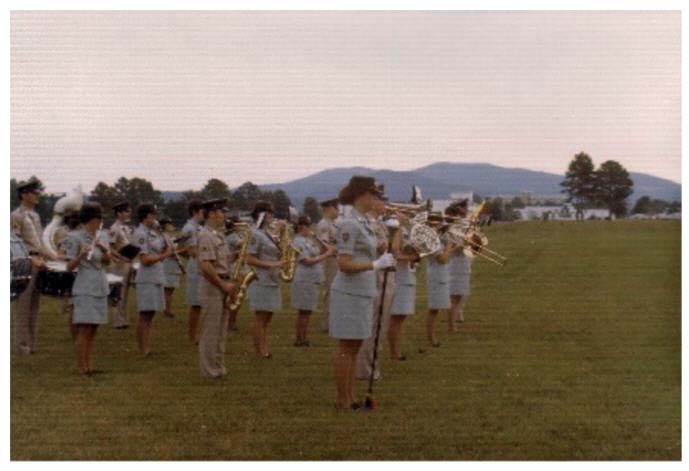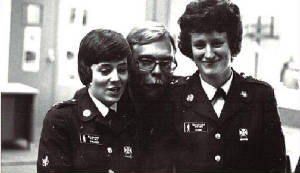 GRETCHEN SCHAGER- BOB DELANO- DEBRA SCHARF