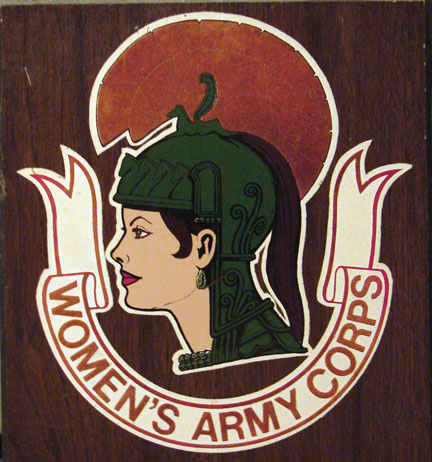 WAC Pallas Anthena branch insignia

WAC INSIGNIA
30 June 1969, Enlisted US Womens Army Corps at Ft Hamilton Brooklyn NY, right out of high school just graduated the 26th of June. a group of us took the oath of enlistment at Ft Hamilton NY, and a few hours later we boarded the bus to the airport , destination. Ft McClellan Al , WAC center and school. Signed up for supply (Quartermaster) school, it didn't turn out that way, ended up going to medic school. There is a reason for everything, I doubt I never would have gone to Veterinary school, had it not been for this change.
Our first stop, Atlanta GA airport, where we met up with other groups, with one person who looked in charged and carried the big yellow envelope. Of course our flights were delayed and our arrival in Anniston Al came at 2am in the morning.
Having gathered in a desinated area, groups were checked for orders and we were boarding a military bus, without our luggage, heading to Ft McClellan. Upon arrival we went into a bldg called Reception station, signed in and was given a brief welcome and sent to our bay area. It was now about 3:30 am and when the sun came up, bugle was going off , we looked out the window after it stopped and saw all these women, running out of a bldg.
WOW, check out those blue uniforms, anybody in the WAC who wore the Blue PT outfit can relate. The black ankle socks were my personal favorite. So here we, standing around looking stupid, when enters, the PLT SGT, giving us a real chewing out, hey I didn't sign up for this, could had stayed home.
Turns out later, SSG Karen Erickson had the wrong platoon. Our platoon sgt was SFC Maude E. Dillion. This week was to be our in processing week. We were fitted for uniforms, paper work, shots, Dental checks more paper work. I don't know what happened to SFC Dillion, but I heard SSG Erikson went on to become a Command Sgt Maj (CSM) in the 1980's.
Sgt also gave us a quick lesson on military drill such as Attention, parade rest, left and right faces, about face. What to do when a officer or nco entered the bay and what to say. who ever saw the Officer or NCO first would yell Attention or At ease. We'd be fine tuned once we were assigned to our company. We also learned about GOD's aisle, the space in between the left and right side of the bay area and a big fan in the middle. don't get caught walking on the floor.
Also during this time we learned how to roll socks and panty hose so it smiled and bounced off the floor, folded items, set up foot locker and wall locker displays. Mark our clothes with our last name and last 4 of the ssn #, this was very important, especially shoes, easy to find them in the pile the SGT tossed them in.
5 July 1969 Basic training begins. We were assigned now to CO E 1st Wac traning Bn, Our company commander was CPT Feeder/Feeter, company plt officer 1Lt Peggy Davenport . During this time we learned how to march, first aid, drill and ceremonies, field training excercises, PT, GI parties and KP. we learned how to make military beds, shine shoes and starch our uniforms, seems we were always pressing off our skirts. My platoon Sgt SFC Dillion, would later become my ISG in germany at the 97th Gen hosp in Frankfurt Sept 1970-1972.
During our 8 weeks of basic we also learned Map reading, Military justice (UCMJ), hygiene classes, military sanitation, safety, clothing maint, military customs and courtesy,, such as flags, bugle calls and military ranks, the chain of command for both the post and individual units and Bn's , and army admin. Even though we didn't get to go into the field for training, we did get to experience the Gas chamber.
We had our own military band, the 14th Wac army band, they were sharp. I remember march out's, where all the training companies would march from the units up to and around the parade field and back to either the barracks or onto classes. I think this was a weekly thing. We attended a parade, at least one a week and there was nothing like standing in the HOT HUMID ALABAMA SUN, with the fricken nats and bugs biting.
Finally graduation came around Aug 1969 and we were offically WAC's.
8 Sept 1969 to Nov 1969 , I went on to to Ft Sam Houston Texas for another 8 weeks of Advance Individual trainig (AIT) for basic medical corpman school 91A. I originally signed up for Quatermaster (supply) school . It only took one time, to know Get it in writing for anything in the army.
11 Nov 1969 First duty station , Lyster Army Hospital at Ft Rucker Ala, assigned to the OB ward. My army life was now starting. We lived in the WAC Detachment, barracks within walking distance from the hospital.they were two story wood bldgs. Two gals to a space, the only privacy was a shower curtain cross the door way, enough room for bunk beds, two wall lockers, two dressers. The NCO barracks was behind our bldgs and I think there was maybe 4 rows of barrack bldgs.
My CO was CPT Patsy Null. Our barracks sgt was SP6 Ruth Huber, later Sgt Mary Bass and Becky Meldrum. In Aug 1970 with my friend Barbara Saranowski, we took a army short discharge and re-enlisted for Germany and was assigned to the 97th Gen Hosp in Frankfurt Germany for two years, I was assigned to the OB ward Sept 1970- Sept 1972.
We lived in the Wac detachment not far from the hospital, I think this was a three story bldg, two floors for sure, a little bit more private, actual rooms and assigned two gals. There was small bathroom in between the rooms. A few people I remember were Judy MURF Murphy from the PT clinic, Peggy Tucker and Claire Snow from X-ray. I think my commanders first name was Connie/Constance and the supply sgt was SGT Nancy Hill.
Returning to the states, 12Sept 1972, assigned to Ft George G Meade MD, Kimbrough army hosp, OB Ward. . My company commander was CPT Dunn now a ret Major . and 1SG Bernadini. My first day there, waiting to sign in, I opened a door in the dayroom, and all these alarms went off. alot of people came running. Turns out the wac detachment had alarms because the Military Stockade was in our back yard.
Our Wac detachment was a brick bldg, and back to no privacy in the bay area, at least our beds were not bunked, but still only had a shower curtain for a door. CPT Dunn ran a tight ship, no nonsence kind of commander, but fair and cared about her troops. I'm still in contact with her today.
while at Ft Meade, a opportuity came up to go to drill sgt school 3-4 of us requested to go. and on 20 Feb 1973 we reported to Ft Jackson SC. The school was at the 3rd US Army drill school Ft Jackson SC, . Several of us requested assigment to WAC center, to get experience before going back to DS school.
When we first arrived it was all new to us.. Kathy SHORTY Houselog, Karen Siddens, Irene Phillips and Sgt Sandy Chruch from FT Meade graduated the first class. I left 13 Mar 1973 for Ft McClellan Al. I returned to DS school 1 Nov 1973 after getting training and felt better about going back. Our class graduated Dec 1973.
I was assigned to CO B 3rd Bn, CPT Hazel Morton (CPT Herman) was my CO and 1SG Phyliss Gravy 3rd Bn. COL Nelda Cade was the bn commander and Major Heri the Bn ex officer. 3rd bn was deactivated Dec 1974 for the Military Police school to move into our area. 3rd bn used to be the old army chemical school. Our DS staff, Patricia Kristoff, Donna Lowery, CPL Sharon Shantee, SP Tucker company clerk, Jean Frizgerald, SGT Barbara Bacon, LT Annin, LT Standley,LT Phyliss Viccione and SGT Patricia Waid all that I remember being in CO B 3rd Bn.
All the DI's were transferred to other companies, 6 Dec 1974 I was assigned to CO A 2nd Bn, which is were I met ISG Molly Edwards, I would had served under her anywere. CPT Doreen Steklasa, now a retired LTC was our company commander and LTC Grimes was our Bn commander. and SGM Helen Johnson. My Drill sgt duty was over in Dec 1975. I remember SGT Flodine, SGT Diane Robinson, SGT Jean Mederious, Pat Waid also assigned there.
Alot of good memories of Ft McClellan and I was glad to be apart of it. While company B was known as Banana Bravo, Charging Charlie had a goat. Co A 2nd bn, we were the GREEN HOGS. Thank God only a picture of a hog on our t-shirts.
Next assignment, Ft Devens Ma, 595th Medical field clearing company (field unit) 28 Dec 1975- Aug1977. I was in charge of the unit supply, unit training, worked at the hospital on rotation in the physical exam clinic. Re-enlisted for Hawaii, assigned to the Family Practice clinic as NCOIC of the clinic, Scoffield barracks 29 Aug 1977- Sept 980.
I requested instructor duty at Ft Sam Houston Texas, Medical corpman school , but was assigned as a Platoon sgt, instructor, company operations Sgt Sept 1980-Mar 1984. I lived in San Antonio Texas after I was discharged from the army. I was able to attend vet school full time now at Texas A&M. I stayed in Texas until 1990 and moved back home to Long Island NY.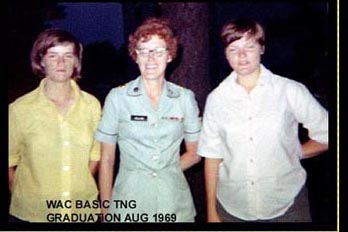 PVT Marie Karban CO E 1st BN Aug 1969- SFC Maude Dillion and PVT Dawn McLean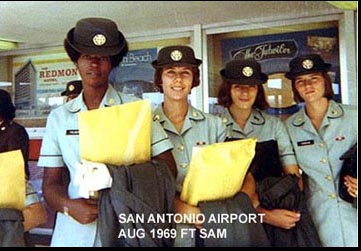 Delores Talbert Montour-Lund and Marie Karban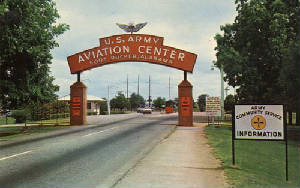 Fort Rucker AL LYSTER ARMY HOSPITAL 1969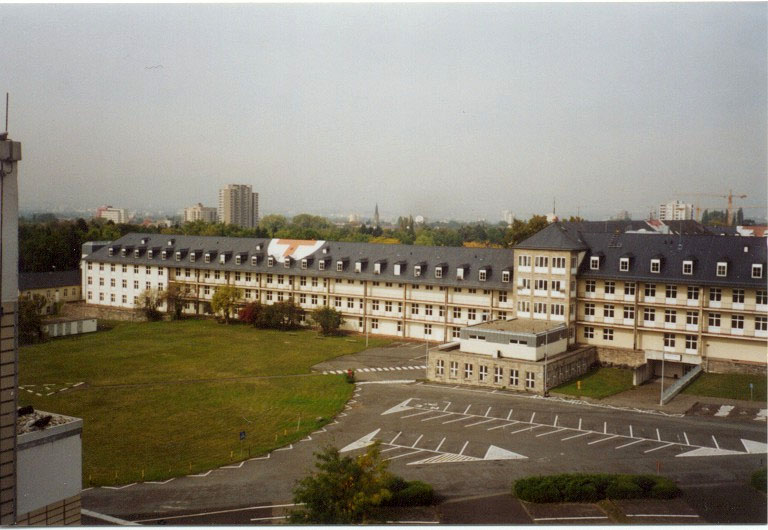 97th gen hosp frankfurt germany1970 -1972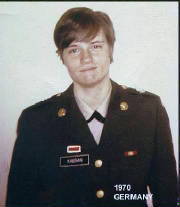 Marie Karban US Army frankfurt Germany 1970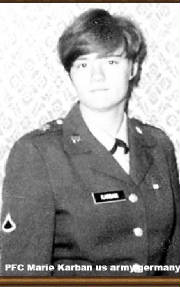 PFC E3 Marie Karban frankfurt germany 1970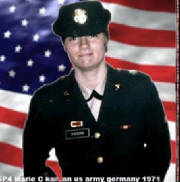 SP4/E4 Marie Karban Frankfurt Germany 1971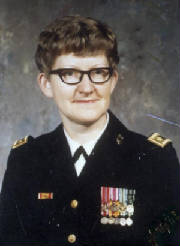 MAJ FLORENCE DUNN US Army Ret (CPT company commander Ft Meade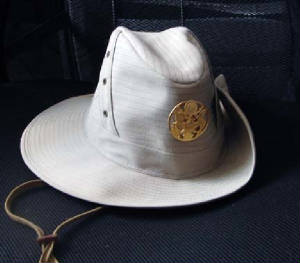 marie's drill sgt hat 1973-1975
3rd US Army Drill Sgt School Ft Jackson SC Dec 1973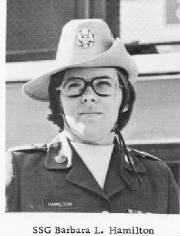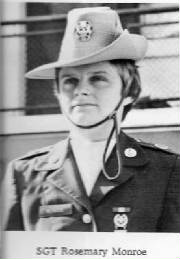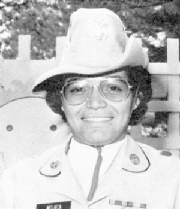 SGT Monte Mojica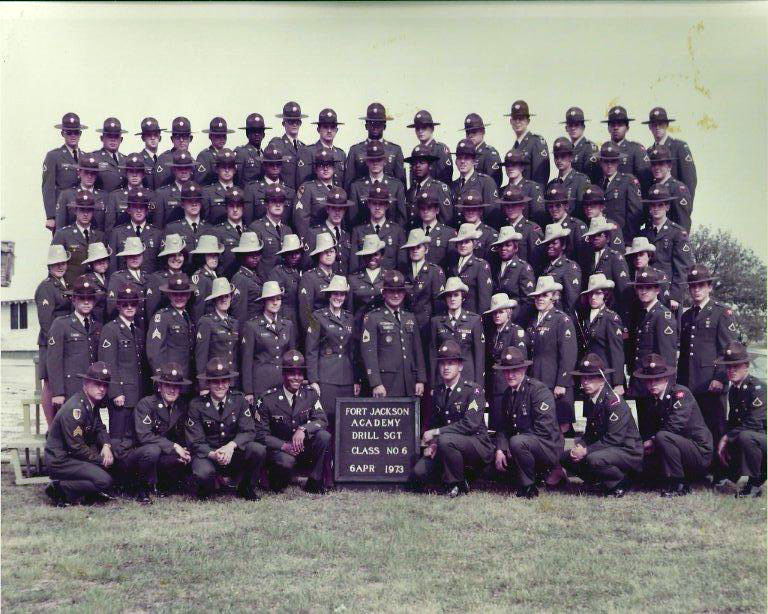 photo: J.Chambers
DRILL SGT SCHOOL
Fort Jackson SC
It was basic training all over again. The frist day we arrived, I think the barracks was near a commissary, old two story bldg. The Ft McClellan group was already there and on the first floor. Of course our group was just coming from a Wac detachment unit and did not know a whole heck of a lot.
SFC Sylvia Dobson, one of the six women first selected to attend DS school, stayed after she graduated to train the new DS classes. I remember the first day we all met her. Not a wrinkle in her uniform or a smuge on her boots. She could see a display item out of line without even looking twice.
By the begining of the 3rd week of training several of us knew, this class was not going to be easy. Having no other training, other than what we were taught in basic training. I rather had dropped out than be kicked out. After speaking with the school commandant, I asked about getting some training and return to the school and be better prepared for this course.
He agreed and I was followed by a few others to Ft McClellan. After a couple of training cycles, everything made sense. Every lesson we did, had to be word for word for DS school. Teaching somebody to do a marching command or a hand salute, actually doing things made it a bit more easy.
Going back to DS and getting through it was better than the first time. It was still a tough school, aside from class rooms, we still had PT and barracks inspections. Too many demerits could get you out, failing exams. Your grades might had been ok, but for every demerit you had, was taken off your grades too, Holy DUFFLE BAG DRAG.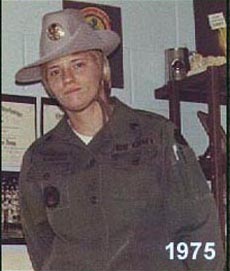 SGT Marie Karban US Army 1975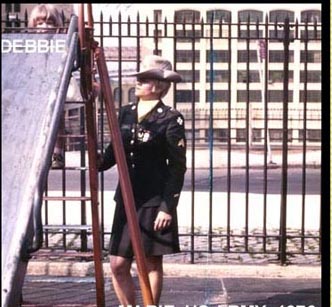 SGT Marie Karban & Debbie Berdoff 1976 brooklyn ny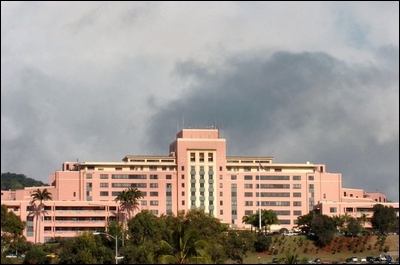 Tripler Army Medical Center Hawaii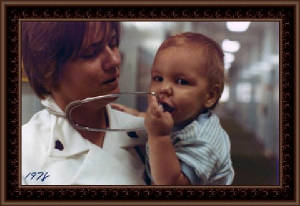 SP5/SGT Marie Karban us army health clinic schoffied barracks Hawaii 1978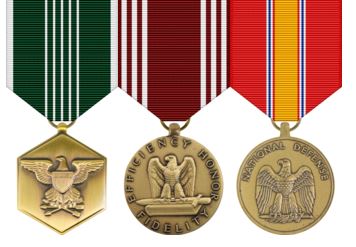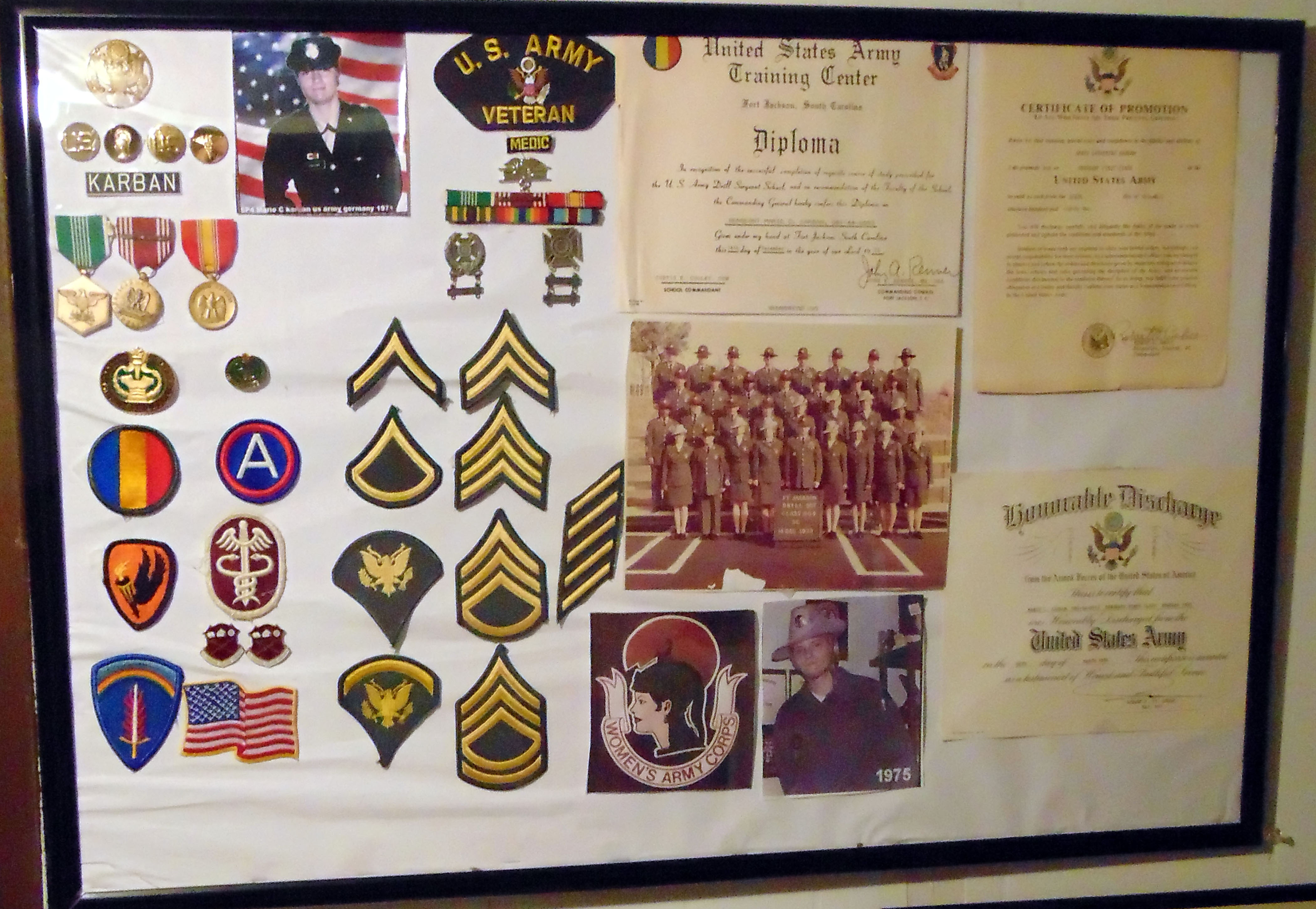 US Army 20 Mar 1984 Ft Sam Houston Texas
CO E 2nd Basic Tng BN graduation 1969
24 Oct 1969 91A medic school grad
DRILL SGT SCHOOL DIPLOMA DEC 1973